Poultry Science
The Department of Poultry Science conducts research on the complete life cycle of poultry from the egg through the adult bird. Scientists conduct experiments to improve poultry processing and the quality of meat. Other studies examine feed alternatives, vaccines and bedding materials. Researchers also study game bird species.
Learn more at poultry.msstate.edu
Automated Gathering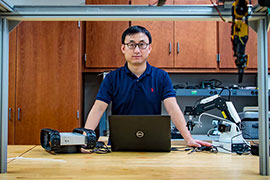 McDonald's, Wendy's, and Walmart are just a few of the hundreds of corporations who have vowed to switch to cage-free eggs in the not-so-distant future. Because of the growing consumer demand, approximately 70 percent of the nation's 320 million birds need to be cage-free by 2026. To help with this major industry shift from conventional-caged to cage-free environments, MAFES scientists hope to automate egg collection for those producers looking to make the change. Dr. Yang Zhao, assistant professor in Agricultural and Biological Engineering and MAFES scientist, is leading a team of scientists to automate egg collection in the cage-free production system to help resolve the increased labor need in egg production. "We are building a robotic car to gather eggs from the floor of the cage-free chicken house and to also train chickens not to lay eggs on the poultry floor," Zhao said. Alongside this project, there is a study which evaluates the robot performance regarding floor egg reduction in early-peak laying stage, which is a critical period for training good laying habits. A component of the study is to determine if the autonomous car will stress the chickens. Dr. Wei Zhai, assistant professor in poultry science, will measure stressors in a sample of the study hens. The overarching goal is to help those egg producers who transit to cage-free production systems. Read more
Beating bacteria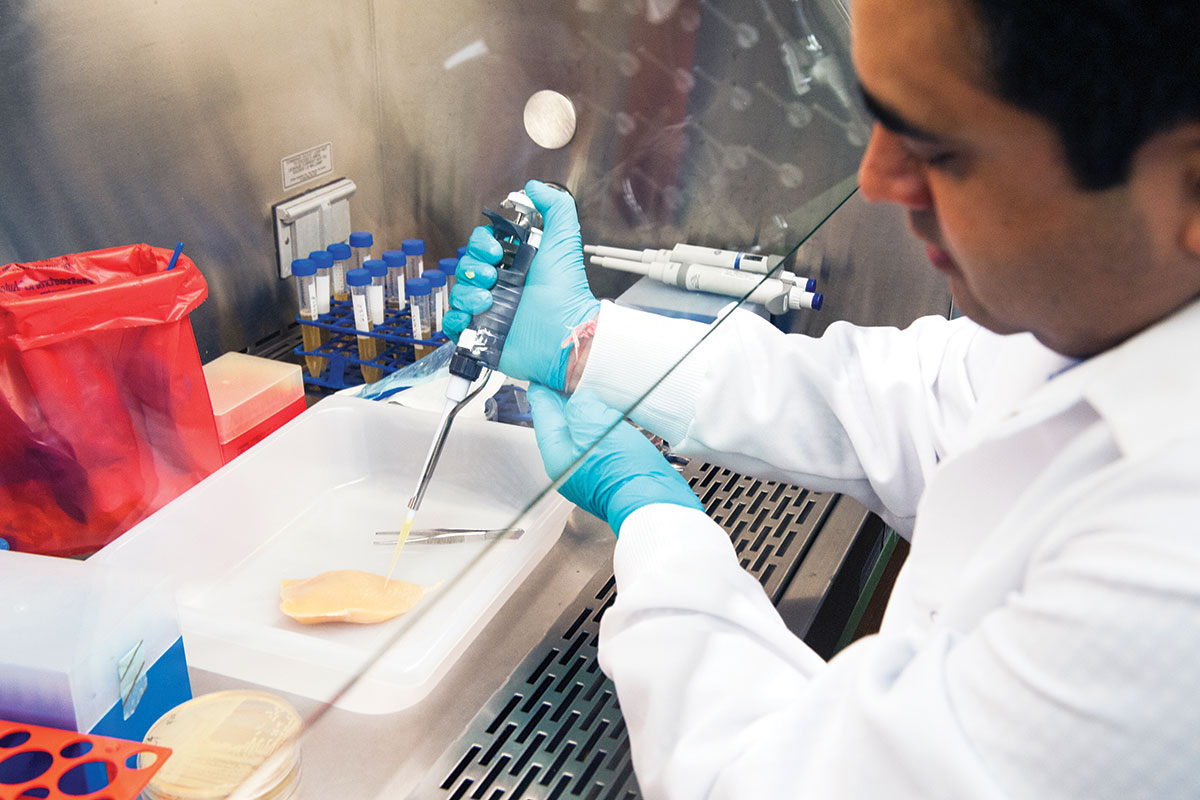 Approximately 2 million individuals in the U.S. contract foodborne illnesses from Salmonella and Campylobacter. While the first line of defense against these common bacteria is safe food handling practices by processors and consumers, Chander Sharma, Mississippi Agricultural and Forestry Experiment Station researcher and assistant professor in the Department of Poultry Science, is working to rid poultry of these common bacteria before it leaves the processing plant. He, along with a team of MSU scientists, is researching the use of lauric arginate, an antimicrobial compound approved by the USDA, as a processing aid assisting in the fight against Salmonella and Campylobacter. He is evaluating the use of bacteriophage—a virus that attacks bacteria—to combat the problem as well. Read More
Distillers' Grains as a Feed Supplement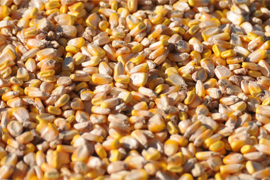 Increased ethanol production also means increased stocks of the by-product distillers dried grains with solubles (DDGS), as well as increased interest in finding uses for the nutrient-rich grains. A MAFES study evaluated second-cycle Bovans White laying hens that were fed varying amounts of DDGS. Researchers looked at layer performance, egg characteristics and consumer acceptability. Results showed that DDGS could comprise up to one-third of a commercial layer diet without any significant detrimental effects on the production or egg characteristics of second-cycle hens. A similar study measured breast and thigh meat quality in broilers fed DDGS-supplemented diets. Overall, the diets yielded high-quality breast meat, and thigh meat quality was similar among diets containing up to 12 percent DDGS.
Down the Line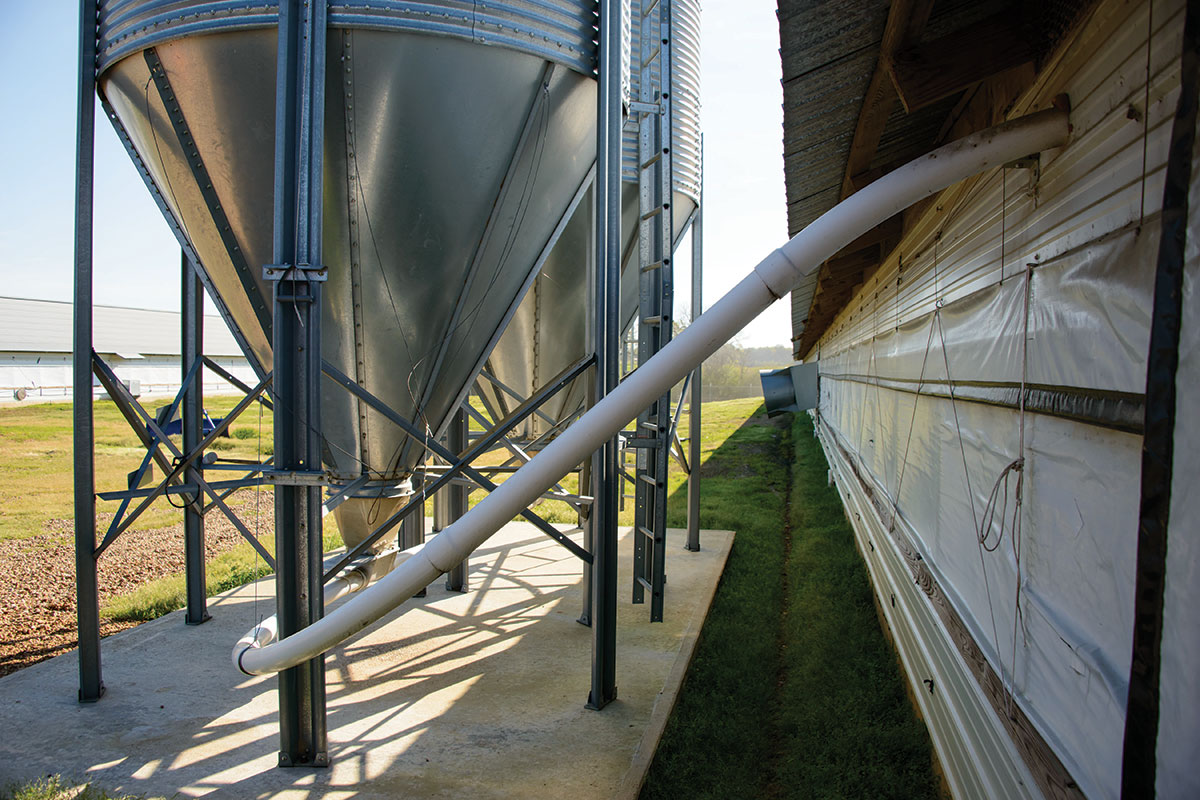 730 million broilers were raised on Mississippi farms in 2015. MAFES researchers hope to discover more efficient, cost-effective ways to deliver feed to so many birds. That's why Dr. Kelley Wamsley, MAFES researcher and assistant professor in the Department of Poultry Science, is studying how feed mill mechanics affect feed quality. Former MSU graduate student Ben Sellers conducted much of the research and Chris McDaniel, professor in the Department of Poultry Science, assisted on the projects. Read More
Enriched Formulations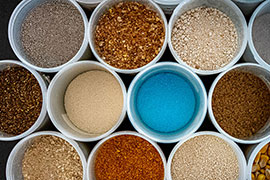 Dr. Kelley Wamsley, associate professor in the Department of Poultry Science and MAFES scientist; Courtney Ennis, Wamsley's doctoral student; and Dr. Curran Gehring, a nutritionist with Tucker Milling LLC, collaborated on studying ways to improve the nutritional performance of commercial poultry feed. Starting in 2019, the team investigated phytase enzymes, one of the most common exogenous enzymes used in commercial poultry feed. Collaborating with phytase companies, the team wanted to discover where different enzymes could work in combination and in other parts of the GI tract to capture as much phosphorus as possible. Birds do not digest all the nutrition they take in, which is why enzymes are added to the feed to increase digestibility to make more nutrients available. The team found a gap in the field's knowledge, which is the combined use of varying phytase enzymes. In two different experiments, they found that a diet in low calcium and available phosphorus with a high level of a single phytase resulted in improved broiler performance and nutrient digestibility. The team uncovered the need to further research on how the ratios of calcium and available phosphorus in feed can impact the efficacy of phytases. Wamsley plans to take these studies further and look at other enzymes to determine whether there is a synergistic effect on the nutrients in poultry feed. This study was funded by the Mississippi Agricultural and Forestry Experiment Station, the U.S. Poultry & Egg Association, the Harold E. Ford Foundation, and an endowing foundation gift from Peco Foods. Read more.
Finding the right diet for broilers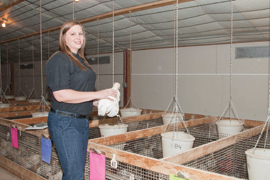 Poultry scientist Kelley Wamsley studies the nutritional content and manufacturing processes of poultry pellet feed. Since feed and feed manufacture represent about 60–70 percent of the total cost of raising a chicken, one small change could affect cost and performance. Wamsley's research indicates that high-quality pellets are worth the price, especially for Mississippi poultry integrators who grow heavy broilers. These birds require a longer grow-out period, thus consume more feed. Research showed that poor-quality pellets result in poor performance. Pellet quality can deteriorate during transportation and as feed is distributed through grow-out houses, causing nutrients in the feed to segregate. High-quality pellets are more likely to stay intact and deliver a nutritionally complete diet. Wamsley also studies how alternative feed ingredients affect pellet manufacture and bird performance. As costs increase for corn, soybean meal, and other feed ingredients, there is a great need for high-quality, less-expensive alternative ingredients. Read More
Giving chicken hatchlings a boost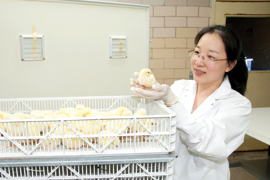 Chicken embryos are made up of water, protein, and fat. To get the energy they need to hatch, embryos must convert that protein and fat into carbohydrates. To help hatchlings retain protein and fat for growth, poultry scientist Wei Zhai is developing a procedure for injecting eggs with carbohydrates before they hatch. Zhai uses a commercial multi-egg injector to deliver uniform amounts of carbohydrates into each egg. Mississippi State is the only academic institution in North America to own this machine, which was donated by the pharmaceutical company Intelliject. Research indicates that injecting carbohydrates into eggs leads to good hatching and provides an early boost in body weight. MAFES scientists are now working to determine the most efficient amount of carbohydrates to inject into eggs. Other studies focus on whether injecting vitamins into eggs will help bone growth in chickens. Another benefit of injecting nutrients and vaccinations into eggs is that it alleviates bird stress by reducing the amount of handling they face after hatching. Read More
Improving food safety from the farm to the processing plant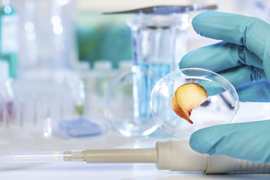 Microbiology researcher Aaron Kiess evaluates new methods of reducing poultry exposure to pathogenic bacteria, such as Campylobacter and Salmonella, which harm consumers and reduce broiler industry profits. Kiess examines how poultry house litter management can help prevent this problem. He found that bacterial concentrations are reduced and other benefits are achieved when litter is treated using a process called "windrowing," in which litter is piled in rows down the length of a broiler house. Heat generated in the composting piles partially sterilizes the litter. Changes in other variables, such as pH, ammonia, and moisture, may also play a role in improving litter quality and need further study. Kiess also studies the role of vertical transmission, the process by which adult chickens spread bacteria to their offspring.
Poultry scientist Chander Sharma researches methods of controlling food-borne pathogens in processed chicken products. He examines the effectiveness of USDA-approved antimicrobials that reduce the number of pathogens in poultry products. These antimicrobials have the potential of improving the safety of food products. Sharma also studies natural antimicrobials, such as rosemary, sage, and oregano.
MAFES Scientists Develop New Processing Technique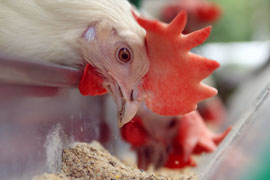 Technocatch, a poultry processing research company, recently teamed with processing company OK Foods and MAFES to develop an alternative to electric stunning and gas systems for processing chickens for consumption.
The new method, called LAPS (low-atmospheric pressure system), uses a vacuum system to reduce oxygen levels in a machine that can house up to 60 broilers per chamber. LAPS eventually renders the birds unconscious and then — borrowing a term coined by the USDA — "irreversibly stunned."
Initial testing for LAPS began in the Mississippi State poultry laboratory. LAPS received the American Humane Association (AHA) seal of approval, and the USDA officially stated it has "no objections to the system or its protocol." LAPS provides a humane method of processing poultry compared with the current methods employed.
MSU researches poultry health, growth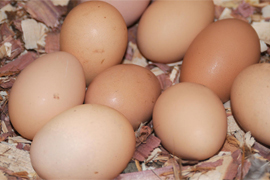 MAFES researchers are investigating ways to improve the nutrition and growth of the state's most profitable bird. One of the current projects is helping determine ways to increase the hatchability and health of broilers. Injecting eggs, also known as in ovo injection, is used to vaccinate poultry for diseases, but MSU researchers are finding a new way to use the procedure.
Chicken embryos are made up of water, protein and fat. To get the energy they need to hatch, they have to convert that protein and fat into carbohydrates. So that the hatchlings can reserve their fat and protein for needed growth, scientists are injecting eggs with carbohydrates before they hatch.
Thus far, the research indicates that in ovo injection of carbohydrates can provide benefits to commercially grown poultry with an earlier increase in body weight and good hatching. Scientists are also experimenting with injection of vitamil supplements. Read More
Protecting the Surface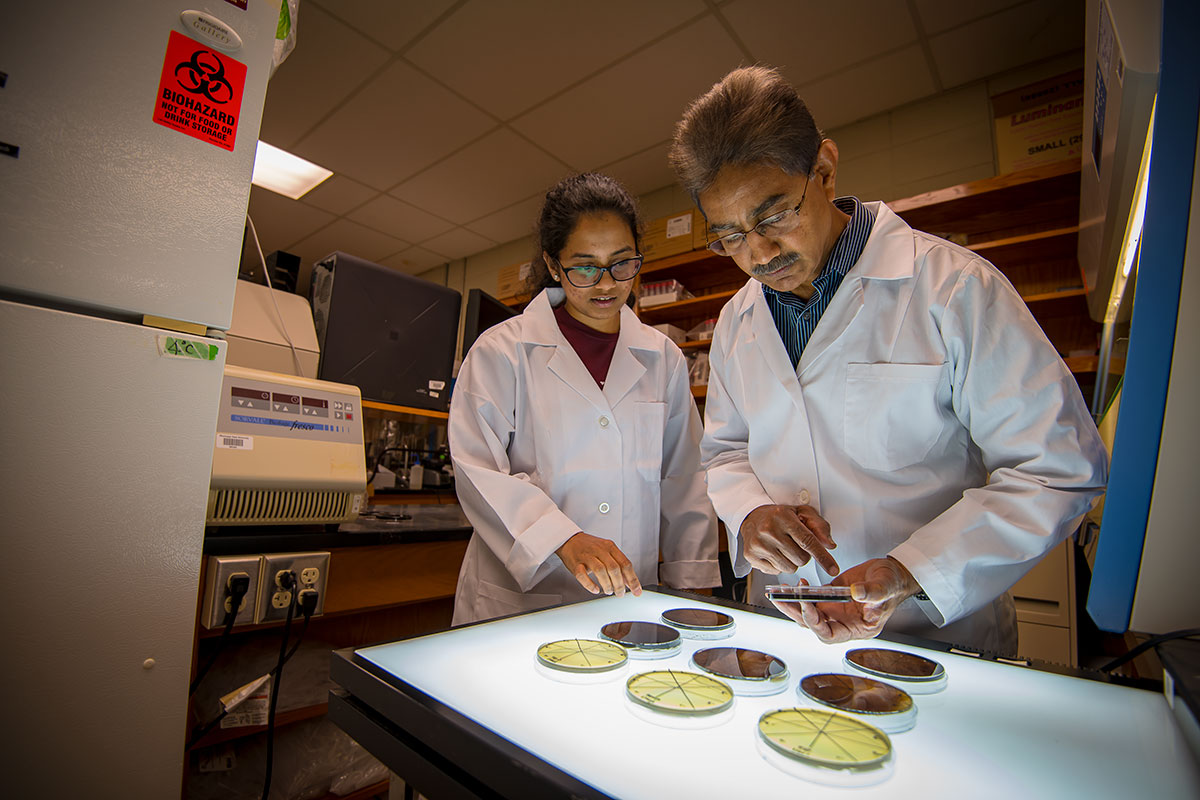 Of the many suspects that cause food safety issues in kitchens and food processing plants, biofilms, caused by bacteria such as Listeria monocytogenes and Salmonella, are a common culprit. MAFES scientists Dr. Ramakrishna Nannapaneni, who specializes in food science, nutrition and health promotion and Dr. Aaron Kiess, who specializes in poultry science, are taking a stand in biofilms, the growth of bacterial cells on surfaces that touch food. Through Nannapaneni and Kiess's research, they discovered that a mixture of disinfectants was far more effective than single compound disinfectants for removal of biofilms. Dr. Kiess's lab is also looking into how Salmonella survives on poultry processing equipment before and after cleaning cycles. They hope to continue research to determine how biofilm cells become denser, stronger, and spread as well as what mechanisms govern cross-resistance. By discovering this, they hope to figure out how these tough biofilms can be eradicated to enhance food safety. Read More
Q&A with David Peebles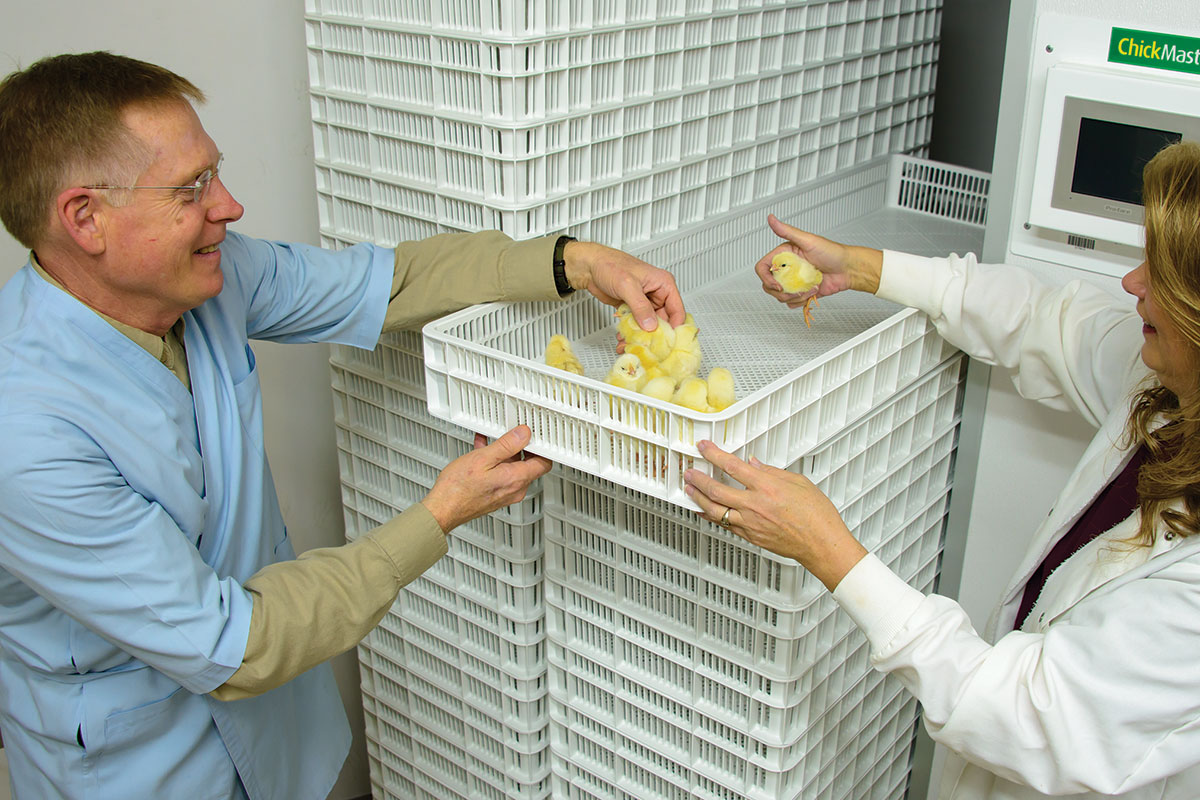 Poultry was a $3.2 billion dollar business in Mississippi in 2015. MAFES scientists conduct research that drives that industry forward. One such researcher is Dr. David Peebles. He's a MAFES scientist and professor in the Department of Poultry Science in the College of Agriculture and Life Sciences. He's called Mississippi State home for 28 years. Much of his research has been applied directly to the poultry industry while all of his students gain employment in their field of study. MAFES Discovers sat down with Peebles to discuss how his research role helps inform the poultry industry and discover how his academic appointment helps grow the poultry leaders of tomorrow. Read More
Researchers Make 'Elusieve' Dreams Happen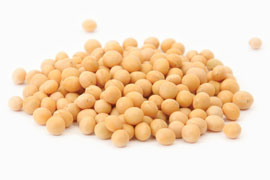 Ground corn flour, soybean meal and distillers dried grains with solubles (DDGS) — a by-product from ethanol production — comprise more than 70 percent of swine and poultry diets. While these ingredients are important for livestock nutrition, they are high in fiber, which is not easily digested by swine and poultry. Feed producers needed a system to remove the fiber while maintaining vital nutrients. MAFES scientists developed a process called "Elusieve" that uses a combination of sieving and air classification to separate fiber from feeds. This technique sifts particles into four sizes and then blows them with air to remove fiber. They found that fiber separation increases starch content of ground corn flour by 3 percent and increases protein contents of DDGS and soybean meal. Read More
Science that Illuminates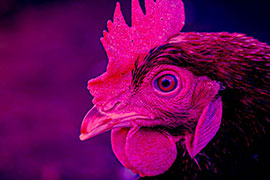 Dr. Pratima Adhikari, assistant professor in the Department of Poultry Science and MAFES scientist, and Ishab Poudel, current doctoral student in the Department of Poultry Science, along with other MAFES researchers conducted a two-year study that analyzed the impact that red- and blue- LED light environments had on chickens during developmental stages of growth. The scientists assessed how both blue- and red-LED lights affected bird behavior and stress response. They found that a blue-LED light environment was beneficial during the developmental phases of the birds and resulted in higher body weight, which also resulted in earlier reproductive maturity. With the red-LED light environment, administered during the laying phase, scientists found a higher egg yolk percentage. Scientists also concluded that alternative lighting did not have an impact on health or stress and that serum melatonin levels and serum corticosterone levels were not affected by light difference. The project was funded by MAFES Special Research Initiative, or SRI grant. The work was also part of the hatch project of the USDA NIFA (MIS-329280). Read more
Treatments to Reduce Bacteria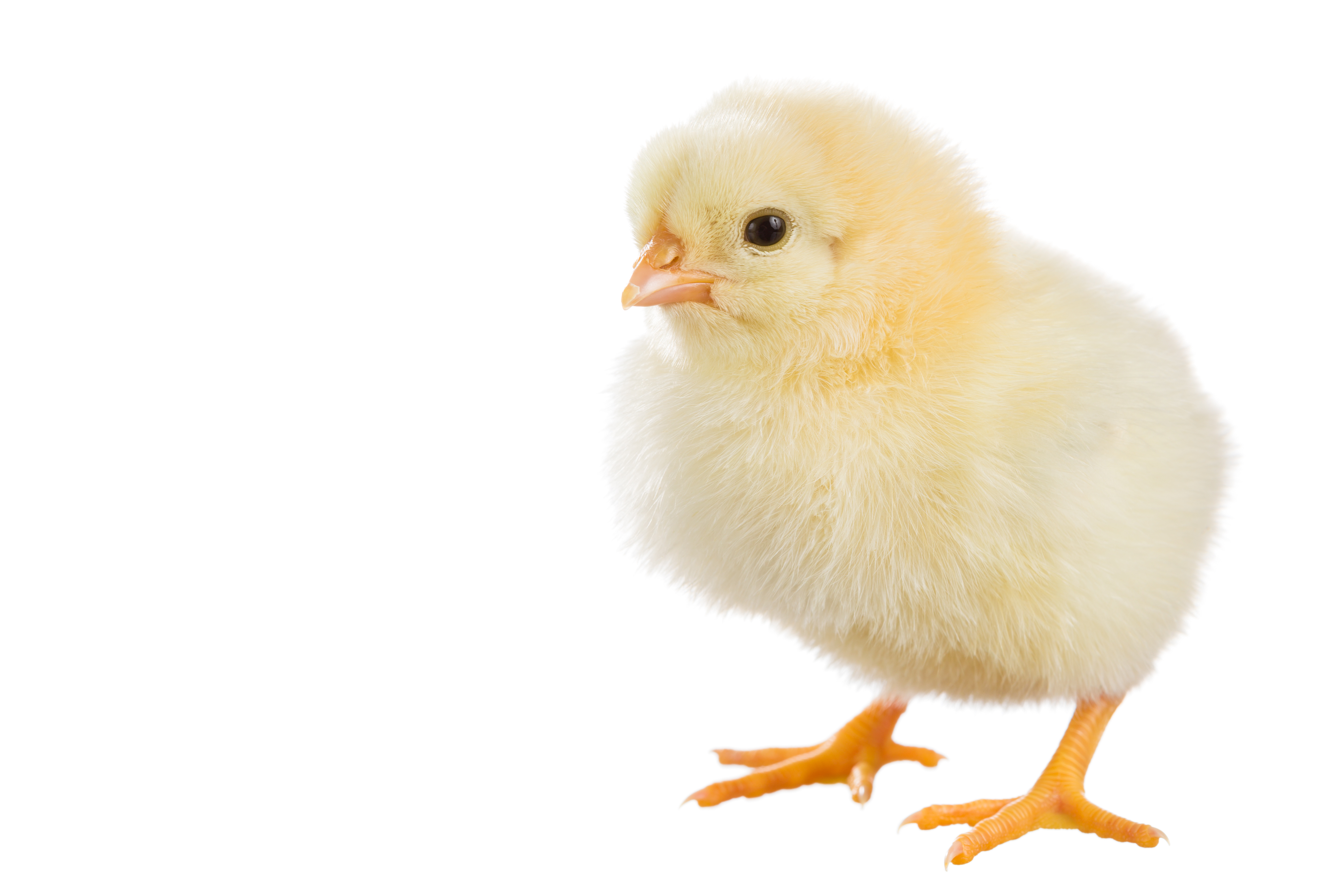 Poor hatchability can occur due to eggshell bacterial contamination, which can be decreased by UV light or hydrogen peroxide. However, the antimicrobial effects of these two treatments combined are not known. MAFES scientists sought to determine if a greater bacterial reduction would occur using a combination of UV and hydrogen peroxide. Results indicated that the combined treatments further reduced bacterial contamination compared with each treatment individually.
Unlocking a path to probiotics in poultry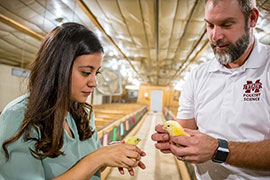 MAFES researchers are trying to unlock a better path for administering probiotics in poultry. Researchers hope bioluminescence will illuminate the effectiveness of a suite of probiotics administered into the egg, or in-ovo. Dr. Aaron Kiess, poultry science associate professor, along with doctoral student, Claudia Castañeda, have been studying in-ovo administration of probiotics for several years. Kiess said as consumer demand increases for ABF (antibiotic free) or NAE (no antibiotics ever) broilers, the researchers hope to help integrators and producers adopt probiotic programs to fend off the diseases antibiotics traditionally protect against. Thus far, they've been able to demonstrate that bioluminescent bacteria injected in-ovo made its way to the digestive tract of the hatchling within two hours after injection. In the short term, the team hopes to transfer a bioluminescent gene into a multitude of probiotic bacteria. "Our laboratory wants to identify new and novel strategies to help our poultry integrators with challenges they are facing when they are trying to produce antibiotic free poultry," Kiess said. "I want to make it easier for them to provide what their customers are asking for." Read more