Food Science, Nutrition and Health Promotion
The Department of Food Science, Nutrition and Health Promotion conducts research to ensure food quality and shelf life, to rid food of foodborne bacterial pathogens, and to examine consumer acceptability of food products. Faculty members perform experiments in the areas of meat processing, sensory science and flavor chemistry. They also work in the field of health initiatives to prevent chronic diseases and improve quality of life.
Learn more at fsnhp.msstate.edu
An Anti-Aging Ally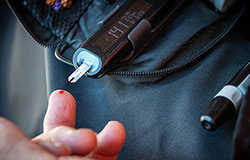 Researchers at MAFES have been tackling the understanding of a little-known mineral known as selenium, which can be found in foods such as Brazil nuts and seafood. Selenium has a role in a large number of the body's digestive and metabolic processes, but this study specifically hopes to understand the link between type-2 diabetes and inadequate selenium levels. The research suggests that, though the majority of people maintain an optimized selenium level through healthy eating, those whose levels are slightly too low may experience accelerated aging—and specifically the onset of type-2 diabetes—if their numbers remain elevated for a prolonged period. Read more
Beyond hunger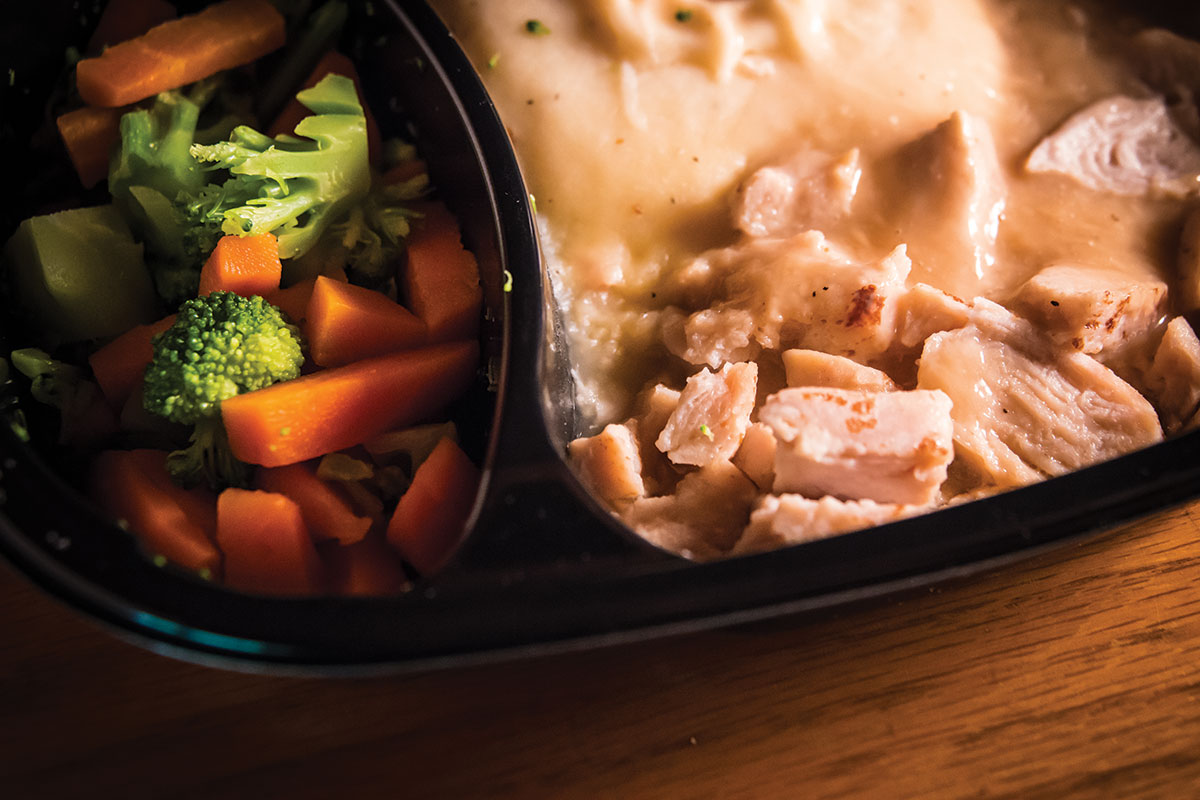 Food insecurity impacts 8.5 percent of adults age 65 and older in the U.S. That percentage climbs to 12.3 in Mississippi, the state with the greatest number of older adults who experience some level of food security. David Buys, researcher in the Mississippi Agricultural and Forestry Experiment Station and health specialist with the MSU Extension Service, recently authored a chapter about food insecurity and older Americans in the third edition of the "Handbook of Clinical Nutrition and Aging" published by Humana Press. The chapter discusses how food insecurity impacts public health. Buys is conducting research on programs for people returning home from the hospital. His study has found that the health implications of food insecurity in older adults are considerable, specifically for those who have been admitted to the hospital for treatment of chronic conditions such as diabetes and hypertension. Buys said food insecurity increases these individuals' chances of returning to the hospital. Read More
Cracking the Shell
An estimated 32 million Americans live with food allergies, one of the most common of which being peanuts. MAFES researchers hope to mitigate this problem by studying the legume itself. What makes peanut allergies so potent are the multiple allergens present in the legume. This study compared the concentration of the four major allergens found in peanuts across 122 varieties and found nine of those varieties had reduced amounts of allergens. They also studied how various preparation methods such as frying, baking, and broiling are more affect the potency of the peanut's allergens, as well as how enzymes could be used to minimize allergens. Read more
Curing Ham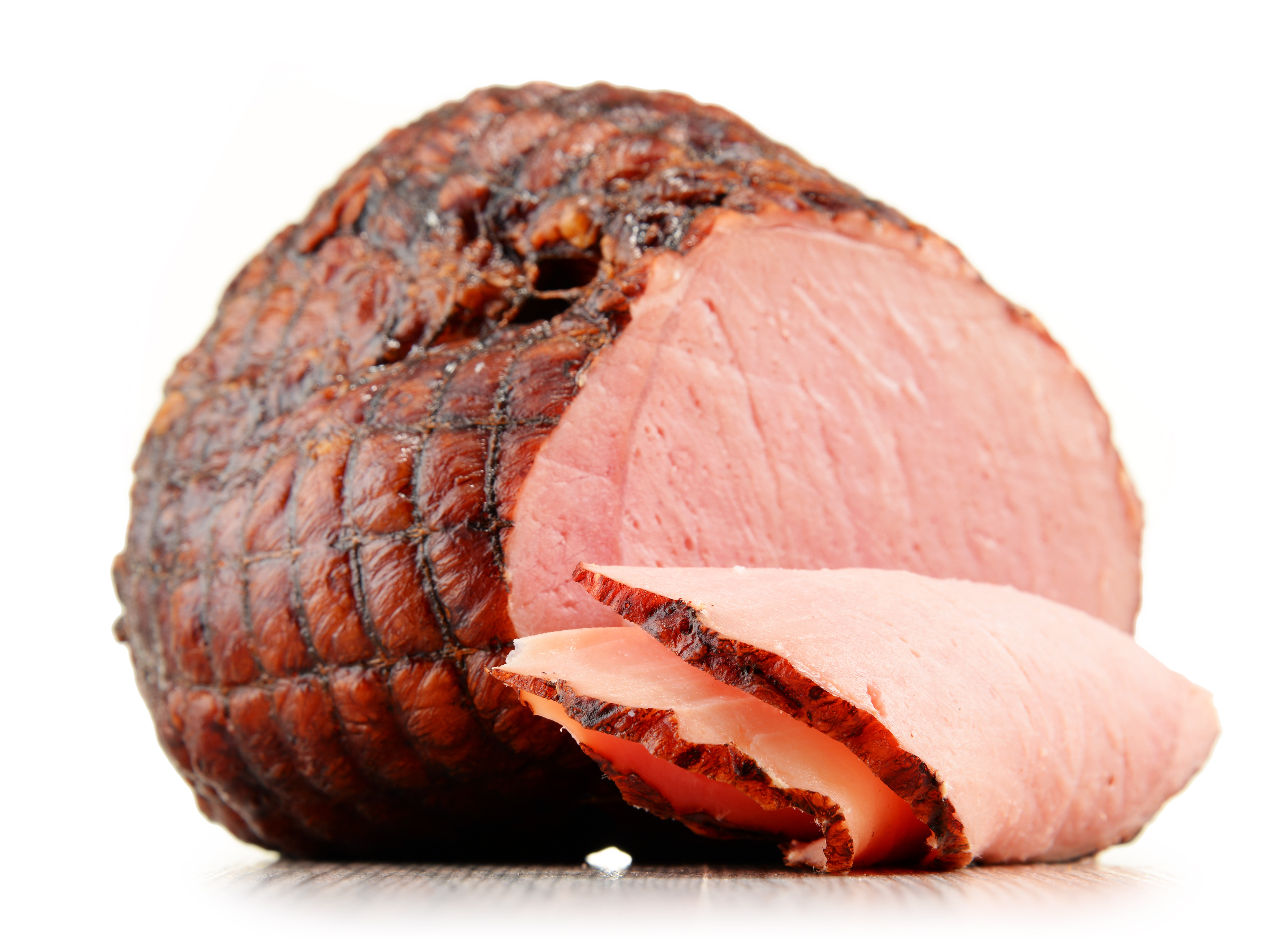 Methyl bromide is a broad-spectrum pesticide used to eradicate ham mite infestations. However, the pesticide depletes the ozone layer and is scheduled to be phased out by 2015. In conjunction with entomologists at Kansas State University, MAFES researchers evaluated the effects of treatment with ozone, carbon dioxide, sulfuryl fluoride and phosphine on ham mite survival, volatile flavor compound concentrations and sensory quality of dry-cured hams. Under laboratory conditions, phosphine and ozone showed some potential for eradicating ham mite infestations without affecting the sensory characteristics of dry-cured ham.
Dressing Ham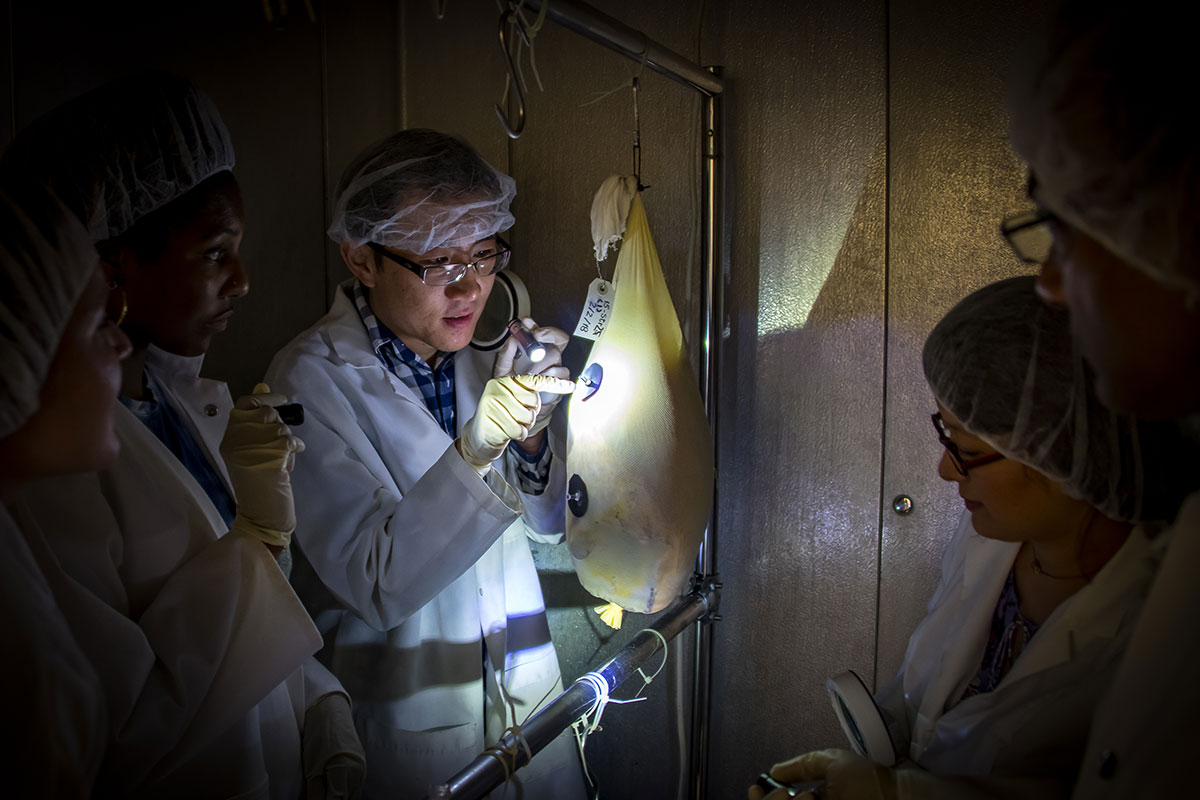 A Mississippi Agricultural and Forestry Experiment Station scientist in the School of Human Sciences is hamming it up with a MAFES food scientist, an entomologist at Kansas State University, and an agricultural economist at Oklahoma State University. Fashion and food have joined forces to design ham nets that will protect dry-cured ham from mites. The idea for the project began several years ago when scientists in the MSU Department of Food Science, Nutrition and Health Promotion and Kansas State University developed a food-grade, patent pending solution that successfully deters mites. Dr. Wes Schilling and Dr. Charles Freeman then had to figure out the best way to apply the solution so that it provided continuous protection to the ham. By saturating the stockings with the solution and then allowing the hams to hang in the netting, the scientists have come up with an easy application process to help dry-cured ham producers find economical alternatives to using methyl bromide that has been steadily phased out of use due to it being an ozone depleting substance. Read More
Eradicating food-borne pathogens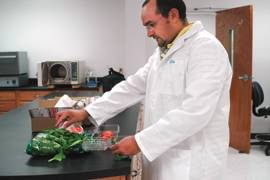 MAFES scientists found that X-ray treatments and natural additives, such as essential oils and citric acid, can reduce pathogens in food products, including seafood, produce, poultry, and dairy. Barakat Mahmoud, a food safety specialist at the Coastal Research and Extension Center in Biloxi, showed that X-rays improve the quality of seafood and produce while also extending their shelf life. X-ray radiation can be used to reduce concentrations of pathogenic bacteria, such as Vibrio, Campylobacter, Salmonella, and E. coli. Vibrio, a particularly dangerous pathogen found in the Gulf of Mexico and other marine environments, is a significant problem in the oyster industry. X-ray technology also proved effective at eliminating bacteria that cause food spoilage. For example, spinach irradiated with X-rays will last 30 days longer. This technology is proving its superiority over other technologies at eliminating bacteria in food products. Read More
Extending shelf life and food safety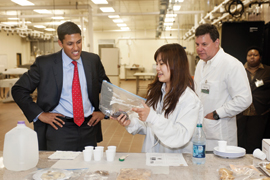 Increasing the length of time fresh catfish fillets can spend in the supply chain would make it more feasible for processors to offer fresh, never-frozen, tray-packed products in the retail market. MAFES scientists Taejo Kim, Juan Silva, and Byron Williams tested the effectiveness of antimicrobials and antioxidants at enhancing the safety and shelf life of fresh, vacuum-tumbled catfish fillets. They found that marinating fillets with salt, an agglomerated phosphate blend, and a combination of commercially available potassium acetate and potassium lactate is an effective strategy for inhibiting growth of the bacteria that cause spoilage in refrigerated foods. Analysis by food scientist Wes Shilling revealed that this treatment enhances the sensory acceptability of fried catfish fillets. Treatment with antimicrobials did not detract from the acceptability of the marinated fillets
Front line of food safety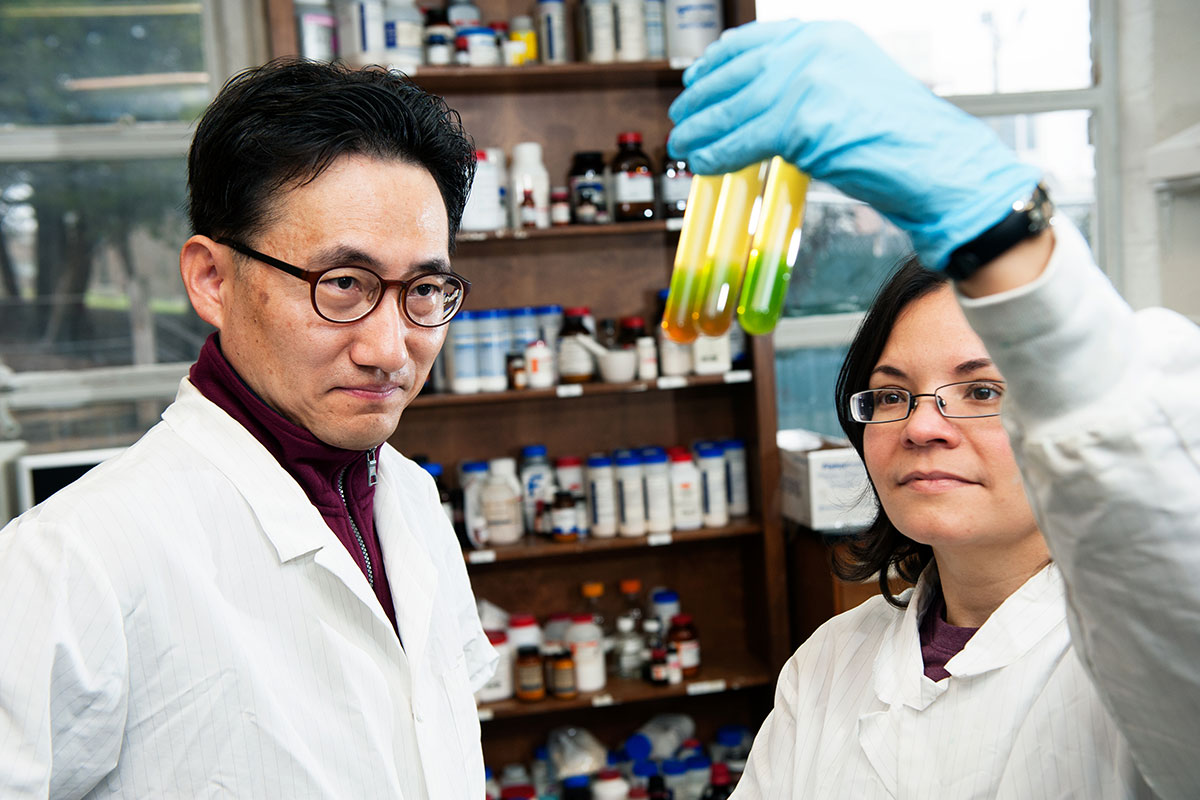 According to the Centers for Disease Control and Prevention, foodborne pathogens cause an estimated 47.8 million illnesses, 128,000 hospitalizations and 3,000 deaths in the U.S. each year. Taejo Kim, scientist in the Mississippi Agricultural and Forestry Experiment Station and assistant research professor in the Department of Food Science, Nutrition and Health Promotion, has discovered a way to make industry-wide testing of Salmonella, Listeria, E.coli and certain strains of Vibrio fast, easy and affordable. His rapid test kits require no analytic instruments; can detect pathogens in 24 hours or less and are extremely reliable. Additionally, the kits culture whole cells so technicians don't have to be skilled in extracting DNA, making it easier to use than other commercial test kits currently on the market. Read More
Fruit of the Vine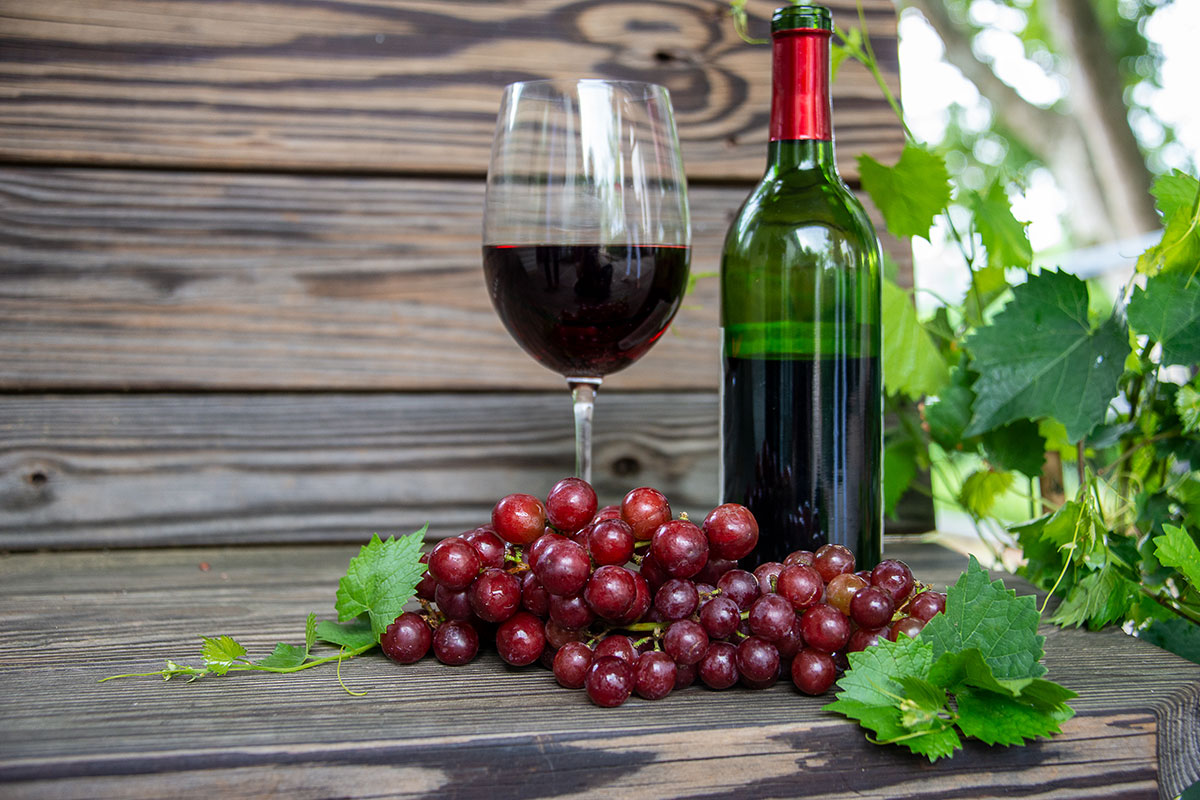 MAFES scientists, Dr. Eric Stafne and Dr. Sam Chang, are working to bring a sweet treat to Mississippi's farms. Fruits such as bunch grapes, muscadines, and blackberries, are native to the state, but have not had much success in large-scale production due to disease and harvesting difficulties. Stafne's main research has been evaluating bunch grape cultivars to see how they perform in Mississippi where there is an endemic disease called Pierce's disease (Xylella fastidiosa), which infects grapes via insect transmission. Blackberry growers also face challenges, in the form of pests and genetic disorders. As for muscadines, the biggest difficulty is in production cost. However, Dr. Sam Chang's research on the health benefits of muscadines suggests that it may be worth it. Compared to other grapes, muscadines are high in antioxidant properties, and they also have several other health benefits that could make it an up-and-coming superfood. Chang's next step will be determining which portions of the grape contain the highest concentrations of ellagic acid and antioxidants. Read More
Grass-fed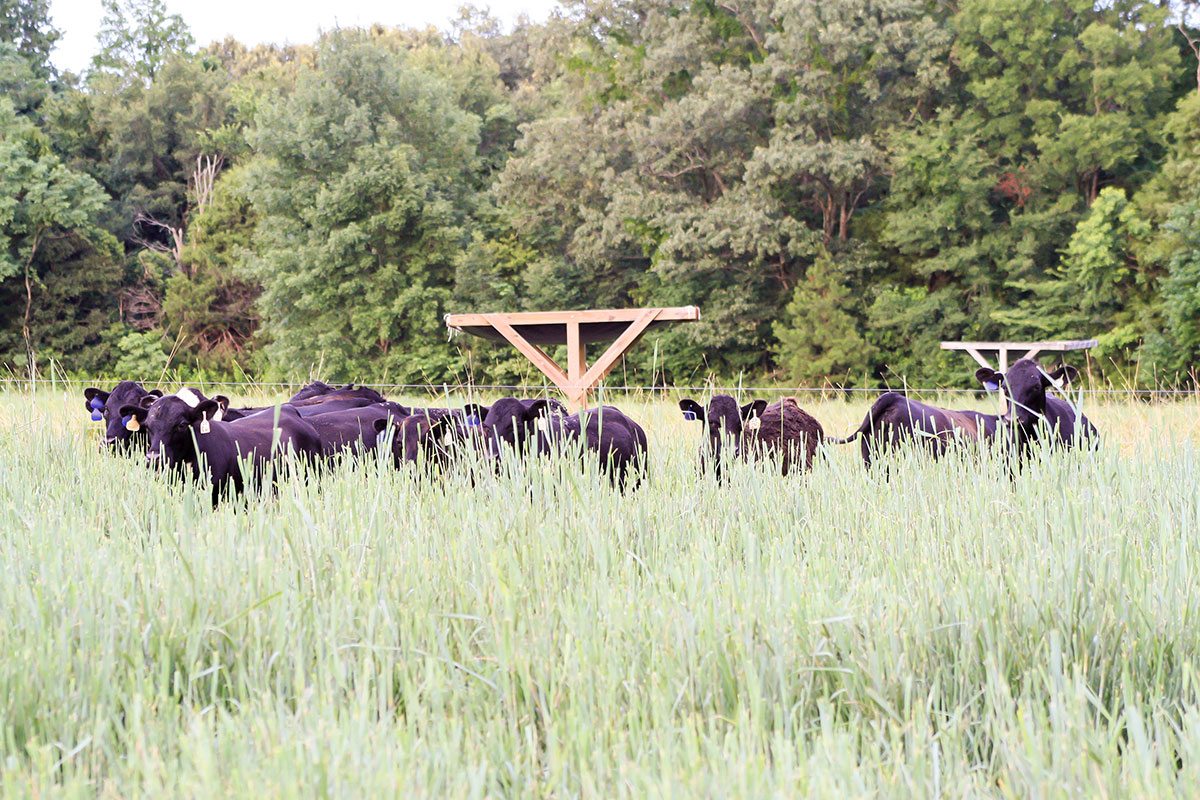 As consumer interests for forage-finished beef increases in the U.S., Mississippi Agricultural and Forestry Experiment Station scientists, Wes Schilling and Byron Williams, are studying different forages and the effects on beef quality and taste. Scientists conducted one study in the Experiment Station's Prairie Research Unit, examining the quality of beef foraged on native grasses and bermudagrass. In a separate study, scientists compared grain-finished and forage-finished cattle. In both studies, researchers found that native warm-season grasses are acceptable forage for beef cattle during the stocker phase, producing a lean, high protein product with positive consumer acceptability. Read More
Improving food safety from production to consumption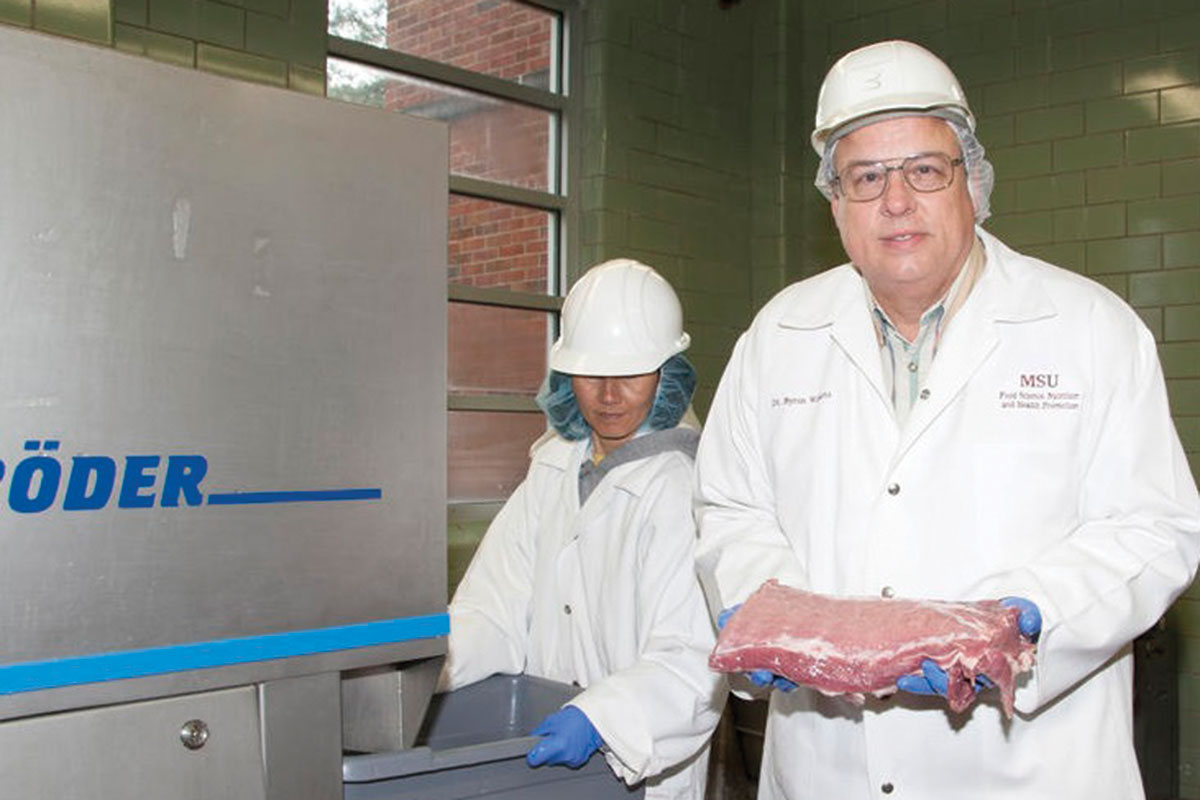 Food scientist Byron Williams, who spent 15 years in the food-processing industry before beginning his career at Mississippi State, focuses on food safety and value enhancement in his research and through educational workshops for processors and associated agencies. In a recent project, Williams studied pork processed through "hot boning," in which meat is removed from a carcass before chilling. He examined the effects of combining commonly used antimicrobial ingredients on the quality, bacterial content, and sensory characteristics of sausage patties made from hot-boned pork. Williams's study found the experimental patties were acceptable in all these traits, in addition to having an extra 3 days of shelf life. Other ongoing research explores strategies for improving quality and safety of raw materials and methods used in many Southeastern food-processing plants.
Local food in the hands of locals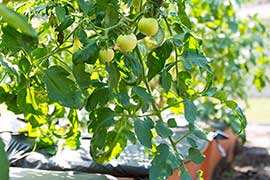 Limited access to fresh produce is an issue that plagues disadvantaged communities throughout the United States. Dr. Marie Allsopp, former assistant professor and director of MSU's Didactic Program in Dietetics, studied an initiative in the state of New York. The work there could potentially serve as a model for places like Mississippi, by helping address food access issues by giving food banks money to purchase from local producers. After the initial success with the program called the Hunger Prevention and Nutrition Assistance Program, which supplies food and financial support for the emergency food network throughout the state of New York, Allsopp is researching how the program can be replicated in other states, particularly in a state like Mississippi, which has a long growing season and plenty of agriculture.
"It could be a win-win situation where farmers have regular support from food banks purchasing their produce, and people have greater access to fresh produce," Allsopp said.
In Mississippi, the need to get people eating healthy is pressing. The state is one of the top five most obese states in the country and has the highest rate of diabetes and hypertension. An unhealthy diet is one factor that can contribute to or exacerbate these issues. Local foods can play a role in this transition by providing healthy options to begin with—and a program like the locally grown produce initiative Dr. Allsop studied in New York could help along the path to a healthier Mississippi. Read more
MSU Researchers Ask What Steak Eaters Crave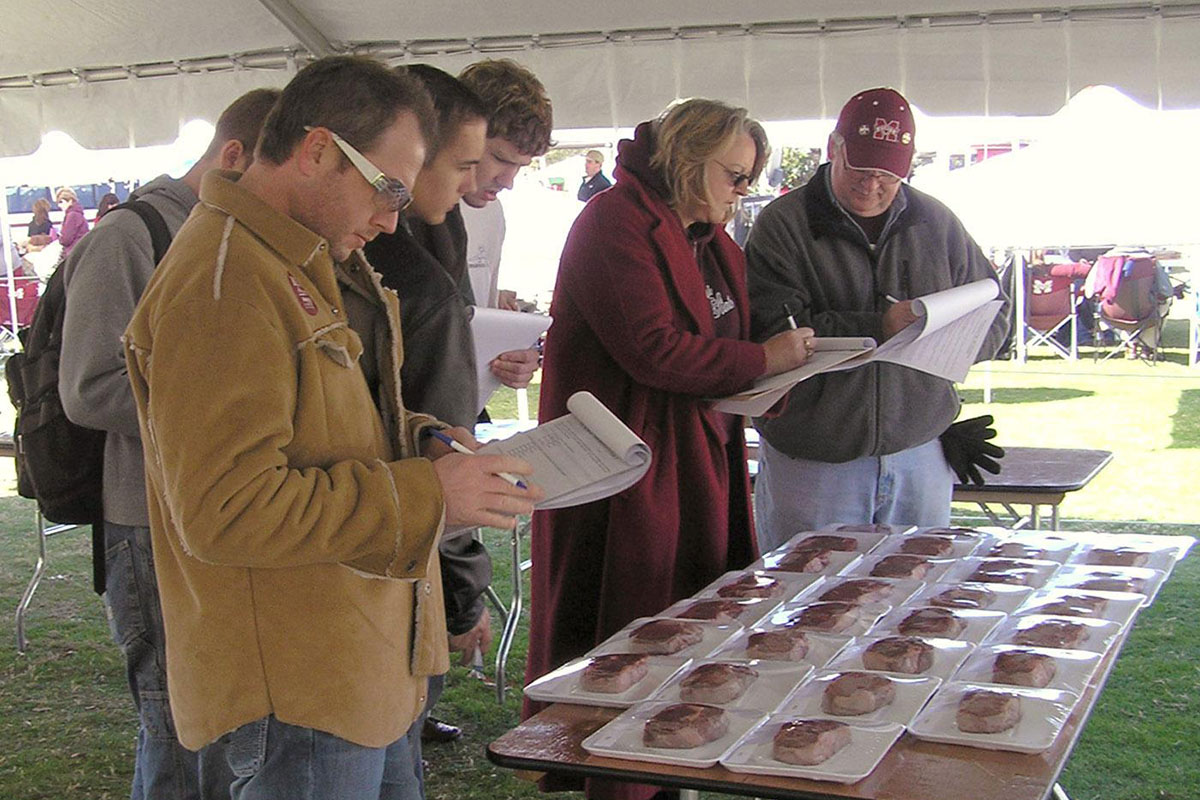 MAFES researchers recently conducted a study to gauge the public's willingness to pay extra for thicker, heartier steaks.
The study found that most consumers did not highly value thickness. Only 23 percent of consumers listed thickness as the most important factor of a rib eye, making it only the third most important attribute. Thirty percent cited marbling as the most important attribute of rib eye, making it the most important factor tested. Thickness only defeated marbling for first place with the sirloin steaks.
The study found that even if consumers are not willing to pay more for thickness, most of them are willing to pay more for characteristics such as color and marbling. Read More
Muscadine Juice Prevents E. Coli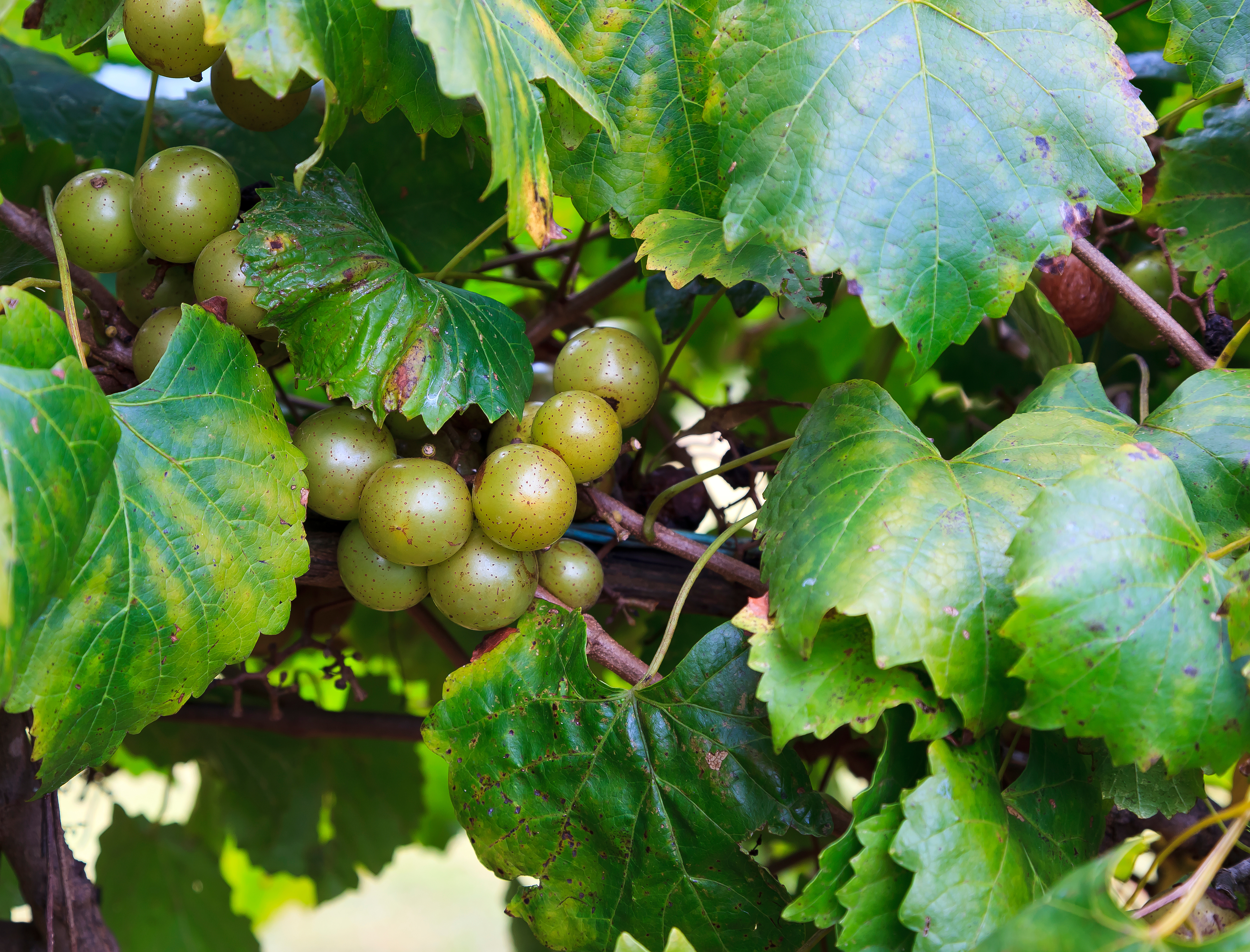 Finding natural antimicrobial compounds in fruit to enhance the safety of its juice is of great interest to the beverage industry because Escherichia coli, which causes foodborne illness, can survive in acidic environments for long periods. Muscadine grape is indigenous to the Southeast and contains a large variety of antioxidant phytonutrients. MAFES scientists found that red muscadine juice has natural antibacterial substances and suggest that these can be used as active antimicrobial ingredients against E. coli in nonalcoholic beverages.
Promoting easy detection of food-borne pathogens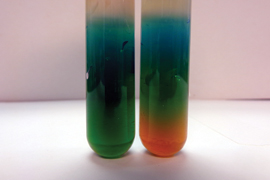 Food scientists Tae Jo Kim and Juan Silva developed a simple test kit that can be used to detect Salmonella in food, water, and environmental samples. This unique detection mechanism consists of a single test tube that can expose the presence of Salmonella in a sample without the need for any additional equipment. The kit, which can be stored for long periods at room temperature without losing its effectiveness, is inexpensive compared with similar products. After demonstrating the effectiveness of the technology in several lab studies, the MAFES scientists optimized the Salmonella test kit to perform in industrial and laboratory settings. They received a provisional patent on the technology and are ready to implement it in a commercial setting. Salmonella is the most frequent cause of short- and long-term food-borne illness, causing about 1.4 million food poisonings in the U.S. each year.
Promoting gardens for sustainable living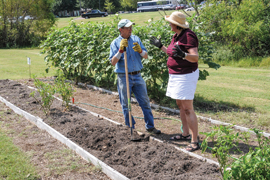 With three growing seasons, Mississippi has an ideal climate for showcasing small-scale raised beds for food production. Landscape architect Pete Melby and dietician Sylvia Byrd directed a teaching and research project to determine if household raised vegetable beds would provide the recommended amount of vegetables for a family of four. Equally important is the project's goal of demonstrating one of the key components to sustainable living: food production. Students in Melby's sustainable communities class built four 3-by-40-foot raised beds on the MSU campus and planted a spring garden. Nutrition students planted a summer garden and quantified the nutritional value of the harvests. Melby and Byrd hope their findings will inspire homeowners to plant similar gardens.
Protecting the Surface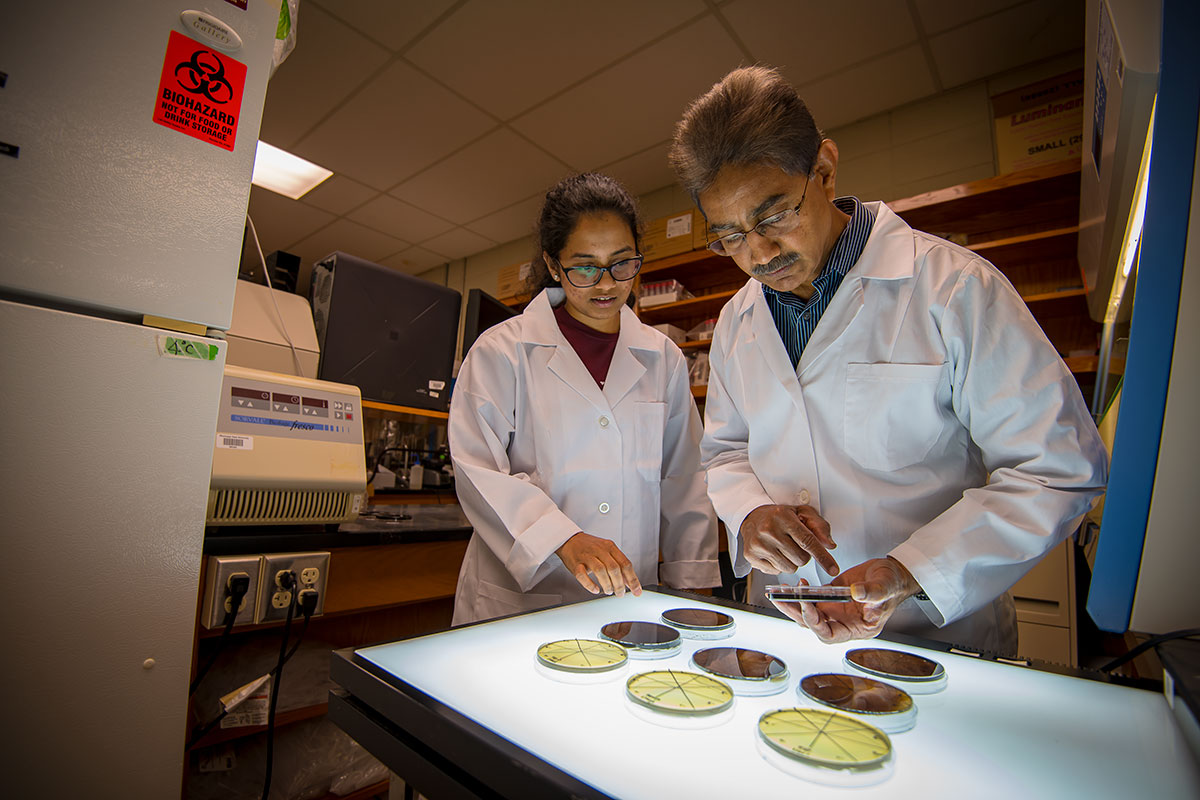 Of the many suspects that cause food safety issues in kitchens and food processing plants, biofilms, caused by bacteria such as Listeria monocytogenes and Salmonella, are a common culprit. MAFES scientists Dr. Ramakrishna Nannapaneni, who specializes in food science, nutrition and health promotion and Dr. Aaron Kiess, who specializes in poultry science, are taking a stand in biofilms, the growth of bacterial cells on surfaces that touch food. Through Nannapaneni and Kiess's research, they discovered that a mixture of disinfectants was far more effective than single compound disinfectants for removal of biofilms. Dr. Kiess's lab is also looking into how Salmonella survives on poultry processing equipment before and after cleaning cycles. They hope to continue research to determine how biofilm cells become denser, stronger, and spread as well as what mechanisms govern cross-resistance. By discovering this, they hope to figure out how these tough biofilms can be eradicated to enhance food safety. Read More
Quartet of Care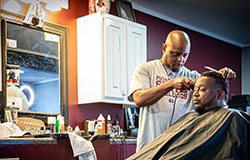 MAFES researchers are studying the role of the barbershop in modern medicine. While the connection between haircare and healthcare may seem nebulous, this study suggests that the disarming atmosphere and relationship of care between a barber and customer could create a space for medical professionals to discuss otherwise uncomfortable aspects of human health. In particular, these researchers are interested in how barbershops can lead to a destigmatized discussion about HIV/AIDS, particularly in African American communities. Read more
Spreading Kudzu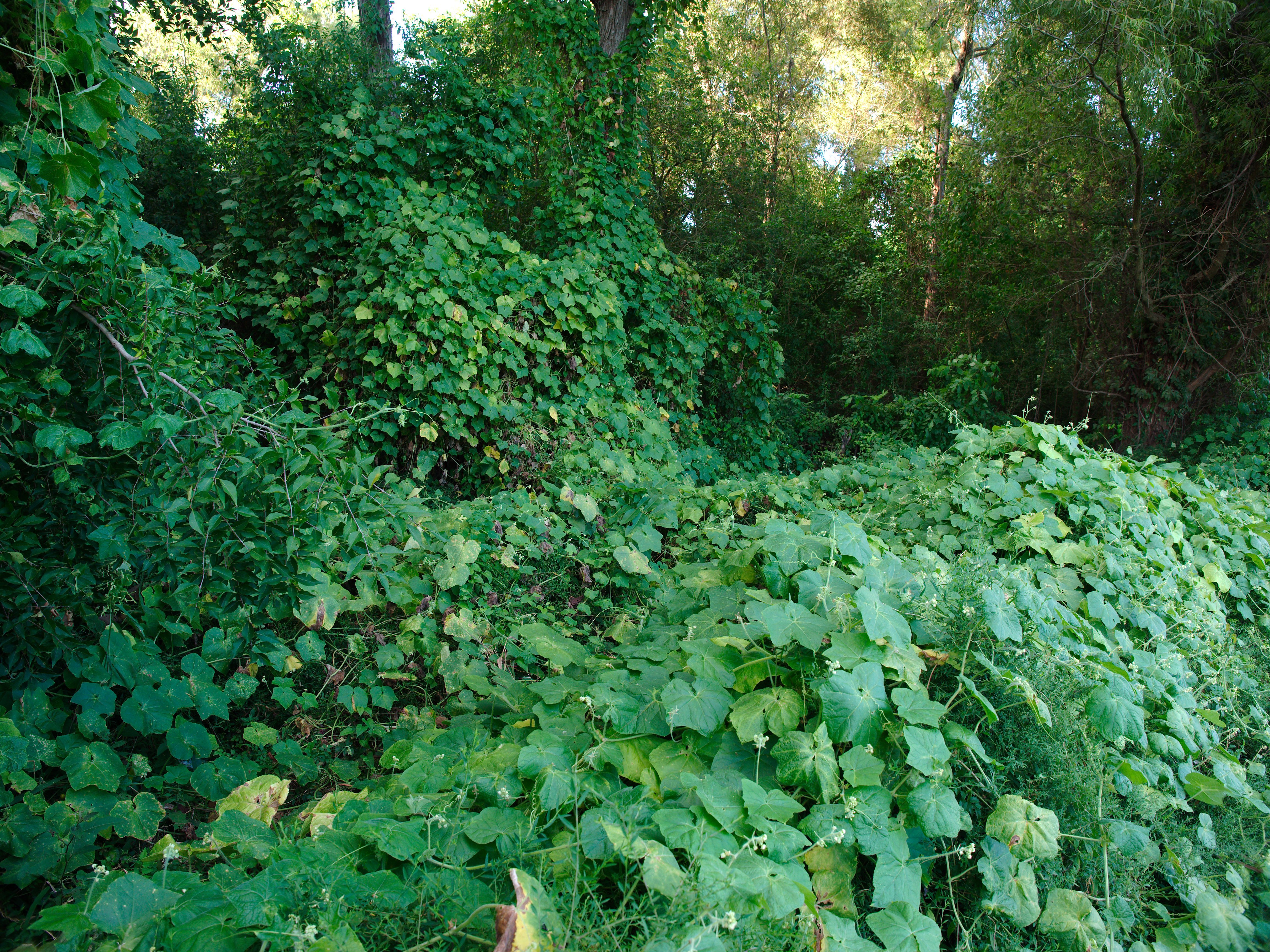 Kudzu was introduced in the U.S. in 1876 and now grows more prolifically in the South than anywhere else in the world. Kudzu is an edible plant from the legume family, thus all parts of the kudzu plant are edible. A MAFES study was conducted to determine consumer acceptability of kudzu jelly and dip products through sensory testing. Consumer acceptance of both products was favorable.
Stressed Out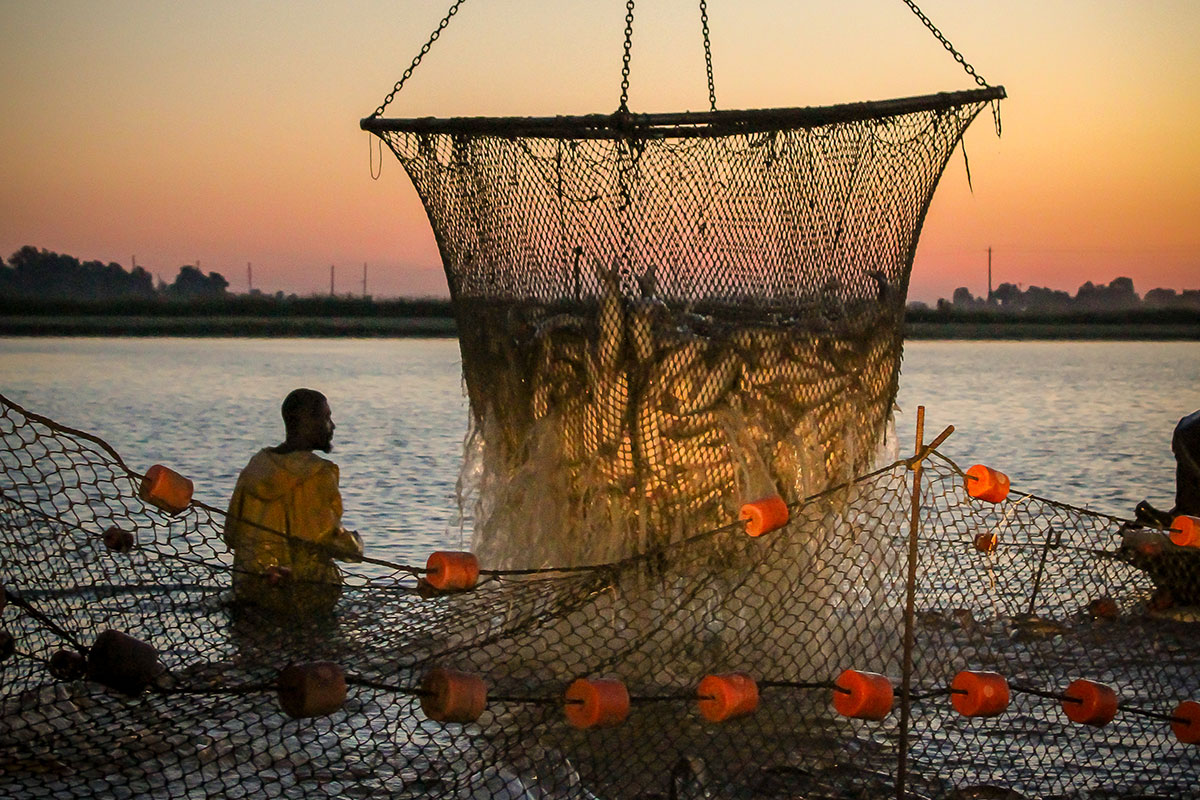 Stress can take a toll on farm-raised catfish and may also affect the end product. That's why MAFES scientists, Drs. Peter Allen and Wes Schilling, have spent five years studying the impact stress has on catfish from farm to table and fingerling to fillet. Environmental stressors included aspects of water quality, such as temperature and dissolved oxygen and sequential stressors, such as stressors in the sock (a netted enclosure) and during hauling. The stressed fish didn't eat as much or grow as fast, which resulted in smaller fillets. However, the researchers were able to determine that stress did not seem to impact the end product besides the size of the fillets. The researchers then established best practices for producers based on the research. These recommendations included minimizing harvest at elevated temperatures, reducing fish densities in hot summer conditions, and minimizing time in the sock and time from transport to processing.Read More
Sum of All Parts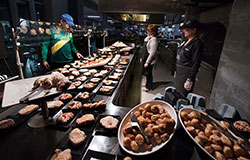 What began as a study on the genetic predisposition to umami-flavor-sensitivity among various races has become an in-depth study on how the health and lifestyle of African Americans reflects a broader trend of health disparities disproportionately affecting this population. This study utilizes a variety of survey-based data that tracks everything from the subject's typical diet to their level of food insecurity to their daily routine. With this array of information, MAFES researchers hope to identify factors that contribute to health disparities, ultimately, in order to reduce and eventually eliminate them. Read more