Agricultural and Biological Engineering
Scientists in the Department of Agricultural and Biological Engineering apply engineering principles to solve problems in biological systems. Related research includes the human body's reaction to medical implants, the engineering of biological machines, computation and modeling of biological systems, renewable bioenergy, animals generating solid wastes at animal production facilities, and production and processing of plants in agricultural systems.
Learn more at abe.msstate.edu
A Clear Path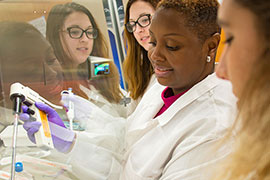 Cardiovascular disease is the cause of one in four deaths in the U.S. A major contributor to cardiovascular disease is vascular calcification, a build-up in the arteries that can result in heart attack or stroke. Dr. LaShan Simpson, assistant professor in agricultural and biological engineering, leads a team of graduate and undergraduate researchers focused on learning more about vascular calcification on the cellular level. She is specifically studying how vascular calcification affects individuals with diabetes and chronic kidney disease, who have an elevated risk of vascular calcification. She's studying smooth muscle cells that have been cultured to mimic diseased blood serum, evaluating how the cells behave in order to determine more about the calcification process. While the work is in the preliminary stages, Simpson hopes the research will eventually aid in the treatment of vascular calcification, which would have the potential to impact many lives. Read more
An Engine for Energy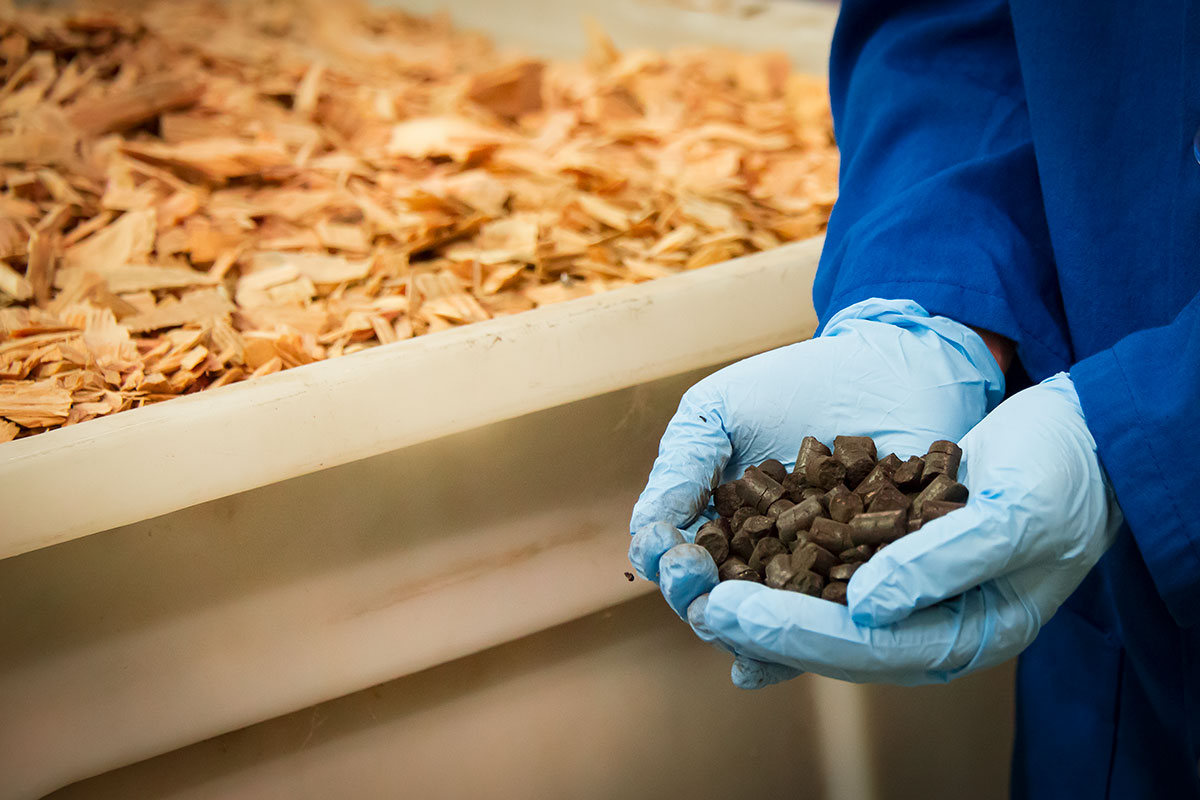 As concern over global climate change increases and our supplies of fossil fuels dwindles, MAFES scientists turn to alternative sources of energy. One of the most promising technologies for a fossil fuel replacement: biomass-to-liquid fuels, or BTL. The technology uses biomass, such as woodchips or switchgrass, to generate liquid fuel that acts as an alternative to fossil fuels. Because woodchips and switchgrass are plant-based, they are quickly renewable—unlike fossil fuels, which require millions of years to form. One of the main breakthroughs of the project was developing a one-step conversion process that transforms the biomass into syngas—a fuel gas mixture that consists of hydrogen, carbon monoxide, and carbon dioxide—which then can be converted into a number of different fuel types. Read More
Automated Gathering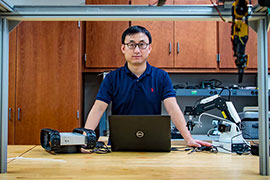 McDonald's, Wendy's, and Walmart are just a few of the hundreds of corporations who have vowed to switch to cage-free eggs in the not-so-distant future. Because of the growing consumer demand, approximately 70 percent of the nation's 320 million birds need to be cage-free by 2026. To help with this major industry shift from conventional-caged to cage-free environments, MAFES scientists hope to automate egg collection for those producers looking to make the change. Dr. Yang Zhao, assistant professor in Agricultural and Biological Engineering and MAFES scientist, is leading a team of scientists to automate egg collection in the cage-free production system to help resolve the increased labor need in egg production. "We are building a robotic car to gather eggs from the floor of the cage-free chicken house and to also train chickens not to lay eggs on the poultry floor," Zhao said. Alongside this project, there is a study which evaluates the robot performance regarding floor egg reduction in early-peak laying stage, which is a critical period for training good laying habits. A component of the study is to determine if the autonomous car will stress the chickens. Dr. Wei Zhai, assistant professor in poultry science, will measure stressors in a sample of the study hens. The overarching goal is to help those egg producers who transit to cage-free production systems. Read more
Avian Flu Takes Flight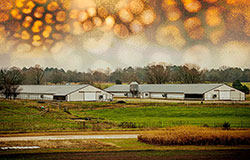 When the Avian Flu of 2015 decimated poultry flocks across the Midwest, MAFES scientists joined the effort in hopes of determining the virus's mode of spreading. By incorporating meteorological models, they were able to visualize how the virus might travel on known air and weather trends, which could potentially give producers the advantage of preparing for a future outbreak. Mitigation tactics don't guarantee a flock's survival, but the scientists shared that even twenty-four hours of preparation can make a large impact on how well the producer fares. The model also allowed researchers to follow how loci of infection interact with one another, which reaffirms the need for One Health initiatives across the country. Read more
Beach landscaping to protect the coast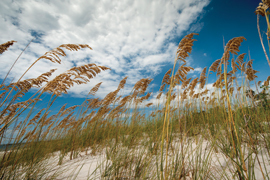 A project that began on a 3-acre section of beach in 1995 continues to grow and serve as a model for mitigating storm damage and reducing cleanup costs along the Mississippi Gulf Coast. Agricultural engineer Thomas Cathcart and landscape architect Pete Melby developed an experimental beach with limited mechanical maintenance and lots of native plants, which had a dramatic effect on beach erosion in the area. Based on this success, they were commissioned to design a similar landscape along 26 miles of man-made coastal beach in Harrison County. In addition to controlling erosion, this landscaping was designed to keep sand off adjacent highways, reduce the impact of storm damage, and provide other environmental benefits such as filtering pollutants. After its most recent test when Hurricane Isaac came ashore in 2012, the beach's vegetation remained intact and will continue to regenerate. Sea oats that formed the foredunes—the line of protective dunes closest to the water—were flattened by Isaac's storm surge but will regrow and recreate the dunes. A salt marsh, planted with deep-rooted grasses, was unaffected by the storm and did its job of reducing erosion from the beach edge. These landscaping features have proven their ability to not only improve the local ecosystem, but also save money on highway sand cleanups and beach replenishment. Read More
Clean Cotton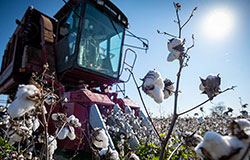 Despite cotton being one of the most lucrative commodities of Mississippi's agricultural sector, it is not without its challenges. One issue cotton growers regularly face is diminished crop quality due to the contamination of stray plastic within the harvested bales and modules. MAFES researchers are searching for efficient ways to separate plastic from the cotton before it goes into the gin, which is traditionally where the plastic is shredded and integrates into the cotton fiber, making separation extremely difficult. Researchers are working to create a machine vision system capable of spotting plastic in the cotton before that point and removing it, allowing the cotton quality to remain its Mississippi-best. Read more
Determining Best Management Practices in Big Sunflower River Watershed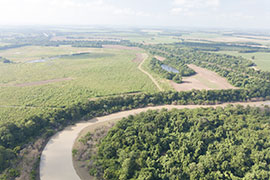 The Big Sunflower River watershed is an important part of the Mississippi Delta's ecosystem. MAFES researchers are working to determine how best to keep the watershed's integrity intact. They are using a Soil and Water Assessment Tool model that replicates the tributary's reactions to various management practices in order to determine effective ways to maintain water quality for the important watershed. Read more
Developing Synthetic Fuel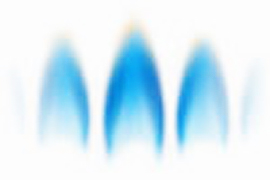 The emergence of biomass-based energy warrants the evaluation of synthetic gas, or "syngas," as a fuel for personal power systems. Syngas uses oxygen to convert biomass and coal into carbon monoxide and hydrogen. MAFES scientists recently examined the performance and exhaust of a commercial generator modified to run on 100 percent syngas compared with a gasoline-powered generator. The overall efficiency of the generator at maximum electrical power output was the same for both fuels.
Improving battlefield safety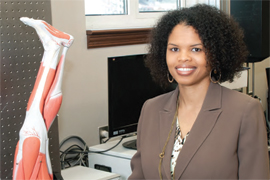 Biomedical engineer Lakiesha Williams is creating digital models of how the human body responds to blasts from improvised explosive devices (IED) to provide the data necessary to better protect men and women in uniform. Her primary focus is on the lower extremities, specifically how bone, muscle, and skin deform under very high blast pressure such as that suffered in an explosion that occurs under a vehicle. Williams's work is unique because other simulations have not focused as specifically on IED explosions or produced the level of anatomical and mathematical detail in their models. The MSU models show how an IED blast causes the skin to tear, bones to break, and muscles to rip. Ultimately, this data will be coupled with research to develop enhanced safety countermeasures for soldiers with the goal of increasing battlefield survivability.
Making Waves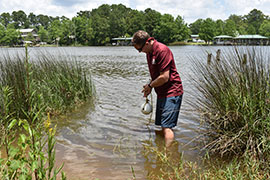 Waves play a bigger role in coastal systems than one might believe, and the equipment needed to study the impact of a wave can run thousands of dollars. MAFES researchers are working to develop effective wave-measuring technology with a tenth of the price tag of traditional equipment. Once the waves can be understood more completely with affordable, widespread equipment, researchers can factor wave influence into the bigger picture of coastal restoration. Read more
Repairing reproductive disorders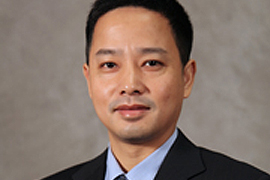 Biomedical engineer Jun Liao is performing groundbreaking research that could lead to a new treatment for Mayer-Rokitansky-Küster-Hauser (MRKH) syndrome, a reproductive disorder that affects about one in 5,000 women whose pelvic organ development is incomplete. MRKH causes pain, inability to conceive, improper hormone development, and other problems. The most common surgical treatment is the McIndoe vaginoplasty, where a skin or muscle graft from the patient's leg is used to create a tissue-engineered vaginal patch. Liao is developing a method of using microscopic tissue from the reproductive organs of female sheep—the most similar to human tissue—to create grafts for treating MRKH. Preliminary results suggest that the bioengineered vaginal tissue can work as a treatment. However, further research must be conducted to determine the biocompatibility and cell-support capability of these grafts. Read More
Researchers Make 'Elusieve' Dreams Happen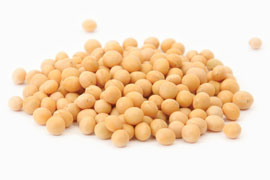 Ground corn flour, soybean meal and distillers dried grains with solubles (DDGS) — a by-product from ethanol production — comprise more than 70 percent of swine and poultry diets. While these ingredients are important for livestock nutrition, they are high in fiber, which is not easily digested by swine and poultry. Feed producers needed a system to remove the fiber while maintaining vital nutrients. MAFES scientists developed a process called "Elusieve" that uses a combination of sieving and air classification to separate fiber from feeds. This technique sifts particles into four sizes and then blows them with air to remove fiber. They found that fiber separation increases starch content of ground corn flour by 3 percent and increases protein contents of DDGS and soybean meal. Read More
Safer Horse Transportation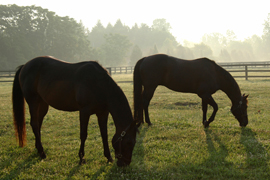 There has been little research to measure the heat conditions in horse trailers during transport. MAFES scientists recently measured several temperature variables in a fully enclosed four-horse, ant-load trailer with and without animals. Scientists found that trailer temperatures during transport exceeded those recommended for animal housing, although the thermal environment was affected by vehicle speed, vent configuration and presence of animals. They found that temperature increased significantly in transport during relatively mild weather, which indicates that horses could suffer from heat stress during warmer weather. These results show the importance of closely monitoring heat conditions in trailers used to transport horses.
Seal the Housing Envelope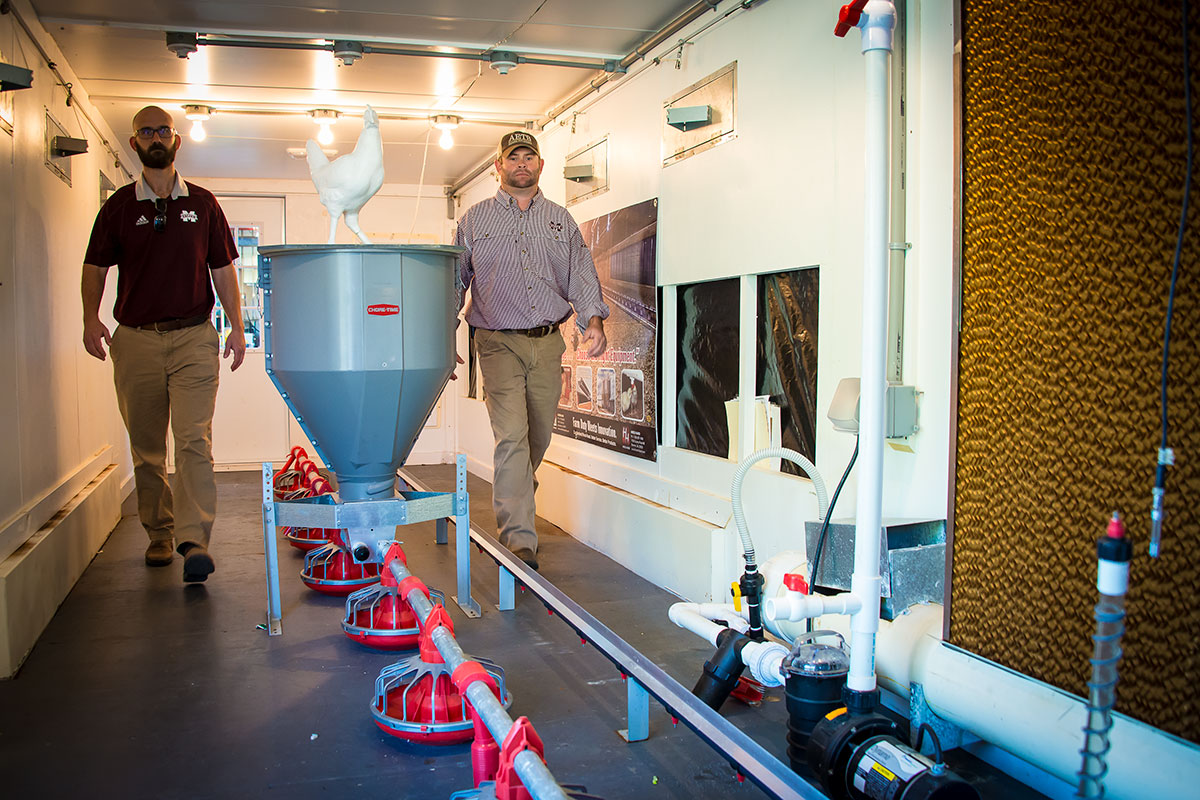 Poultry is big business in Mississippi. In 2016, the state's broiler production value totaled $2.23 billion dollars. A researcher in the Mississippi Agricultural and Forestry Experiment Station and an engineering specialist in the MSU Extension Service are studying ways to optimize energy efficiency in poultry houses to reduce producer inputs and increase their bottom lines. Energy expenditures account for about 60 percent of the input costs for the state's nearly 1,500 poultry producers. Heating fuel alone can hover in the 40 percent range. MAFES scientists studied energy transfer in poultry houses while extension specialists studied heaters and lighting. Each focused on ways to reduce producer inputs and increase efficiencies of the housing envelope across the life of a facility. Read More
Smart Water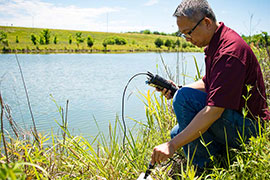 Water is essential. All crops require water and many of the crops in Mississippi depend on irrigation. A little more than half of Mississippi farmland and nearly all of the row-crop acreage in the Mississippi Delta is irrigated. Much of that water comes from the Mississippi River Valley Alluvial Aquifer. That aquifer is losing approximately 300,000 acre-feet of water annually and groundwater levels have decreased over six meters in the last decade and a half. That's why researchers in the Mississippi Agricultural and Forestry Experiment Station and the Department of Agricultural and Biological Engineering are focused on finding smart ways to protect Mississippi's water resources. Scientists are studying how artificial intelligence (AI) might help predict aquifer levels. They are also evaluating how on-farm water storage can help save water while improving water quality. Scientists are also finding better ways for producers to irrigate crops. Protecting one of Mississippi's most important resources requires a collaborative effort and MSU scientists are doing their part to make a difference in this noble endeavor. Read More
The point of impact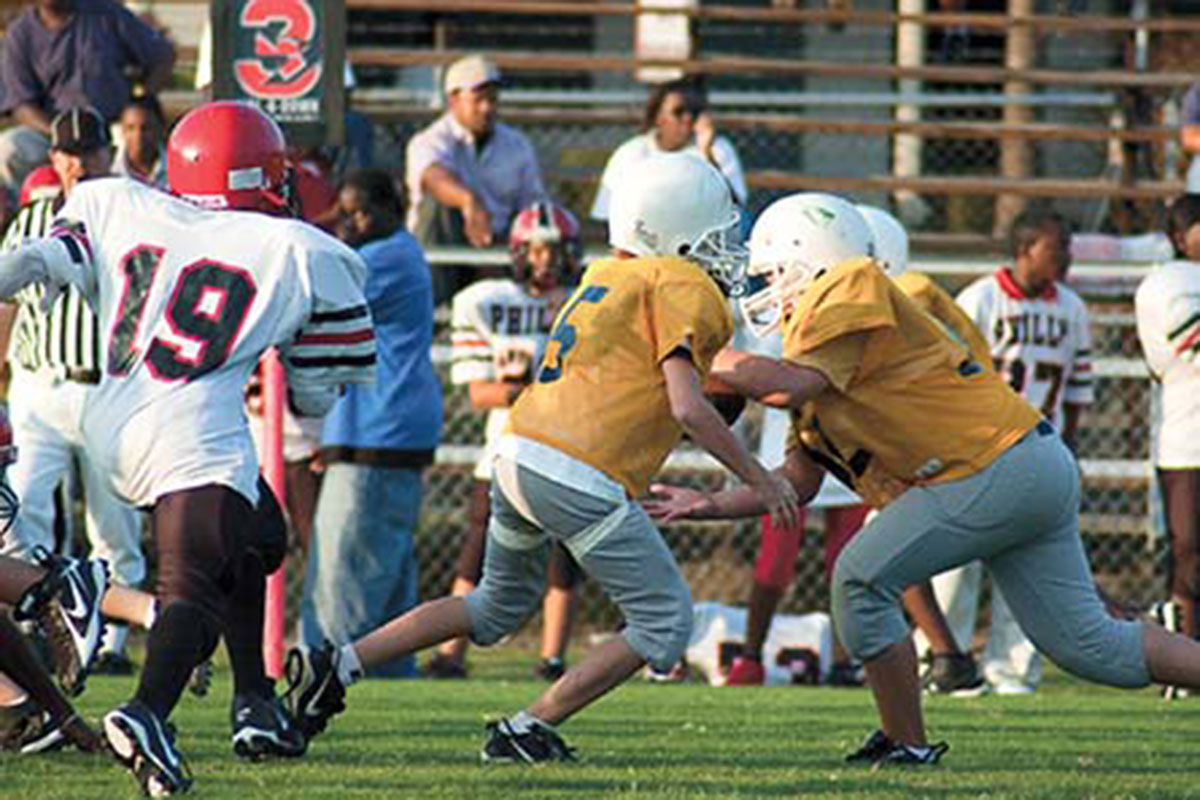 Nayeon Lee, MSU biological engineering doctoral student, conducted research on woodpecker beaks to discover more about their shock-absorbing capabilities. Insight from the study could help researchers apply biological principles to man-made design including the design of football helmets with better shock-absorbing capabilities. Lakiesha Williams, associate professor of agricultural and biological engineering in the university's Mississippi Agricultural and Forestry Experiment Station and Mark Horstemeyer, CAVS chair professor in mechanical engineering, directed Lee's research. Results from this research contributed to a recently patented idea. Horstemeyer was successful in patenting specific shock-mitigating materials and methods found in nature for use in man-made design principles. The research also addresses an Experiment Station research priority to prevent disease, injury and disability, subsequently enhancing the quality of life for Mississippi residents.Read more
Vaccine leads to better survival, bigger fish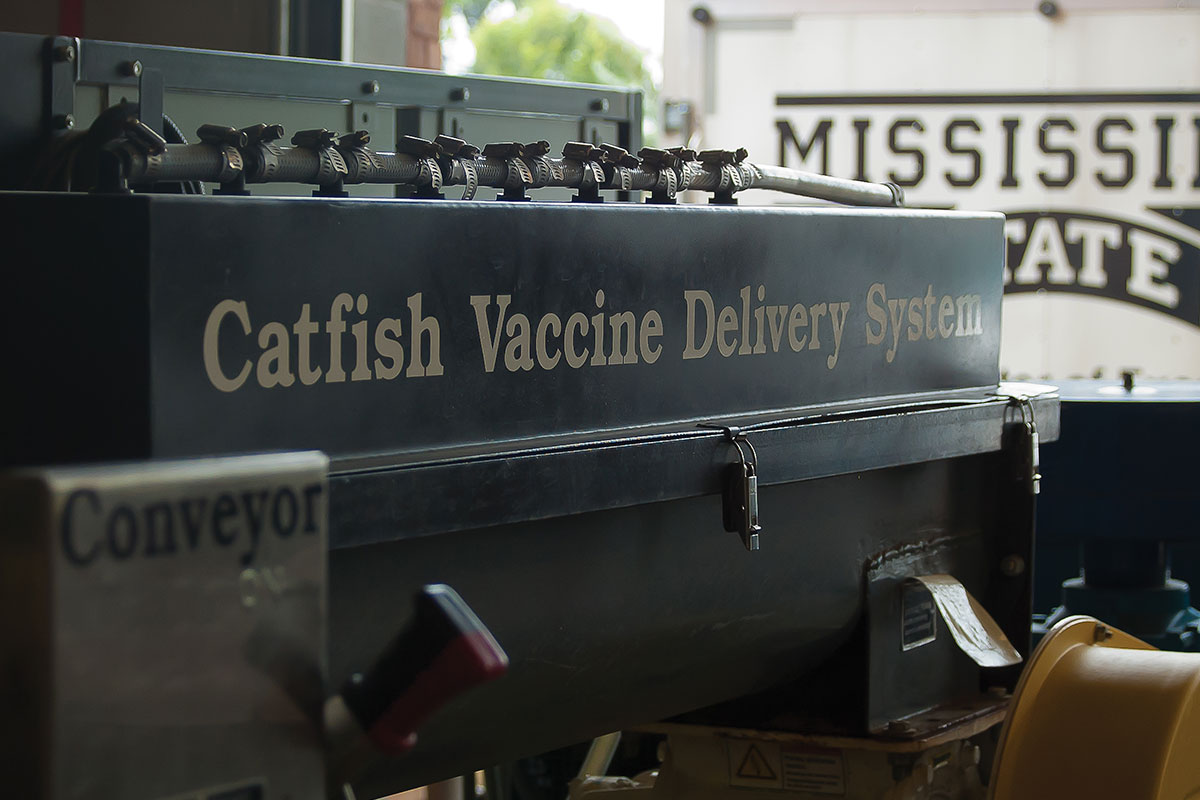 MSU scientists have developed a vaccine and vaccine delivery system to protect catfish from commonly occurring bacteria that can cause death. During their first growing season, every catfish fingerling raised in the Mississippi Delta will be exposed to Edwardsiella ictaluri, the bacteria that causes enteric septicemia, or ESC. In research trials, vaccinated catfish have a relative percent survival rate above 90 percent. Vaccinated fish are also 20 percent larger than unvaccinated fish. MSU's vaccine and delivery method were developed at the Thad Cochran Warmwater Aquaculture Center and received a provisional patent in 2013. Read more