Landscape Architecture
The Department of Landscape Architecture conducts research on low-impact development, conservation planning, biodiversity, habitat restoration, wildlife/urban interface planning, sustainable communities, watershed planning, transportation and land use planning, and energy-efficient site planning and building design.
Learn more at lalc.msstate.edu
Beach landscaping to protect the coast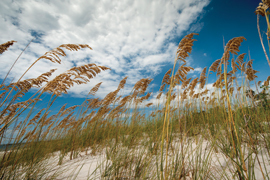 A project that began on a 3-acre section of beach in 1995 continues to grow and serve as a model for mitigating storm damage and reducing cleanup costs along the Mississippi Gulf Coast. Agricultural engineer Thomas Cathcart and landscape architect Pete Melby developed an experimental beach with limited mechanical maintenance and lots of native plants, which had a dramatic effect on beach erosion in the area. Based on this success, they were commissioned to design a similar landscape along 26 miles of man-made coastal beach in Harrison County. In addition to controlling erosion, this landscaping was designed to keep sand off adjacent highways, reduce the impact of storm damage, and provide other environmental benefits such as filtering pollutants. After its most recent test when Hurricane Isaac came ashore in 2012, the beach's vegetation remained intact and will continue to regenerate. Sea oats that formed the foredunes—the line of protective dunes closest to the water—were flattened by Isaac's storm surge but will regrow and recreate the dunes. A salt marsh, planted with deep-rooted grasses, was unaffected by the storm and did its job of reducing erosion from the beach edge. These landscaping features have proven their ability to not only improve the local ecosystem, but also save money on highway sand cleanups and beach replenishment. Read More
Developing Firewise Communities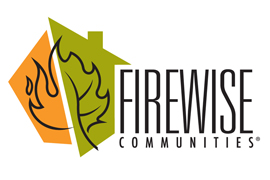 New community developments can be planned to minimize loss of property and life to wildfire through multiple defensive strategies. A MAFES research project examined three communities affected by the 1998 Florida wildfires and compared them with three recently designed Florida subdivisions that incorporate Firewise principles. Findings show that incorporating multiple defensive strategies in community planning may be effective in wildfire defense.
Model Takes Guess Work Out of Conservation Planning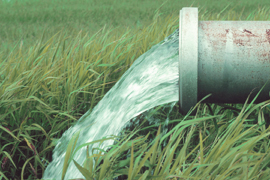 Conservation planning requires that choices be made among potentially numerous alternative designs and outcomes. Using hydrologic modeling tools in the planning process enables planners to weigh the outcomes of alternative strategies against one another in an attempt to maximize the effects of implementing conservation practices. MAFES scientists developed a simple hydrologic calculator in a spreadsheet format that has the potential to put the power of hydrologic decision support into the hands of more landowners. Using a series of questions and accompanying help functions, a user can calculate and compare curve numbers for parcels of land where they want to implement conservation practices.
MSU Study Finds Water Quality Overestimated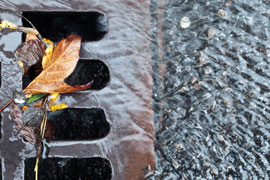 Storm-water management stakeholders in the coastal regions of Mississippi and Alabama over exaggerate the quality of natural waters in their areas, according to a recent MAFES study. The study found that many professionals interested in storm-water management techniques were a bit out of touch with the ebb and flow of precipitation runoff. When it comes to managing storm water, many cities and municipalities across the United States use one of two mainstream techniques. Often, a city will funnel most of its storm water into large detention ponds, later releasing it back into creeks or streams. Alternatively, commercial business or housing developments will collect and release runoff water via ditches dug on site. These types of management techniques often lead to water degradation in a municipality's streams and lakes, causing adverse effects that creep all the way to the Gulf of Mexico. The results of the study indicate that education is key in improving water quality and treating storm-water runoff.
Parking for Pollinators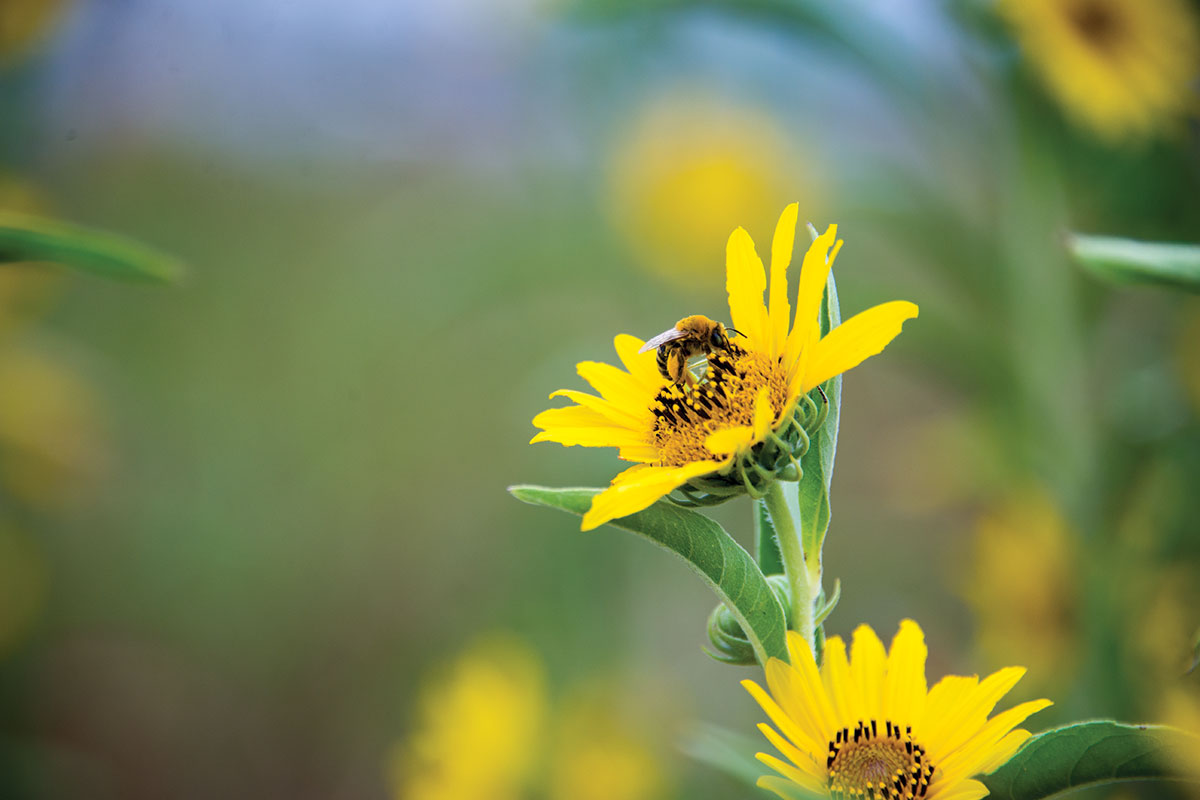 A Toyota Corolla rolls off the assembly line every 73 seconds at the plant in Blue Springs, Mississippi. But for the automobile manufacturing plant, building cars is not its only job; it also strives to build better communities. Toyota Motor Manufacturing Mississippi shares in a global vision established for its manufacturing plants: to be a company that shows consideration to the environment and investigates and promotes sustainable systems and solutions. The plants' efforts have not gone unnoticed. In 2014, the Blue Springs plant was certified as a Wildlife at Work site, a designation given by the Wildlife Habitat Council. A scientist with the Mississippi Agricultural and Forestry Experiment Station helped the plant earn that status. Dr. Tim Schauwecker, landscape ecologist in the Mississippi Agricultural and Forestry Experiment Station and an expert in prairie ecosystems, helped the plant install pollinator gardens. Deemed the model sustainable assembly plant for North American operations, the pollinator gardens is one of three projects that support the Wildlife at Work certification. Read More
Preserving prairie ecosystems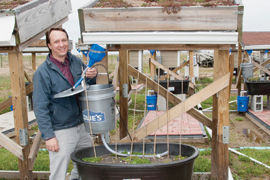 Landscape architect Tim Schauwecker studies methods of conserving prairie ecosystems, which play an important role in creating more sustainable communities. Prairie land was native to Mississippi before the cotton and dairy boom began in the 19th century. Schauwecker's study focuses on two regional prairie belts, one running from Meridian to Jackson and another running from northeast Mississippi to southern Alabama. Restoring Mississippi's prairies could boost Mississippi's economy, as well as its ecosystems. Most plants used in such restorations are bought from out of state. However, locally-adapted plants will grow better than out-of-state seeds, and buying local will boost the state economy. In a recent study at MSU, Schauwecker tested seven different plant species native to blackland prairies to determine whether inoculating the plants' root systems with beneficial fungi will help them grow in a prairie environment. In another project, he studies the role prairie plants play in slowing the overland flow of storm water in developed areas, which could maximize its infiltration into the soil to recharge groundwater.
Promoting gardens for sustainable living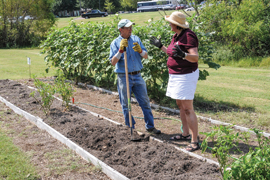 With three growing seasons, Mississippi has an ideal climate for showcasing small-scale raised beds for food production. Landscape architect Pete Melby and dietician Sylvia Byrd directed a teaching and research project to determine if household raised vegetable beds would provide the recommended amount of vegetables for a family of four. Equally important is the project's goal of demonstrating one of the key components to sustainable living: food production. Students in Melby's sustainable communities class built four 3-by-40-foot raised beds on the MSU campus and planted a spring garden. Nutrition students planted a summer garden and quantified the nutritional value of the harvests. Melby and Byrd hope their findings will inspire homeowners to plant similar gardens.
Raising the Roof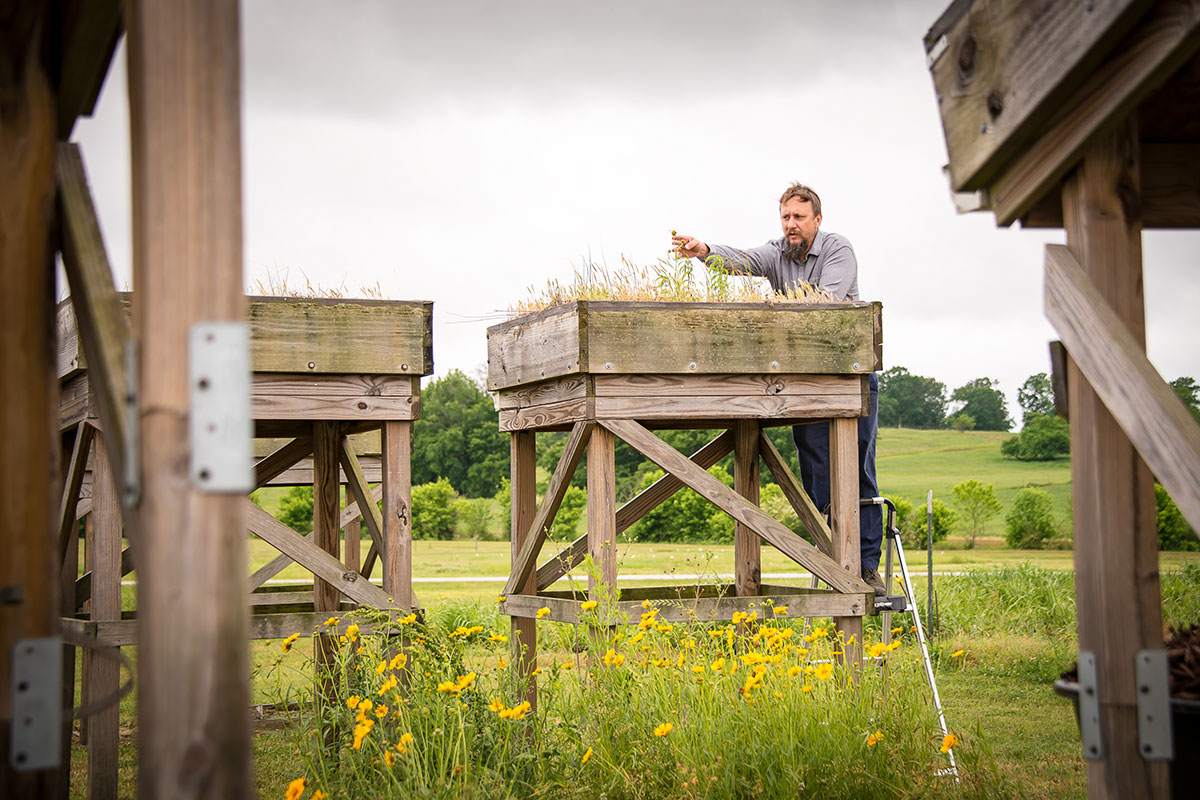 The shingled, asphalt roofs that adorn most buildings aren't expected to do much besides protect us from the elements. In contrast, a green roof, defined as a building roof covered by vegetation planted over a waterproofed layer, can provide habitat for native flora and fauna in an urban setting and sometimes even provide refuge for rare plants as development depletes their natural habitat. While providing habitat is a critical function of a green roof, the cool vegetative layer also provides numerous other benefits. Research has shown that green roofs can also provide relief to city drainage systems and provide extra insulation, which reduces heating and cooling costs. One of the biggest benefits of green roofs is retention of storm water from city drainage systems. It doesn't sound exciting, but by preventing wear in municipal systems, we have the potential to save millions of dollars. Green roofs help prevent storm water runoff by providing an increased permeable surface area for water to be absorbed into. Without a permeable surface, rain hits the asphalt roofing, runs down through the gutter system, into the street, and into piping, where it puts pressure on the storm water system. MAFES scientists developed a mix of rooftop species that are cheaper than the usual rooftop plants and that work well in the southern climate. Read More