News
---
MSU horticulture professors receive national leadership awards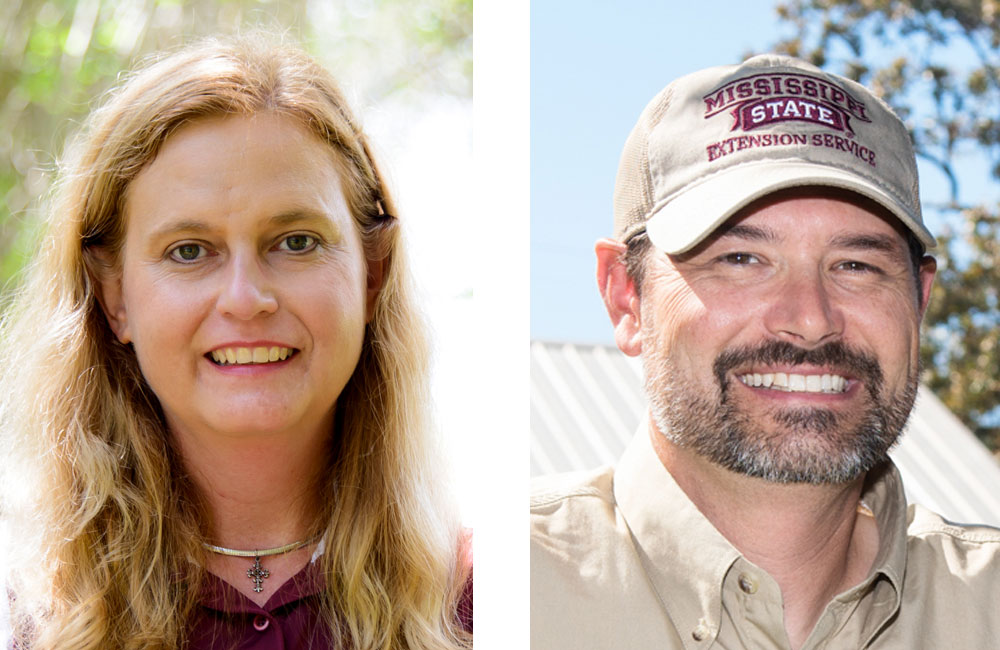 Patricia Knight and Eric Stafne (Photo By: Submitted)
8/9/2023
By: Meg Henderson
Two long-time plant and soil sciences professors stationed at the MSU Coastal Research and Extension Center are being recognized with career awards from the nation's leading professional horticultural society.
The American Society for Horticultural Science is honoring Patricia Knight with the Outstanding Leadership and Administration Award and Eric Stafne with the Outstanding Extension Educator Award. The awards were presented at the recent 120th ASHS Annual Conference in Orlando, Florida.
A research professor of floriculture and ornamental horticulture and director of coastal horticulture research, Knight joined the Mississippi Agricultural and Forestry Experiment Station at its South Mississippi Branch Experiment Station in 1997. During her tenure, she has worked to solve production issues facing the ornamental industry, as well as expand research in new varieties of ornamental plants and promote them to growers across the region.
The Outstanding Leadership and Administration Award recognizes professionals who have made distinguished contributions to the horticulture profession for a decade or longer. Recipients are administrators or leaders who have made a significant impact on the progress of professional horticulture within their agency or company and on the profession at the regional or national level.
Knight has contributed extensively to ASHS since joining as an undergraduate student over 30 years ago. She has received several awards, including being named a fellow, and has served on numerous committees and working groups throughout her tenure in the organization. In addition, she has published many refereed articles and abstracts in ASHS journals, and her graduate students have won and placed in ASHS competitions.
"The American Society for Horticultural Science has a great leadership team, and many of the members have been friends and collaborators throughout my entire career," Knight said. "It is a tremendous honor to have been nominated by my peers at Mississippi State University with support from colleagues around the country, and I'm humbled to have won."
Like Knight, Stafne, an Extension fruit and nut specialist and a Mississippi Agricultural and Forestry Experiment Station scientist, joined ASHS as a graduate student in 1998. During his 25-year tenure in the society, he has received national and regional awards, presented numerous workshops, seminars and other presentations, and written several publications. His service to ASHS includes volunteering as a journal reviewer, judging student competitions and serving on a number of professional and award committees.
The Outstanding Extension Educator Award was established in 1985 to honor individuals who have made exceptional contributions to horticultural science extension education for at least 10 years. Stafne is proud to represent MSU as the first ASHS member from the university to receive the award.
"It's a great honor to be nominated and recognized for the past 18 years of my career as an Extension professor," Stafne said. "I greatly appreciate the professional support of ASHS and those who help make my work possible-technicians, agents, grower collaborators and others who take the time and effort to help execute successful programs."
Since 1903, ASHS has been dedicated to promoting and encouraging national and international interest in scientific research and education in horticulture. Its members represent a broad range of sectors in the horticultural community, from academia to industry and government.
To learn more about the American Society for Horticultural Science, visit www.ashs.org.
For information about MSU's Coastal Research and Extension Center, visit www.coastal.msstate.edu. The Department of Plant and Soil Sciences can be found at www.pss.msstate.edu.
MSU is taking care of what matters. Learn more at www.msstate.edu.
View More News