News
---
MSU's Reddy working to 'tackle' future farming challenges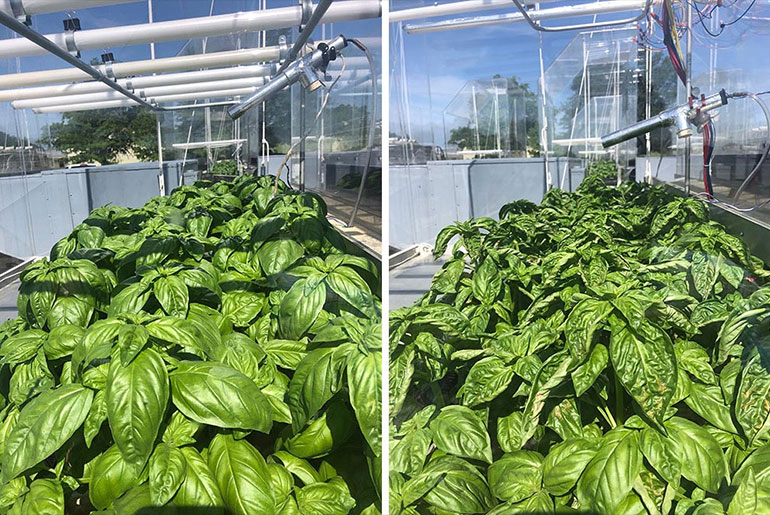 Basil in the SPAR unit chambers under various stresses. (Photo By: Submitted)
8/10/2022
By: Meg Henderson
Raja Reddy, research professor in MSU's Department of Plant and Soil Sciences, has dedicated his career to the dual challenges of feeding a rapidly growing world population and the stresses of climate change on agriculture.
"Today's global population is about 7.78 billion, and it's expected to increase to almost 10 billion by 2050," Reddy said. "Today, the average annual rate of increase in food production is 1.2 percent, but in the next 35 years, that increase must grow to an average of 2.4 percent to meet the needs of the additional population. The challenge is being able to increase food production on a fixed amount of land."
Reddy's research in the university's Mississippi Agricultural and Forestry Experiment Station has shown that the environmental inputs that help plants grow, such as ultraviolet light, temperature and carbon dioxide, become stressors to the plants when these inputs become imbalanced. As climate change is already upsetting the delicate environmental balance and will continue to do so increasingly in the coming years, Reddy is looking at ways to adapt crop production to those changes.
Reddy said one solution to mitigating the climate's effects on plant growth is to manipulate the plant's environment. The MAFES Soil-Plant-Atmosphere-Research facility, which has operated since 1977, allows Reddy to precisely control the growing conditions of his plants.
"We can create a climate, based on projections, of the year 2050 or 2100 and study the effects on the plants," Reddy said.
The professor and his colleagues' recent study on kale and mustard greens at the SPAR facility also found that by manipulating temperature, water, nutrients and CO2 concentrations to precise levels, plants respond by producing enhanced phytochemical and antioxidant properties, which provide increased health benefits to the consumer.
This research has implications for commercial seed production, including region-specific and "climate-ready" seeds, giving growers a better variety of options than they currently have.
"If you understand the environment in a region, you can create seeds for optimal growth, both for today and for the future," he said.
Reddy advocates for a multi-pronged approach to tackling future farming challenges. "There is not a silver bullet that will meet future climate challenges and increasing demand for food," he said. "It takes 5-15 years to develop a new plant variety, so we need to find small gains that come from different sources."
For more on the SPAR unit, visit www.spar.msstate.edu. For more on the Department of Plant and Soil Sciences in MSU's College of Agriculture and Life Sciences, visit www.pss.msstate.edu.
View More News