News
---
MSU's targeted conservation tool aims to improve profitability for farmers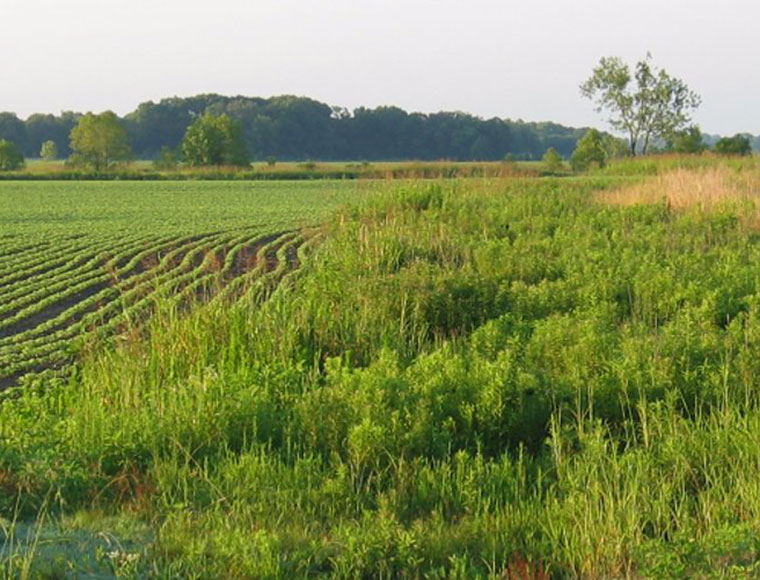 Two Mississippi State researchers and pioneers in the growing field of economically targeted conservation are showing farmers that making money off their land can be feasible even when the land isn't producing. (Photo By: Karen Brasher)
3/23/2021
By: Vanessa Beeson
Wes Burger and Mark McConnell, MSU researchers in the Forest and Wildlife Research Center, are launching the MSU Precision Conservation Tool, a decision-making software that identifies precise locations where conservation practices are most economically beneficial to farmers on specific pieces of their land. Both scholars also are part of the university's Mississippi Agricultural and Forestry Experiment Station.
"Our goal is to ensure enrollment in conservation acreage results in an increase in revenue. This software allows a farmer to only take land out of production when it means an increase in profit, meaning producers can make more money by farming less acres. That's a win for both the producer and the environment," said Burger, whose administrative positions include College of Forest Resources interim dean, FWRC interim director and MAFES associate director.
The copyrighted software uses precision agriculture, which Burger said "represents the next paradigm shift in natural resource conservation where spatially explicit decisions are made that optimize both conservation and profitability."
McConnell, a Department of Wildlife, Fisheries and Aquaculture assistant professor, has worked alongside Burger for the last decade to bring the technology to fruition. What began as a master's thesis project for him has become sophisticated software that promises to be a game changer for producers, agricultural technology companies and conservation experts alike.
McConnell has since earned a doctoral degree and taught at the University of Georgia for three years before returning to his alma mater in 2019 to serve in his current position. At UGA, McConnell brought on Nick Meng, then a wildlife master's student who continued the software development efforts. UGA now shares a portion of the copyright with MSU.
McConnell explained how the software works.
"The conservation title of the Farm Bill—with more than 30 different conservation practices with varied objectives and spatial requirements—is complex, so we built all that information into the software," he said. "One of the biggest challenges for producers is visualizing where specific conservation practices are eligible on their farms. This software solves that problem by identifying field-specific eligibility for nearly 40 different conservation practices."
The system uses yield data to map yield variability across the field comparing it with crop production budgets and commodity pricing to create profit maps. From there, it singles out low-yielding areas of the field and finds opportunities for economically targeted conservation in those areas based on the farmer's conservation goals and a program's field requirements.
"Right now, we can tell a farmer on a very precise scale where conservation will make them money in the field," McConnell explained.
The team hopes to engage the agricultural technology industry to license the software and get it into the hands of more farmers.
"The agricultural technology sector continues to embrace sustainable agricultural innovation and can reach a large percentage of farmers nationally. We also want to continue to reach wildlife biologists in federal and state agencies and nongovernmental organizations, like Ducks Unlimited and Pheasants Forever, who work day in and day out helping farmers navigate conservation delivery," McConnell said.
He pointed out that a No. 1 driver in a producer's decision-making process is economic profitability. As far as how much profitability the right conservation program can garner, McConnell noted that in one recent simulation in Lowndes County, the range was vast.
"We analyzed 52 fields across one farm and were able to increase revenue an average of 24 percent across all fields," McConnell said. "On some fields, that might be a 2 percent increase while on other fields, it was more than 200 percent. While I'd never ask a farmer to make a change for a 2 percent increase, a 200 percent increase is substantial."
To learn more about the software, contact McConnell via email at mdm380@msstate.edu or call 662-325-2144. To learn more about licensing, contact Jim Mitchell, licensing associate in the MSU Office of Technology Management, via email at jfm93@msstate.edu or call 662-325-8223.
Visit MSU's College of Forest Resources at www.cfr.msstate.edu. For more information on the Forest and Wildlife Research Center, visit www.fwrc.msstate.edu. For more about MAFES, visit www.mafes.msstate.edu.
View More News