News
---
MSU professor named Poultry Science Association fellow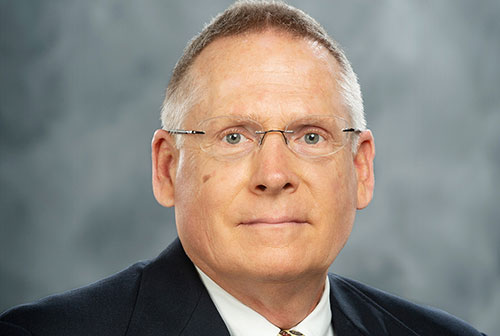 David Peebles (Photo By: Logan Kirkland)
7/11/2019
By: Vanessa Beeson
A Mississippi State poultry science faculty member is being named a fellow of the Poultry Science Association.
Professor David Peebles will receive the association's highest recognition during its annual meeting July 15-18 in Montreal, Québec, Canada.
The elected honor is reserved for individuals who have achieved professional distinction and made significant contributions to the field. Peebles joins Richard Gast of the U.S. Department of Agriculture's Agricultural Research Service and Penn State's Robert Elkin as this year's fellows.
Mary Beck, professor and head of the Department of Poultry Science, said the designation is a testament to Peebles' dedication to a lifelong career in poultry science.
"Dr. Peebles collaborates with organizations like the USDA to solve pressing issues for the poultry industry, such as his work studying a bacterial pathogen, Mycoplasma gallisepticum, which costs the industry more than $780 million a year. Additionally, he teaches genetics to approximately 500 students each year," Beck said. "This honor further underscores his commitment to both research and teaching in an industry that's valued at $3.2 billion dollars for our state alone."
A scientist with the Mississippi Agricultural and Forestry Experiment Station, Peebles' research focuses on nutrients and vaccine in ovo, or in egg, injection, and hatching egg incubation, eggshell quality and embryogenesis. He has trained 26 master's and nine doctoral students and has served on 53 graduate committees. Currently, he is the major professor for one master's and two doctoral students. Peebles has had 513 career publications and was the most published author in Poultry Science and the Journal of Applied Poultry Research combined from 2014-2016.
Peebles said becoming a fellow is a pinnacle in his professional career.
"This honor is the culmination of almost 45 years of education and employment in my chosen field of study," he said. "The support and service that the Poultry Science Association provides its members is unsurpassed, and I owe a large part of the credit for my career development over the years to the association."
Peebles earned his bachelor's degree from the University of South Carolina, master's from College of William and Mary and doctorate from North Carolina State University. He has been involved in the Poultry Science Association since 1984, serving on the elected Board of Directors from 2015-2018. He also is an active member of the Southern Poultry Science Society and the World's Poultry Association.
The MSU Department of Poultry Science is one of six poultry science degree-granting departments in the U.S. For more, visit www.poultry.msstate.edu.
View More News