News
---
Research focuses on cover crops, organic certification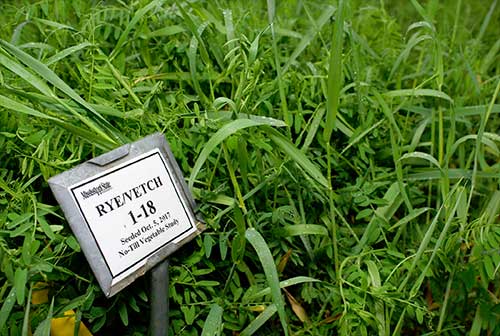 Organic produce sales in the U.S. reached $16 billion last year, and demand is projected to continue. (Photo By: Kevin Hudson)
1/15/2019
By: Robert Nathan Gregory
Casey Barickman, Mississippi State University Extension Service vegetable specialist and Mississippi Agricultural and Forestry Experiment Station researcher, wants to see Mississippi become more involved in that growing market. A major part of that involves growers seeing the value in earning official accreditation known as "certified organic."
"Some other Southeastern states have led the way, and I think we are doing a little catch-up," Barickman said. "A lot of it has to do with market and consumer demands. A lot of times our growers are small enough where they might be doing direct-to-consumer marketing at farmers markets, so they haven't deemed it necessary to become certified."
Based at the North Mississippi Research and Extension Center in Verona, Barickman is involved in several grant-funded projects related to various aspects of organic and sustainable production. One project, known as the Southeastern Organic Partnership, is a multi-university effort sponsored by the U.S. Department of Agriculture. Another is in collaboration with the Mississippi Department of Agriculture and Commerce and involves promoting the use of cover crops in fruit and vegetable gardens.
The Southeastern Organic Partnership involves collaborations with growers in various Southeastern states. Each produce grower conducts a variety trial using two crops—one they pick from a list and another of their own choosing. They evaluate the germination rates, vigor, development and yield to determine which specific crops performed best. The universities will collect the variety trial data and share it with other organic growers.
Tuskegee University is the lead institution on this USDA project, with MSU and North Carolina State University assisting in plant production and Auburn University contributing economic and marketing research.
"Some of the growers I'm working with are transitioning, meaning they are working toward getting certified," Barickman said. "We are advocating for more growers to expand their operations and think about a portion of their operation being certified organic so they can get into commercial markets like grocery stores. This project has allowed us to have a good conversation about organic production in Mississippi."
Barickman's collaboration with the Mississippi Department of Agriculture and Commerce involves studying the benefits of winter cover crops and determining which varieties best protect certain fruits and vegetables from pests and disease. The trial varieties he is growing at the research station are already in use by some producers in the state, including winter cereal rye, vetch and winter wheat. He is evaluating the effectiveness of the cover crops on tomato and squash yields and quality.
"Growing cover crops reduces erosion, allows for better soil structure, increases beneficial microbial populations within the soil and chokes out weeds," he said. "They also increase water infiltration rates and help beneficial insects come in and control the pests and diseases that might be harmful to vegetable crops."
Cover crop benefits are discussed at numerous field days and the annual North Mississippi Fruit and Vegetable Growers Conference, all held at the research station. Extension horticulture specialist Jeff Wilson assists Barickman with planting, harvesting and writing Extension publications to complement his research.
"With most research, the question from growers is, 'How does this benefit me?' or 'What are the real-world applications of this?' The primary objective each time is to decrease inputs for the grower," Wilson said. "All the things cover crops do allow plants to grow in a more efficient manner and be healthier. This means less watering, less weeding, less fertilizing, less spraying and hopefully more profit for the producer."
View More News