News
---
Cage-free unit added to MSU poultry department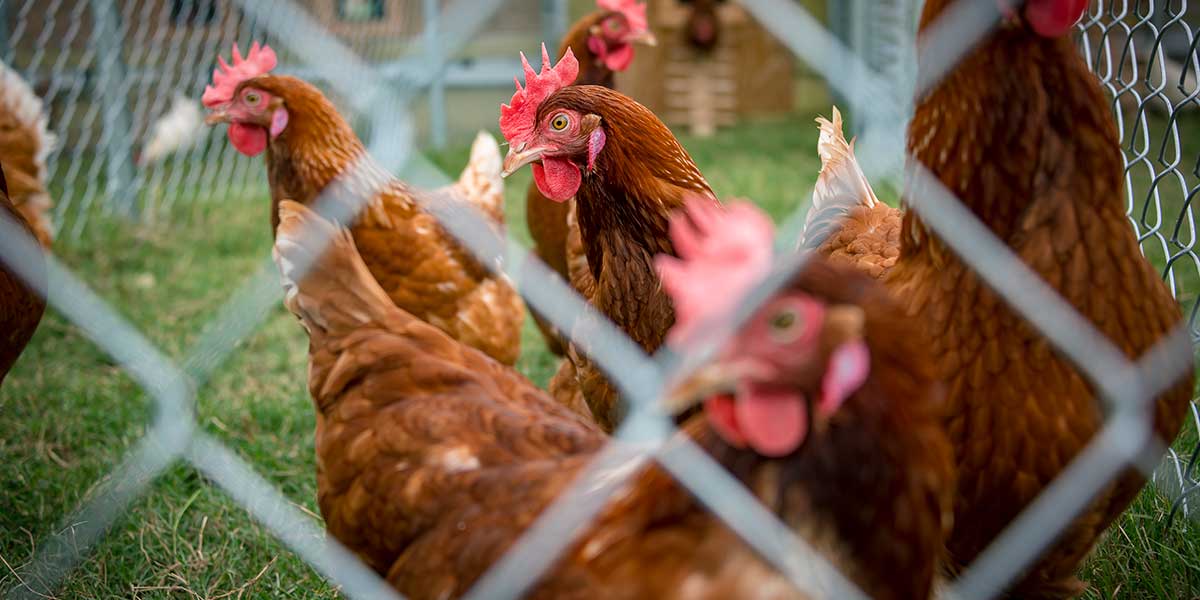 A new poultry research facility at Mississippi State University is addressing the growing consumer and corporate demands for cage-free eggs. (Photo By: David Ammon)
12/4/2018
By: Alaina Dismukes
To help address the need, Assistant Poultry Professor Pratima Adhikari is at the forefront of the issue, having led the vision for the newly constructed development that is part of the Mississippi Agricultural and Forestry Experiment Station at MSU. The facility gives university researchers and students opportunities to compare cage and cage-free egg production and quality, as well as bacterial diversity between these housing types.
"In just a few years, the bulk of the laying hen industry is likely going cage-free," said Adhikari, who joined MSU in 2017. "We have to address questions that producers have about converting to cage-free production systems and bird health in a cage-free environment. Hen health will be the major issue while converting the production system to cage-free, and this should be addressed by implementing several management and feeding strategies in the facility."
Currently, less than 16 percent of eggs are produced in a cage-free production environment. To meet demand, approximately 70 percent of the nation's 320 million birds will need to be cage-free by 2025.
Mary Beck, head and professor in MSU's Department of Poultry Science, said Adhikari is well positioned to contribute meaningful answers to questions poultry producers have about cage-free production systems.
"Dr. Adhikari brings a fresh, new perspective and innovative ideas to this important area of research for one of Mississippi's most important agricultural commodities," Beck said.
"I have wanted to build a cage-free facility since my arrival on campus, to better understand the differences in management between the cage and cage-free systems," Adhikari said. "For instance, hens in the cage-free system have access to both indoor and outdoor facilities. I want to look at how that impacts management practices."
Adhikari and graduate students plan to measure egg quality through different criteria, including weight, specific gravity (shell quantity compared to shell contents), shell thickness and weight, as well as the quality of the egg white, to see if there are significant differences based on housing type.
A total of 200 hens are divided between 12 new dual pens, with each about 12 by 5 feet inside and 24 by 5 feet outside with outdoor access. Current breeds housed are Hy-Line W-36 and Hy-Line Brown, and Adhikari said the brown ones are well-suited to cage-free systems, while the W-36 are better adapted to conventional cages with fewer cage-mates.
Another aspect of the new structure is the use of lighting, which is configured for hens to get 16 hours of light and eight hours of darkness to simulate what is found in a commercial setting. Each pen has nesting boxes on the wall, a perch, feeder and water line.
Daily, Adhikari's graduate student and her two student workers record how many birds move from inside the building to the outside as a part of a behavior study. They also collect and count the eggs, and check the feeders.
"We plan on adjusting nutrition by supplementing these hens with different feed additives to see which additives produce a better egg quality," Adhikari said.
Future plans include pullet cages for birds that have not reached laying age. Tampa Bay, Florida-based Alaso is supplying these cages, which will hold as many as 1,500 pullets and will be used for nutrition research trials. Also, Adhikari and other MSU scientists are collaborating with Mississippi-based Cal-Maine Foods, the largest egg producer in the United States, on several studies.
The new structure adds to the current simulated commercial poultry laying house situated on the H. H. Leveck Animal Research Center, also known as South Farm, with hens in both conventional and enriched colony cages.
MSU's Department of Poultry Science is one of only six degree-granting programs in the nation. Broilers is the largest Mississippi agricultural commodity with a value of $2.5 billion in production in 2017. For more information, visit www.poultry.msstate.edu.
View More News