News
---
Our People: Eric Goan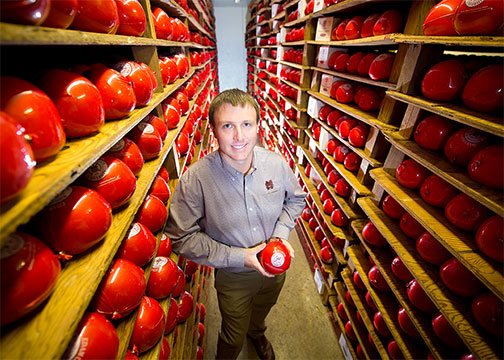 As manager of the Mississippi Agricultural and Forestry Experiment Station's Custer Dairy Processing Plant, Eric Goan oversees the production of more than 100,000 balls, wheels and blocks of cheese annually. (Photo By: Russ Houston)
9/18/2017
By: Vanessa Beeson
For Goan, cheese making is more than just a job. It's a way of life steeped in more than a century of tradition. Goan grew up on a dairy farm in Bulls Gap, Tennessee, a small town in the Smokey Mountains.
"We milked approximately 100 to 150 cows and also raised replacement heifers," Goan said.
Goan is a seventh-generation dairyman. The family farm, Locust Hill Dairy, was expanded in the 1950s when his grandfather purchased Shadowland Farms, one of the oldest farms in eastern Tennessee. The family ran a dairy production facility and his father worked the farms and delivered milk to his uncle who worked in the local cheese plant.
Eventually, the Locust Hill Dairy and the family's dairy processing plant were sold, while Shadowland remained in the family. Goan, who last year purchased Shadowland with his wife, Kari Jones Goan, still raises replacement heifers on the land. Goan and Kari are expecting their first child and hope to see the farm managed by an eighth generation one day.
In discussing his position at Mississippi State, Goan said he always knew he wanted to run an operation like the dairy plant.
"I love watching the whole process of how a plant, or any kind of business, works," he said. "Our plant is a well-oiled machine run by a great team of people."
A true farm-to-table operation, the plant processes 475,000 gallons of raw milk annually to make cheese, ice cream, fluid milk and butter. Milk used in the processing plant comes from the Mississippi Agricultural and Forestry Experiment Station's Bearden Dairy Research Center. The cheese is sold in the MAFES Sales Store, known to most as the MSU Cheese Store. The processing plant includes 11 fulltime employees and up to a dozen student workers.
"We work as a team," said Goan, who works closely with Assistant Dairy Plant Manager Jay McClelland on both day-to-day operations and the implementation of long-term projects.
"We've been on this site for nearly 50, years so we are always looking ahead to implement upgrades as needed to maintain production and quality."
Goan's technical expertise contributes to a well-run plant and consistent quality product. He received a bachelor's and master's in food science from the University of Tennessee. He also was a technical judge for the American Cheese Society in 2016 and 2017, and served as an official judge for the U.S. Cheese Championships in 2017.
A relative newcomer to MSU, Goan, who will celebrate two years at MSU this fall, says it all comes down to the people who make up the dairy processing plant's team.
"This is not a typical environment. Not everyone would come in at 2 a.m. to make cheese," Goan said. "It takes time and dedication to be a cheesemaker. My job is to make sure our employees have what they need to do their jobs and remain happy."
View More News