News
---
MSU researcher Lemley chosen for major regional recognition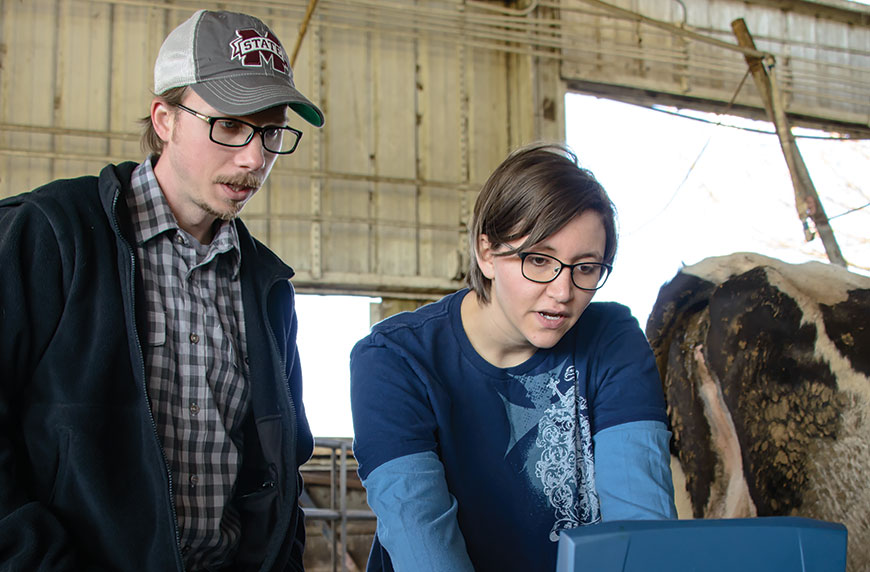 An animal physiology specialist at Mississippi State is receiving a major honor from the Southern Section of the American Society of Animal Science. (Photo By: David Ammon)
4/5/2017
By: Vanessa Beeson
Assistant Professor Caleb Lemley is this year's selection for the professional organization's Outstanding Young Animal Scientist in Research Award.
A faculty member in the Department of Animal and Dairy Sciences and researcher with the Mississippi Agricultural and Forestry Experiment Station, Lemley recently accepted the honor from the ASAS unit whose members represent Mississippi and 14 other states in the region, along with parts of Mexico and the Caribbean.
Accompanied by a $500 stipend, the award recognizes notable contributions by a scientist under the age of 40 whose research involves beef cattle, dairy cattle, horses, sheep, goats or swine.
Elanco Animal Health, an Indiana-based international manufacturer of animal feed supplements and pharmaceuticals, provides support for the annual recognition program.
Lemley's research has focused on pregnancy in cows, specifically how supplements of the hormone melatonin help increase blood flow between heifers and their unborn calves.
"More blood flow to the uterus means more oxygen and more nutrients are going to the calf," the West Virginia University doctoral graduate explained. "It also means the elimination of more waste since increased uterine blood flow increases the potential for waste exchange."
Lemley said calves receiving melatonin were larger than those in a control group, and his team currently is in the process of replicating the research in beef cattle.
"We are excited because we've gotten some interesting initial growth measurements," Lemley said. "In addition to body weight differences, we are seeing differences in calf length and height."
While research may be exciting, Lemley said he considers his teaching role as the most fulfilling aspect of his campus work.
"In the past four years, I've mentored four graduate students and seven undergraduate students," he said. "One of the highlights of an active research program is being able to teach research methodologies to the next generation of young scientists interested in animal agriculture."
Professor John Blanton, animal and dairy sciences department head, nominated his colleague for the award.
"As a testament to his devotion and preparation of trainees, Dr. Lemley's students have been recognized for several poster and oral competition awards over the past four years," Blanton said. "His research has received positive feedback from regional and local livestock producers," he added.
To help expand the ongoing research effort, Lemley has asked meat scientist Derris Devost-Burnett, an assistant professor in the department, to join the cattle supplement investigation.
"Dr. Burnett will examine differences in the size of loin muscle," Lemley said. "If that can carry through to processing, there might be a potential increase in meat."
For more about College of Agriculture and Life Sciences' animal and dairy sciences department, visit www.ads.msstate.edu.
View More News