News
---
MSU answers need for seed technology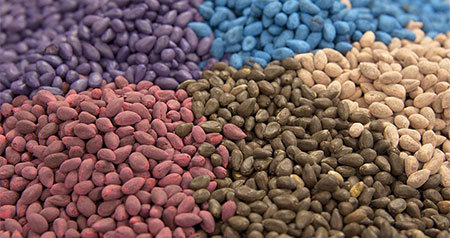 Mississippi growers are relying on seed technologists to address issues related to their crops before the 2016 season begins. (Photo By: Linda Breazeale)
2/26/2016
By: Linda M. Breazeale
"As we approach another planting season, attention turns to variety selection, fertility, pesticides and overall crop care," said Randy Vaughan, assistant director for Mississippi Foundation Seed Stocks, a unit of the Mississippi Agricultural and Forestry Experiment Station. "However, an additional important component to any successful crop production involves planting quality seed, as well as properly caring for the seed produced from the crop."
Mississippi State University is answering an industry need to renew educational efforts and address seed technology issues.
A short course held last fall was a small step forward for the university in providing information on current research and trends in seed production. The course served an additional benefit of providing an avenue for networking for participants in the industry.
For decades, MSU laid the foundation for seed technology education, both nationally and internationally. Those years were significantly different times for the seed industry. Most companies were small, family-owned businesses. Today, they are large, publically traded, global companies.
Attending the short course as a special guest of the organizers was Charles Vaughan, who was one of the first students in the MSU seed technology program, earning his bachelor's and master's degrees in the 1950s. That early knowledge was enough to send him to Brazil for two years before he returned to complete his doctorate at North Carolina State University in the late '60s. For the next 26 years, he was part of the dream team of seed technology professors at Mississippi State who conducted similar industry short courses for more than 40 years.
"There was a major international component in the program," Vaughan said. "We were able to help many, many countries with their agricultural needs."
Service and educational trips took the Maben native to 65 countries, including 22 trips to Africa. He said Mississippi State's name was identified internationally with engineering and seed technology.
"Our seed technology program was one of the best advertisements for the university. It is great to see the topic getting new life—not just here but also in seed programs in other countries," Vaughan said. "Growth in this area at MSU could have far-reaching impacts."
In its heyday, the seed technology short course attracted 200 to 300 people from 30 to 40 states. In 2015, the program attracted 100 participants from 10 states as far away as Georgia, Texas and Iowa.
"Networking was a key component of the short course," said organizer Bennie Keith, executive secretary of the Mississippi Crop Improvement Association. "You don't need to know everything about seed technology, but you need to know who to call."
Keith said seed costs used to be minor factors in farm budgets.
"Today, seed costs and expectations are near the top of growers' lists," he said. "Seeds are expensive, and demands are extremely high. Farmers want every seed in the bag to germinate and come up and produce good yields."
For four decades, MSU's seed technology program had several professors dedicated to research and education, teaching seven core classes in the program. Eventually, the classes were absorbed into the Department of Plant and Soil Sciences, and only a couple of classes remained in the curriculum. As MSU's core professors retired and biotechnology changed the seed business, the industry assumed much of the responsibility for promoting advancements in seed technology. Today, it finds a serious shortage of trained professionals to work in the field.
"Seed technology is a great direction for students. They can almost write their own tickets for careers because there are so few coming up to replace retirees," Keith said.
Plans are underway to conduct another short course in 2016. Expected topics include seed law, seed conditioning, and seed testing and evaluation.
View More News