---
The uses of perennial warm-season grasses are as varied as the plants themselves. Applications include poultry bedding, cattle forage, conservation plantings, bioenergy, and much more. Scientists in the Mississippi Agricultural and Forestry Experiment Station have been propagating grasses as bioenergy crops since the early 2000s. Now as demand for renewable energy crops shift, MSU's perennial grass research evolves to meet other needs.
One such need is litter for poultry houses where giant miscanthus is used as bedding. According to AGgrow, the company that licensed the MSU-propagated grass, miscanthus is more absorbent than other bedding products, has low moisture, low compaction, and reduces odor. However, it wasn't originally developed as a bedding or litter product.
Giant miscanthus 'Freedom' was originally developed as a perennial grass for renewable energy by Dr. Brian Baldwin, scientist at the Mississippi Agricultural and Forestry Experiment Station and professor in the Department of Plant and Soil Sciences in the College of Agriculture and Life Sciences.
Baldwin, along with Dr. Brett Rushing, an assistant extension and research professor in the Mississippi Agricultural and Forestry Experiment Station's Coastal Plain Experiment Station in Newton, Mississippi, recently developed two new switchgrass varieties: 'Expresso' and 'Tusca.'
Switchgrass is a native perennial warm-season grass that is used as forage for livestock, soil conservation, wildlife habitat, and biofuel feedstock. It is one of seven native species promoted for its value as a forage or cover for wildlife. However, switchgrass is often hard to germinate from seed and initially grows slowly, which can lead to weed competition during seedling development.
"We wanted to develop a switchgrass variety that was herbicide resistant, as well as test seed safeners to improve first year growth," Baldwin said.
Seed safeners are protectants that reduce the ability of herbicides to impact the germinating plant. In field trials, scientists found that soaking the switchgrass seed in safener improved establishment and yields compared to unprotected seed.
"The safener provided complete protection against the herbicide metolachlor, preventing injury to developing switchgrass seedlings," Baldwin added. "Metolachlor successfully controlled weeds in our test."
Rushing and Baldwin developed 'Tusca,' a switchgrass variety that is tolerant to imazapic.
"A lot of other native grasses are tolerant to imazapic, so development of an imazapic tolerant switchgrass would allow us to plant a mixture of native grass species and apply a single herbicide," Baldwin said.
With 'Expresso,' the new variety was developed to germinate and establish quickly.
"Typically, switchgrass has slow initial growth and doesn't compete well with rapidly growing weeds," Baldwin added. "With 'Expresso,' we had a good stand in the first year."
Scientists are currently evaluating the last generation of 'Tusca' and 'Expresso' before pursuing plant variety protection. Scientists are also evaluating a suite of native grasses for forage and conservation.
Grass For Food
Rushing, who completed his graduate work under the direction of Baldwin, maintains a native grass grazing trial in Newton. In that trial, he compares two native grasses to bahiagrass, a traditional forage crop used throughout the state. As a forage crop, native grasses offer a great alternative in a rotational grazing system.
"Native grasses are considered dual purpose since they provide wildlife habitat and produce good grazing for cattle," Rushing said. "They require less fertilizer inputs, are drought tolerant, have less insect and disease pressure, and can increase cattle weight gains."
In experiments conducted at the Coastal Plain Branch Experiment Station, Rushing found that cattle grazing on native grasses gained two pounds of weight per day.
"The weight increase is significant compared to traditional non-native forages like bahiagrass and bermudagrass. Cattle only gained a pound or less per day when they grazed on the non-native grasses," Rushing said.
And though native grasses can only be grazed during summer months, the forages complete an important piece of the puzzle in a rotational grazing system.
"Native grasses fit the April to July window, which would allow bahiagrass and bermudagrass and other traditional grasses to stockpile and then be grazed in late summer to fall," Rushing said. "Extending the amount of time a producer's cattle can graze means less hay or feed during the winter."
Grass For Restoration
Native warm-season perennial grasses are great for conservation. They prevent soil erosion and provide cover and food for wildlife.
David Lang, scientist in the Mississippi Agricultural and Forestry Experiment Station and professor in the Department of Plant and Soil Sciences, has demonstrated the use of perennial native warm-season grasses to stabilize reclaimed strip-mine land and is conducting a study to determine how effective the grasses would be if used in the USDA's Conservation Reserve Program lands. The Conservation Reserve Program has about 24 million acres enrolled as of 2016, and anticipates enrolling an additional 1.1 million in 2017.
"Perennial grasses increase organic matter and carbon in the soil, reduce soil erosion, and reduce nutrients traveling into water supplies through increased filtration," Lang said.
Lang established research plots on sloped soil to simulate lands enrolled in the Conservation Reserve Program. He planted switchgrass and giant miscanthus and is determining the survival and growth of the grasses under harvest conditions.
He is also comparing their productivity on pasture lands. Switchgrass was planted without tillage and miscanthus was hand planted on 6 foot centers. Its aggressive rhizomes have spread individual plants so that three years after planting the miscanthus plants are now just one foot apart.
Giant miscanthus does not have viable seed and it needs to be 'sprigged' similar to hybrid bermudagrass or transplanted by hand. Unlike other miscanthus species that have viable seed and have become invasive in the Carolinas, giant miscanthus will not spread by seed and become invasive.
Grass For Growing
Dr. Jesse Morrison, a research associate III in the Mississippi Agricultural and Forestry Experiment Station and former doctoral student under Baldwin, continues the native warm-season grass breeding program. He and Baldwin currently have nine nurseries set-up to propagate eight species of native grasses.
Morrison worked on eastern gamagrass for his doctoral research.
Eastern gamagrass is widely adapted and a highly productive forage species in the Southeast, Great Plains, and northeastern United States. A major limitation to its use is that most eastern gamagrass plants produce less than 100 seeds per year, making the cost for purchased seed prohibitive.
"Gamagrass works well as a forage crop, suitable for green chop, hay, and silage or intensive pasture grazing," Morrison said. "It also provides food and shelter for wildlife and is effective at reducing nutrient runoff in vegetative filter strips."
However, the grass matures slowly, often yielding seed only after the second or third season of production. Inconsistent stand establishment continues to limit the use of eastern gamagrass.
"The biggest problem with propagating and growing gamagrass is that many of the seed units do not completely fill, and even when they do, the actual seeds are encapsulated in a hard, woody case, which negatively impacts germination," Morrison said. "As if that wasn't enough, most of the gamagrass in the wild is tetraploid."
Tetraploid refers to the number of chromosomes per cell. Diploid grasses have two sets of chromosomes, one from each parent. Tetraploids have four sets of chromosomes and often don't cross-pollinate reliably. The diploid eastern gamagrasses are needed for improved breeding via cross-pollination.
To study gamagrass, Morrison and Baldwin ordered seed of every known diploid eastern gamagrass available and also received cuttings from the USDA collection at Cornell University.
Out of over 68,000 seeds, Morrison was able to transplant 90 plants to begin the first cycle of selection breeding. The second selection cycle screened 5,275 seeds from the 90 plants in the previous cycle, of which 24 individual seedlings germinated in less than seven days.
"This illustrates the difficulty in establishing eastern gamagrass," Morrison said. "That second cycle produced heavier, higher quality seed and we are now on the fourth generation or fourth cycle."
Still even on the fourth generation, less than 10 percent of the seeds germinate in less than seven days.
"It improves each year but there are still lots of questions, like how do we improve seed quality, seed quantity, and keep improving germination?" Morrison said.
As research continues, MAFES scientists will continue to seek those answers to improve the adoption and usage of native warm-season perennial grasses.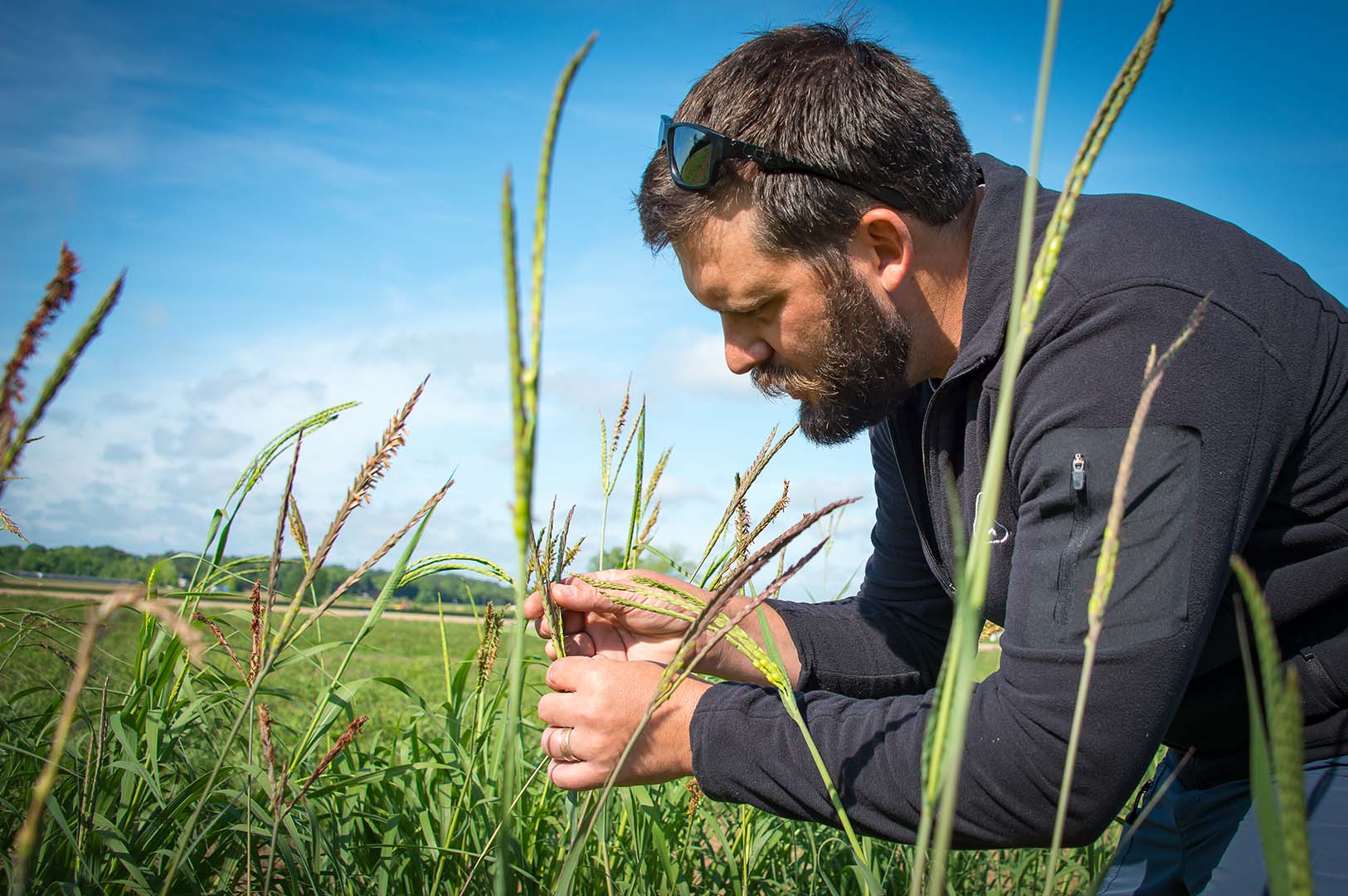 ---
Behind the Science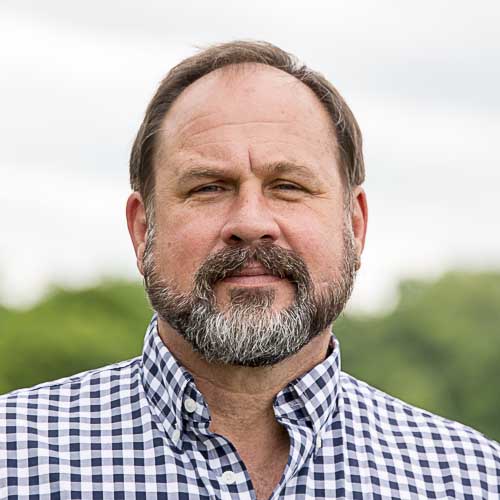 Brian Baldwin
Professor
---
Education: B.A., Botany, Bates College; M.S., Plant Breeding, New Mexico State University; Ph.D., Plant Genetic Improvement, New Mexico State University
Years At MSU: 27
Focus: New forage development focusing primarily on native species and traditional forages
Passion At Work: It is because of the students; watching them grow is incredibly rewarding. From a research standpoint, in the first 15 years I worked with crops that required the ground be tilled. Now, I'm working with crops that cover up the ground.
---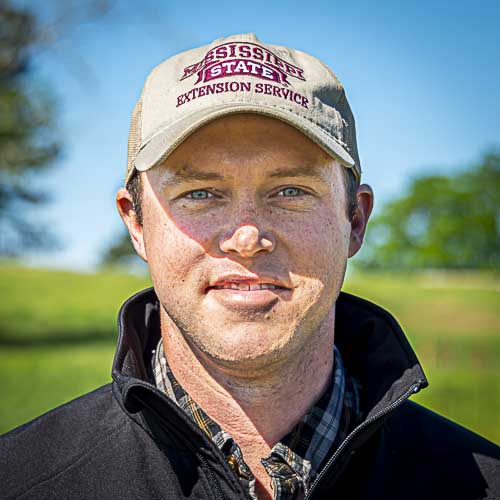 Brett Rushing
Assistant Extension/Research Professor
---
Education: B.S., Biology, Jacksonville State University; M.S., Ph.D., Agronomy, Mississippi State University
Years At MSU: 7
Focus: Forages, biofuel crops, and conservation species
Passion At Work: My split appointment allows me to conduct applied research while simultaneously delivering the results of our work directly to the producers that need it.
---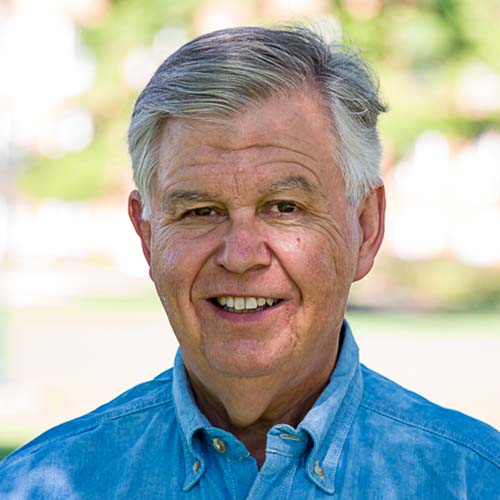 David Lang
Professor
---
Education: A.A.S., Animal Science, Essex Agricultural and Technical Institute; B.S., Biology, Gordon College; M.S., Plant and Soil Sciences, University of Maine; Ph.D., Plant Science - Agronomy, University of New Hampshire
Years At MSU: 29
Focus: Forage, pasture and mine reclamation
Passion At Work: My passion is to develop pasture/forage for livestock using large growing native and introduced warm season grasses with potential bioenergy utilization.
---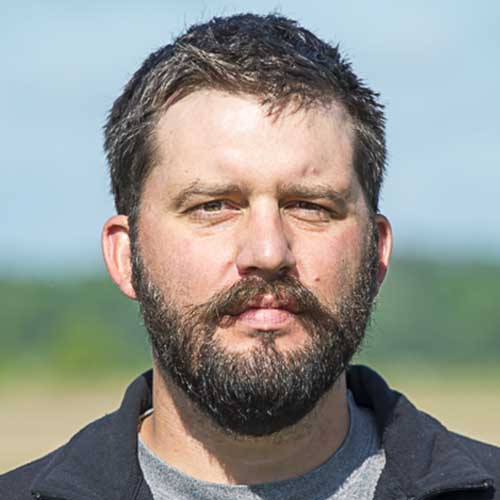 Jesse Morrison
Research Associate III
---
Education: B.S., Agriculture and Natural Resource Management, Berea College; M.S., Crop Science, University of Kentucky; Ph.D., Agronomy, Mississippi State University
Years At MSU: 7
Focus: Improve species for forage use, wildlife habitat, and provisioning, regulating, and supporting ecosystem services
Passion At Work: For me, the big picture goes back 100 years to the human-ecological balance in Aldo Leopold's land ethic, which is still applicable today. My passion is in understanding how to manage natural resources for public and environmental benefit, without spoiling them.
---
Sections