---
Timing is everything and for blueberry growers, the ability to harvest high-value fruit in the off season could reap financial rewards. Dr. Guihong Bi, plant and soil sciences research professor in the Mississippi Agricultural and Forestry Experiment Station, is currently evaluating organic and conventional blueberries grown in high tunnels. Those first fruits bear a premium price at market.
There are 2,500 acres of blueberries in Mississippi that generate $8 million dollars annually. Production typically occurs south of Interstate 20 because of colder winters in the northern half of the state. Additionally, growers who go to market during the typical summer months don't get a premium for their crop.
"With high tunnels, growers have the potential to gain an edge on the market by having their berries ripen early by a month or more," Bi said. "Currently, there is no information available on containerized organic blueberry production in high tunnels in Mississippi. We are hoping to change that."
Bi and Dr. Tongyin Li, plant and soil sciences assistant professor and MAFES scientist, are evaluating characteristics of several varieties of blueberries. Judson LeCompte, research associate and doctoral student, assists on the project as well.
"We are evaluating early fruiting cultivars. We are studying how they perform in the high tunnel and how much earlier they can produce berries," Bi said.
The team is comparing organic and conventional production of ten early ripening cultivars. They are assessing the yield and the quality of each cultivar and chemically analyzing the fruit for antioxidant content.
Bi said high tunnel production could also expand the geographic footprint of commercial blueberries in Mississippi.
"The colder winter and late spring frost in the northern region of the state poses a high risk for field production of early fruiting southern highbush blueberries. There is a great potential of integrating high tunnels with blueberry production in regions with low winter temperature and late spring frost," Bi said. "Many local growers have begun to use high tunnels in recent years to extend the growing seasons, reduce environmental variability, increase crop yield and quality, and increase income."
The university's first high tunnels were constructed at the Truck Crops Experiment Station in Crystal Springs, Mississippi. Dr. William Evans, plant and soil sciences associate research professor in the Mississippi Agricultural and Forestry Experiment Station, oversees the seven high tunnels currently on the station.
"Three tunnels are dedicated solely to organic research and four tunnels are used for conventional plant research," Evans said.
He said the adoption of high tunnels has increased among growers over the last few years.
"In 2008, there were maybe 25 high tunnels being used by commercial growers in Mississippi. Now there are approximately 300 high tunnels in use across the state."
Evans has grown everything from tomatoes to eggplants to zinnias in the high tunnels. He has evaluated planting dates, irrigation, and pests.
"Growing in a high tunnel is a cross between a greenhouse and the open field. A high tunnel is covered on the top and sides. You can raise the sides to help control the temperature. You can also add shade features. High tunnels don't have electricity like greenhouses but growers should add some kind of irrigation," Evans said. "We use drip irrigation in our tunnels which means fewer weeds. There are also less plant diseases because of the lack of rain. There are measures growers can take in high tunnels to avoid insects as well."
Evans said high-value crops are the best use of high tunnels.
"High tunnels are well-suited for high-value crops that grow quickly. Herbs, greens, tomatoes, berries, peppers, and ornamentals can all do well in high tunnels," Evans said. "Plants that take longer like sweet potatoes and peas aren't ideal in this setting."
---
The USDA National Resources Conservation Service provides EQIP funds for qualified commercial growers interested in installing high tunnels. To apply for funding, contact the NRCS office serving your county.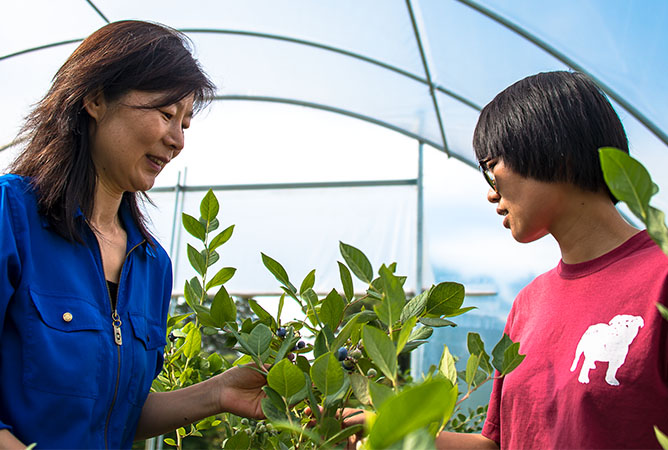 ---
Behind the Science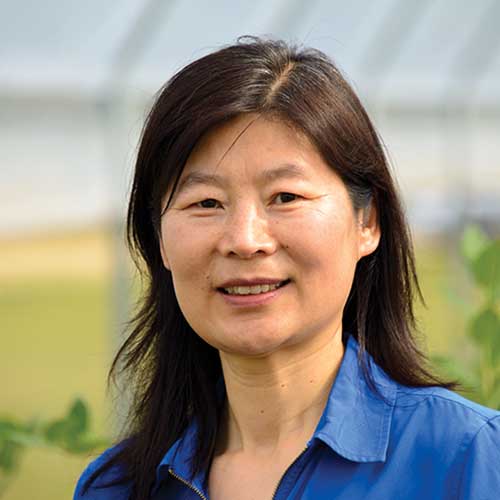 Guihong Bi
Research Professor
---
Education: B.S., Horticulture; M.S., Biology, Shandong Agricultural University, China; Ph.D., Horticulture, Oregon State University
Years At MSU: 12
Focus: Improving production efficiency of horticulture crops, emphasis on water and nutrient management
Passion At Work: I am passionate about helping specialty crop producers improve production efficiency and profitability while maintaining environmental sustainability.
---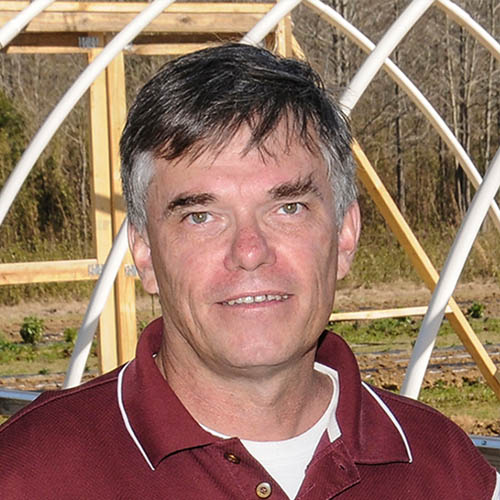 William Evans
Associate Research Professor
---
Education: B.S., Plant Science, Utah State University; M.S., Horticulture, Oklahoma State University; Ph.D., Crop Science, Michigan State University
Years At MSU: 16
Focus: Vegetable crop production research
Passion At Work: I am passionate about serving our growers and horticultural science in practical ways while learning new things every day.
---
Sections