---
The Federal Aviation Administration has selected a Mississippi State-led team to operate a new National Center of Excellence (COE) for Unmanned Aircraft Systems (UAS). Mississippi's flagship research university is leading the coalition of academic and industry partners that will launch a new era of commercial unmanned aircraft research, development, and integration into the nation's airspace.
In May 2015, the FAA announced that MSU's Alliance for System Safety of UAS through Research Excellence (ASSURE) will operate the new center. Congress has charged the FAA with developing rules regulating commercial UAS, and the new center will play a key role in that process. The center of excellence will provide the agency and industry with research to maximize the potential of commercial unmanned systems with minimal changes to the current system regulating manned aircraft.
ASSURE will form teams between its member universities, government agencies, and industry partners to address both government and commercial UAS challenges. "This world-class, public-private partnership will help us focus on the challenges and opportunities of this cutting-edge technology," said U.S. Transportation Secretary Anthony Foxx. "We expect this team will help us to educate and train a cadre of unmanned aircraft professionals well into the future." The COE research areas are expected to evolve over time, but initially will include: detect and avoid technology; low-altitude operations safety; control and communications; spectrum management; human factors; compatibility with air traffic control operations; and training and certification of UAS pilots and other crewmembers, in addition to other areas.
"This team has the capabilities and resources to quickly get up and running to help the FAA address the demands of this challenging technology over the next decade," said FAA Administrator Michael Huerta. "Our researchers are among the very best in the world, and leading this national center of excellence is another example of the tremendous contributions major research universities make to the communities and constituencies they serve," said Mississippi State President Mark E. Keenum.
In addition to its robust research infrastructure, the land-grant institution is the only university in the state with FAA certificates of authorization to operate UAS's. Congress appropriated $5 million for the five-year agreement with the COE, which will be matched one-by-one with the team members.
While research will take place at member universities throughout the U.S. and globally, the center's work will be concentrated at Stennis Space Center in Hancock County to take advantage of airspace over the Gulf of Mexico, in the Mississippi Delta to conduct unmanned precision agriculture research, and around MSU's Raspet Flight Research Lab in Starkville. "This has been a six-year effort for Mississippi State and three years for our partner universities. We picked our team because they know unmanned systems and they know the FAA. That will make it easier to turn UAS research into FAA rules quickly," said USAF Maj. Gen. (Ret.) James Poss, the executive director of the ASSURE FAA UAS COE team at Mississippi State.
The use of unmanned air systems in non-conflict situations is growing with applications well suited for natural disaster response, humanitarian relief efforts, environmental impact assessment, and precision agriculture, according to David Shaw, MSU's chief research officer. The university's scientists are also using the UAS as another remote sensing tool available to collect visual and multispectral date. "Precision agriculture is data-driven and UAS technology adds another significant layer of data for researchers and ultimately crop consultants and producers to assess and utilize in a meaningful way," said Robert Moorhead, the director of the Geosystems Research Institute.
Additionally, MSU and Hinds Community College announced a 2 Plus 2 academic partnership in precision agriculture in April. The program will provide students opportunities to learn about cutting-edge technology-including UAS-and prepare them for leadership roles in 21st Century agribusiness. According to the Association for Unmanned Vehicle Systems International, the domestic UAS market is projected to create more than 100,000 jobs and $82 billion in economic impact in the first decade after FAA integration is complete. During the same period, the UAS industry could create more than 1,200 jobs and approximately $973 million in economic impact in Mississippi alone.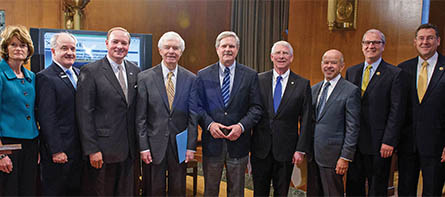 ---