---
While MAFES is known as the state's leading agricultural research entity, faculty and staff also contribute to the other elements of the land-grant mission-teaching and outreach. Throughout the 133-year history of MAFES, there has always been a teaching component. Research funding supports both undergraduate and graduate education.
In 2008, the Undergraduate Research Scholars program was developed in the College of Agriculture and Life Sciences with funding from MAFES. Since 2013, the program has funded 335 undergraduates at a cost of $1,219,000. The immersive experience is designed to engage undergraduate students in research and creative activities beyond the traditional undergraduate curriculum. In this 12-month experience, undergraduate students work as a junior colleague within a faculty mentor's research program to discover new knowledge, enhance their discipline-specific expertise, and gain critical thinking skills. Many students who participate in the Undergraduate Research Scholars program decide to attend graduate school and engage in research work. Undergraduate Research Scholars are often featured in MAFES Discovers in the Growing Leaders department.
In addition to undergraduate education, MAFES contributes to graduate education through grants and contracts as well as state funding. Graduate education provides students with more advanced learning in a specialized discipline. A graduate degree improves professional options and prospects. Students who are working as part of funded research receive a graduate research assistantship to defer the cost of education and health insurance. The College of Agriculture and Life Sciences currently has 442 graduate students, with over 53 percent on a research assistantship. Graduate students are often featured in MAFES Discovers in the Check-Off Dollars at Work department. In this issue, we also highlight many of the graduate students working on research projects featured in MAFES Discovers under the title Bulldogs at Work.
MAFES is committed to providing educational opportunities for students to contribute to research and make new discoveries.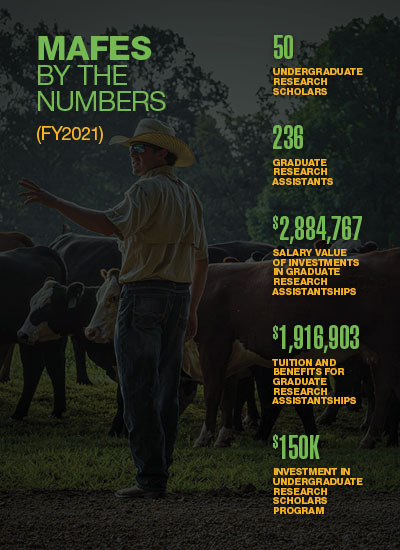 ---