---
THEY BEGIN AT DAYBREAK and end long after the sun has set. This is the job for the research support unit at the R. R. Foil Plant Science Research Center, commonly called North Farm.
The 750-acre farm is dotted with plots of Mississippi row-crop staples of cotton, corn, rice, soybean, peanuts, and sorghum and is also home to a suite of greenhouses focused on horticulture including ornamentals and vegetables as well as turfgrass research plots. Across Highway 182, the 223-acre W.B. Andrews Agricultural Systems Research Farm includes similar row-crop research. Both farms also have overwintering research that encompasses cover crops and native grasses. The seven-person farm crew serves as the backbone of this bounty of research and more, out there day in and day out, providing critical support that propels MAFES research.
And while farm support is their primary job, there are plenty of other tasks the crew handles when they are not farming. Keith Daniels, a 19-year MAFES veteran and superintendent of the farms, oversees the management and maintenance of all the equipment, land, feed, fences, roads, and facilities for North Farm, H.H. Leveck Animal Research Center (South Farm), and the MAFES Black Belt Branch Experiment Station in Brooksville, among others.
The 1983 MSU agricultural engineering technology and business alumnus is quick to point out that the crew operates as a team, traveling to any of the 16 branch experiment stations when help is needed.
"When we are not working on the farms during planting, growing, and harvesting, we may be building fences and roads, constructing and maintaining buildings, repairing farms after severe weather events, or whatever else needs to be done to support MAFES research programs," Daniels said.
While Daniels supervises agricultural technicians at North Farm, South Farm, and Black Belt, the farm crew is led by Eddie Stevens, a 10-year MAFES veteran and farm supervisor. Stevens has been in farming his entire life. Having seen life in commercial agricultural production, he finds the research to be the most enjoyable part of the job.
"I grew up in the Delta and have been farming as long as I can remember," Stevens said. "I have worked in row-crop production and catfish production so understanding how our scientists are making a difference for farmers and how research is applied in the field and then transferred to farmers in the state is rewarding."
Stevens does, however, illustrate the difference in what the farm crew does compared to actual farmers.
"I have a tremendous amount of respect for farmers, having worked on commercial farms," Stevens said. "The difference between this work and commercial agricultural production is the amount of responsibility you carry. When you are a farmer, you are working all the time. Especially in catfish, which requires a lot of manual labor. Here we get to leave the farm and go home and not have to carry the worries with us."
For Stevens and John Estes, who has been with MAFES for four years, working on the farm is an ideal job and a second career.
Estes worked for Bryan Foods in West Point, Mississippi, for over 40 years. When the company shut its doors in 2007, Estes took up truck driving and worked for Ellis Steel before finding his home on the farm, where he drives big trucks and operates equipment.
Several of the crew have been around or worked in agriculture most of their lives, while for others, this is their first foray into farm life. Hayden Carty, who has also been with MAFES four years, grew up immersed in farming. Both his father and grandfather farmed, so this position seemed like a natural fit. The Pheba, Mississippi native enjoys the variety of tasks at the farm and stays connected to agriculture both in his job and at home where he has a cow-calf operation.
In contrast, agricultural technician Brandon Mast and assistant farm supervisor Zach Pitts didn't grow up in farming but have found their place on the farms. Mast, a native of Brooksville, has spent two years on the MAFES farm. He worked in road construction prior to his employment with the farm and enjoys field work. Pitts, a native of Sturgis, went from a manual labor position before finding his way to the farm. A 10-year MAFES employee, he worked his way through the ranks to become assistant farm supervisor.
Daniels said this is the youngest crew he has ever had but a hard-working group. During the peak planting season, Daniels hires student workers including his current student Bailey Simpson, a forestry major from Olive Branch who grew up around farming.
Keeping the farms running can generate a mountain of paperwork. Laura Smith, a 1989 general business alumna, is business manager for the unit and has been working at the farm since her freshman year of college. Smith, along with business coordinator Kelly Lowe handle the day-to-day operations including purchasing, payroll, and equipment and vehicle rental, among a host of other responsibilities for North Farm, South Farm, and Black Belt.
"I love working at the farm. I get to work with a variety of people, I learn something new every season, and I love looking out my window and seeing crops growing in the field," Smith said. "We are a family out here and I think my length of employment working in research support for the farms is a clear indication of how much I love my work life on the farm."
For Smith and all the technicians, the work they do is behind the scenes, however, they are vital to help drive Mississippi Agricultural and Forestry Experiment Station's plant production systems research forward.
"For me, it's an honor to be part of the mission to feed, clothe, and fuel the world," Daniels said. "I love helping growers, and I love working for our researchers and faculty out here. That's where my satisfaction comes from."
---
Faces of MAFES is a new department in MAFES Discovers to spotlight employees that work at the branch experiment stations.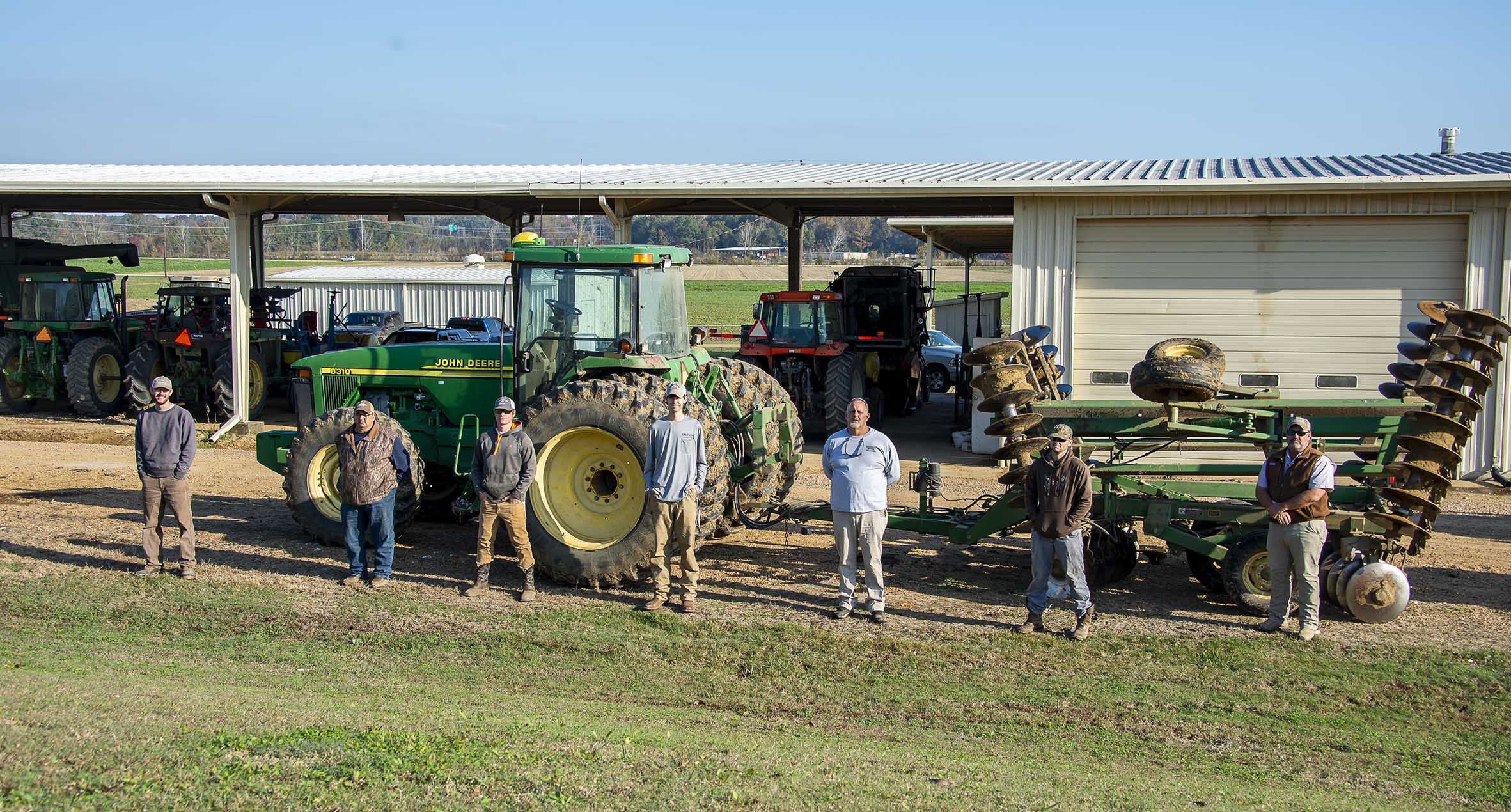 ---