---
Across the Magnolia State, as life shifted amid the global pandemic of COVID-19, MAFES personnel continued critical research efforts essential to help feed and clothe the world today and in the future while following university directives.
As the premier agricultural research institute for the state, MAFES research provides a direct benefit to the state's agricultural producers.
This spring, approximately 3,870 acres of row-crops like cotton, corn, soybean and rice to forage and horticulture such as fruits, vegetables, and ornamentals, and much more were planted across the Mississippi farmland that makes up the 16 MAFES branch experiment stations.
The MAFES Official Variety Trials evaluate performance of commercially-available varieties of corn, soybeans, wheat, sorghum, cotton, rice, oats, and forages. MAFES Official Variety Trials, representing over 500 hybrids and varieties, have been planted to ensure continuity in the program to guide Mississippi farmers on crop selection for next year.
"Our mission is to discover new technologies and management practices that allows Mississippi's 45,465 farmers to increase yields and profits while decreasing inputs," said George Hopper, director of the Mississippi Agricultural and Forestry Experiment Station.
Hopper continued, "Agriculture is one of the industries deemed an essential critical infrastructure by the Department of Homeland Security. Our farmers have the incredible responsibility of feeding and clothing the world and we will do our part to make their job productive, as we are all in this together."
As young crops grew, foals and calves were born, and chicks hatched across the state as MAFES personnel tended to the fields, herds, and flocks. Approximately 2,500 head are in the MAFES beef herd that spans five branch experiment stations.
In addition to beef cattle, H.H. Leveck Animal Research Center is home to 2,800 broilers, laying hens, turkeys, and other fowl in the MSU Poultry Unit. H.H. Leveck also quarters 80 horses including nearly a dozen newborn fillies and colts in the MSU Equine Unit. The farm housed 25 sheep, 42 lambs, and 40 pigs as well.
The Bearden Dairy Research Unit cares for approximately 420 Holstein and Jersey cows, including milking and dry cows, young stock, and the teaching herd. At the dairy, cows must be milked twice daily while the milk is delivered to the Custer Dairy Processing Plant to make MSU cheese.
MAFES aquaculture includes 257 ponds, amounting to 294 acres that are dedicated to the Thad Cochran National Warmwater Aquaculture Center while the Aquaculture Unit at H.H. Leveck Animal Research Center has 86 ponds across 15 acres.
As vital agricultural research continued in support of the state's producers, Dr. John Blanton, MAFES interim associate director, noted that this is farm life where work never stops.
"Much of farm work is solitary, which proved a natural fit for the new social distancing paradigm. Our faculty and staff have done an incredible job of taking care of themselves and their families while also providing critical services for the university and the people of Mississippi," Blanton
"Just as the farmers are essential in growing the food and fiber that we need, our scientists and technicians are committed to conducting agricultural research to meet the needs of our producers," he added.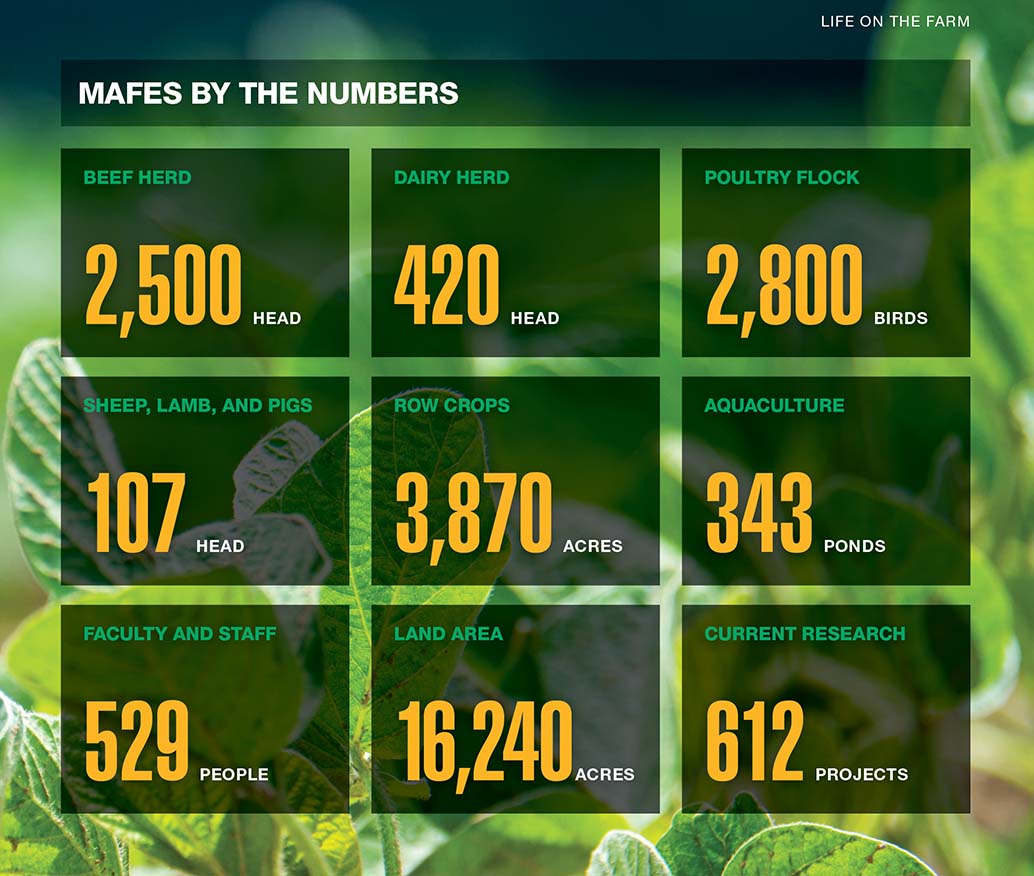 ---