---
The anticipated climate change will increasingly impact crop production and food security in the coming years.
"The growth in food production is less than the population growth; therefore, there will be food shortages causing food insecurity," said K. Raja Reddy, scientist with the Mississippi Agricultural and Forestry Experiment Station and research professor in the Department of Plant and Soil Sciences. "Climate change affects all four dimensions of food insecurity – availability, access, stability and utilization."
Reddy researches how environmental stressors impact crops. The research helps equip both seed breeders and farmers with the tools they need in a changing climate.
"In 2013, crop insurance claims associated with extreme losses from temperature and drought topped $12 billion in the U.S. Between extreme losses and lost yield potential, abiotic stressors are robbing producers of potential profit and yield," Reddy said. "We are working on not only helping producers select the right cultivars for their niche environments but helping the breeders to select the cultivars with specific traits suited to tolerate certain abiotic stressors."
Reddy is the director of the Soil-Plant- Atmosphere-Research, or SPAR, facility at MSU. Researchers at the facility assess how global climate change impacts the biology of crops.
Reddy and his team focus on environmental plant physiology, evaluating such factors as temperature, drought, solar radiation including ultraviolet-B radiation and nutrients. As a physiologist, Reddy works across crops evaluating row-crops such as corn, rice, soybeans and cotton, along with crops like sweet potatoes, peppers and cowpeas also known as black-eyed peas. He even studies biofuel crops.
"We screen crop cultivars for abiotic stressors," Reddy said. "A large portion of our research is funded by the corn, soybean, rice and cotton promotion boards as well as the National Institute for Food and Agriculture, which is part of USDA. We evaluate a hybrid's tolerance to abiotic stresses like drought and temperature and assign a numerical score to each hybrid so farmers will have tools to select a variety based on its tolerance and yield potential in their locations."
For instance, in 2011 and 2012, the Mid-south had high temperatures in the rice-growing regions so the rice promotion board asked the SPAR group to screen rice cultivars for high temperature tolerance.
The SPAR facility is very unique, said Reddy. It was built locally in the 1970s as the first facility of its kind. Currently, there is only one other facility like it in the world.
"As far as we know, this is the only state-of-art facility with an in-house program that has the capability to monitor so many plant responses," Reddy said. "We monitor 610 various environmental and plant process signals every ten seconds with the system."
SPAR is a controlled environment research facility, which includes ten outdoor naturally-lit chambers, with computer control of environmental factors. Researchers apply remote sensing technology to assess crop stress physiology and stress-related aspects. They are also working on crop modeling and its applications, in collaboration with the USDA-ARS. They have developed a cotton simulation model called GOSSYM. The model is used by USDA-ARS for climate impact analysis for cotton. It is the first of its kind being used in real world situations with recent technology.
Plants in SPAR experiments grow as they would in the outside environment so researchers can easily translate the research directly to the field. Additionally, recent advances in equipment and remote field monitoring technologies will help facilitate more direct intervention with management practices to optimize the production during crop growth.
"Many researchers perform stress/no stress experiments with only a few treatments in the field. Other things vary along with those stresses," Reddy said. "In our case, however, we are able to perform simulations in which all other stresses are eliminated, isolating a single stressor. That is what makes our data set so unique and not easily replicated."
The team determines functional mathematical algorithms by introducing a wide range of stressors and studying how the plant will respond within that range of environmental factors to develop predicted results with various management practices.
"By eliminating all other stressors and figuring out that one stress, we determine the data is unique," Reddy said. "SPAR helps us unlock technology quickly by imposing stressors in an environment that mirrors that of the field. We can do experiments in a growing season that would take five or six years in the field."
The team's research on the impact of environmental stressors on corn was recently published in Crop Science, a publication of the Crop Science Society of America and featured in their monthly news magazine. In one study, researchers evaluated corn's tolerance of current and future UV-B radiation, which is incrementally increasing on a global scale, and how it impacts corn growth. In another corn study, researchers evaluated cold tolerance in corn hybrids. This research will help producers select hybrids to maximize corn production in early planting production systems, which is a management method adopted to avoid plants being exposed to hotter, more drought-prone conditions during critical growth stages.
Reddy is also assessing how temperature and drought impact the quality and quantity of cotton fibers. These studies and other research have been covered in many outlets including Seed World and Advances in Agronomy, premier journals in this area.
According to Reddy, the U.S. is reaching maximum potential in very high production environments with existing genetic material and as food production becomes increasingly critical on the global scale. Efficiency in these environments is vital.
"Each year is different. Weather is going to be different. If we have a higher or lower temperatures, or more or less rainfall, yield is impacted, even in high production environments, but better management practices will reduce the impacts of high stress environments" Reddy said. "We are providing information which will optimize production while minimizing loss to environmental stresses in the field."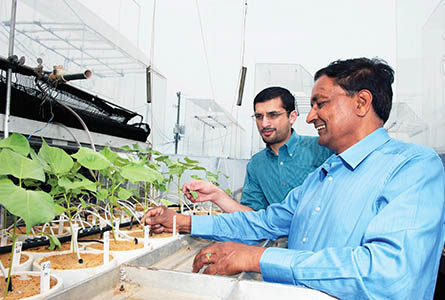 ---
As far as we know, this is the only state-of-art facility with an in-house program that has the capability to monitor so many plant responses. We monitor 610 various environmental and plant process signals every ten seconds with the system.
K. Raja Reddy
---
---
Behind the Science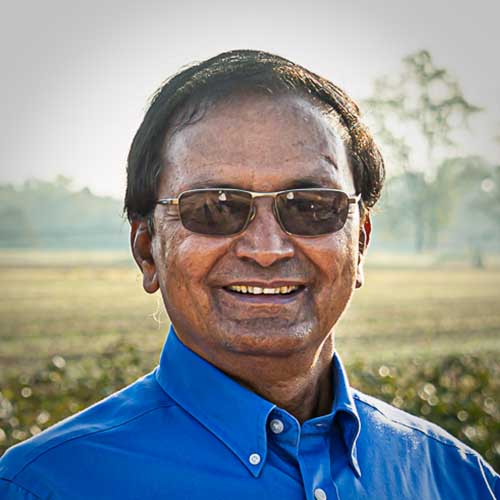 K. Raja Reddy
Research Professor
---
Education: B.S.; M.S.; Ph.D.; Plant Physiology, Sri Venkateswara University (India)
Years At MSU: 27
Focus: Environmental plant physiology
Passion At Work: I strive to understand how plants respond to the environment so that suitable tools can be developed for management and impact assessment.
---
Sections