---
The MAFES rice breeding program helps Mississippi rice producers feed the world. The program has been developing high-yielding cultivars for the Midsouth for more than 30 years. Rice production is a $105 million industry for the state. In 2017, more than 8.4 million hundredweight of grains were produced across 190,000 acres on nearly 260 farms. The MAFES rice breeding program strives to produce high-yielding, disease-resistant, long-grain rice cultivars with a specific cereal chemistry and excellent milling quality.
Two classes of rice are being developed by the MAFES breeding program: conventional and Clearfield rice. Clearfield, developed in conjunction with BASF, is a line of herbicide-resistant varieties. The MAFES breeding program also focuses on the development of high-amylose varieties which have a cereal chemistry that is ideal for the domestic parboiled market as well as markets in Central and South America. The cooking profile of high-amylose rice is a loose, fluffy grain. An effort is also made to produce varieties that have superior milling qualities, which translates to more whole kernels and less chalkiness once the rice is milled. The recent releases of Thad and its sister variety CL163 are examples of high-amylose varieties that check all of these boxes.
Dr. Wes Burger, associate director of the Mississippi Agricultural and Forestry Experiment Station, discussed how all of those factors not only help growers today, but also into the future.
"Right now, producers are mainly focused on yield," Burger said. "That's attributed to the current value-chain in rice production in the Midsouth."
Burger explained how that value-chain-from production to harvest, transportation, storage, and sales-doesn't preserve the identity of individual varieties of rice.
"As long as grain is comingled, it will be impossible for producers to extract the value from premium varieties. Our hope is that the industry as it evolves will respond to consumer demand and start to stand up value-chains that have identity preservation as a component," he said.
Burger emphasized the MAFES breeding program's forward focus.
"We believe that one day producers will be able to select for varieties based not just on yield and disease resistance but also consumer characteristics and milling quality that might help our producers to either sell their rice in new, very selective markets or to be able to extract a premium price for a grain product that has particular characteristics and a superior milling quality," he said.
Burger said that's why the MAFES breeding program considers quality in addition to yield.
"We are designing our breeding program not just for what the producers need today but are anticipating what consumer demand and what the industry might look like down the road."
The program trained on the future is steeped in tradition. Rice varietal testing at the Delta Research and Extension Center in Stoneville dates back seventy years and the rice breeding program has been in place since 1986. Dr. Ed Redoña is the fourth rice breeder to serve at the program's helm and has been there since 2014. The research professor earned his doctorate in genetics at the University of California Davis, where he pioneered molecular rice breeding methodologies. He has spent more than two decades in the field and served as deputy department head for plant breeding at the International Rice Research Institute (IRRI) in the Philippines before coming to MSU. He discussed why he's passionate about rice breeding.
"The creative ability to combine the positive traits from two or more different parents into a single variety through classical breeding is always an exciting endeavor," Redoña said. "That is why breeders don't mind spending hours walking muddy rice fields under the heat of the sun, not to mention the unforgiving swarm of mosquitoes, looking for that particular plant or genotype that will eventually fulfill a particular breeding objective-be this for plant type, disease resistance, insect resistance, stress tolerance, or grain quality traits, and all possible trait combinations thereof."
Redoña said a single variety's release can have a big impact on the state's rice producers citing Rex, a MAFES-developed conventional variety released in 2010, as an example.
"By 2013, the variety Rex already occupied 15 percent of the rice area in Mississippi, supplanting the most popular conventional variety in the state at the time. It yielded seven bushels per acre more than the previous variety, allowing growers to realize an additional $45 per acre. Based on 2013 market share and 2014 acreage, planting Rex increased annual cash receipts by $1.26 million, with an estimated annual statewide economic impact of $2.15 million," Redoña said.
Redoña said Thad, released in 2016, and its sister Clearfield variety, CL163, released in 2015, also show promise.
"These releases provide new opportunities for increasing the quality of U.S. rice for existing export markets while potentially capturing a major share in new rice export markets, such as Central and South America, where specific grain quality traits possessed by Thad and CL163 are preferred at the consumer level."
In addition to focusing on yield; climate, stress, and disease tolerance; specific consumer characteristics; and milling qualities, the program also seeks to understand the genetic basis of key traits for use in breeding and broadening the genetic base of Mississippi varieties.
Redoña said molecular breeding methodologies can enhance a classical breeding program and under his direction the MAFES breeding program has taken those first steps. The university's recent acquisition of the former Monsanto breeding facility in Leland, referred to now as DREC West Farm, includes two large green house units, one of which is assigned to the rice breeding program. The space allows researchers to implement newer technologies.
"Ready, year-round access to this greenhouse unit has allowed us to implement what is referred to as the 'Rapid Generation Advance' or RGA breeding procedure that can potentially accelerate the speed of variety development by being able to plant rice, particularly during the earlier stages of variety development, by up to three times instead of only once a year." Redoña said.
Redoña said the next step to conduct molecular breeding work in-house is the purchase of equipment with a price tag of about $300,000 in order to exponentially increase breeding efficiency.
Meanwhile, he said the team has delved into molecular breeding-related work by using outsourced DNA genotyping services from commercial providers, and collaborating with DNA analysis-equipped labs, both on campus and at the USDA, to work on specific molecular breeding projects.
"For example, using outsourced genotyping services, we have been able to assay the diversity of a core set of Mississippi breeding materials using single nucleotide polymorphism or SNP markers," Redoña said. "In another project, we are looking at DNA markers for rice blast disease and grain quality traits through collaborations with labs on campus and with the USDA, respectively."
Another partnership has been central to the program. For the past 20 years, the MAFES rice breeding program has conducted research at the University of Puerto Rico Experiment Station in Lajas, Puerto Rico. The collaboration includes the USDA and universities in Louisiana, Arkansas, and Texas.
"Practically all public rice varieties released in the southern U.S. were advanced, selected, or increased in Puerto Rico at some point during their development. Initiated by Louisiana State University, these nurseries have been operational since 1970. Renewal of our cooperative agreement with these nurseries, which expires in 2018, is currently being finalized," Redoña said.
The space allows scientists to replicate critical stages of research multiple times a year.
"The MAFES rice breeding program uses the nurseries in Puerto Rico to advance segregating populations to the next generation; conducting plant and line selection based on important traits such as plant type, grain characteristics, and disease resistance; producing nucleus seed of promising varietal release candidates; and conducting breeder and foundation seed production," Redoña said. "Just this last April, I was in Puerto Rico to harvest seed of a material we will probably release next year. I planted that in December and by harvesting it in April, I am able to bring it to Stoneville to continue the research right away by planting the harvested material ."
In fact, Redoña said more than 55,000 individual breeding materials for selection and advancement as well as panicle selections for breeder seed production have been shuttled between Stoneville and Lajas in the past five years.
"Puerto Rico's tropical climate allows rice planting during the winter months, thus speeding up the breeding process, particularly in the early generations. The continued support of the Mississippi Rice Promotion Board will enable Mississippi's continued participation in this multi-state breeding activity beyond 2018," he said.
While the program collaborates with partnerships in a faraway place, the bottom line is to help those producers right here in Mississippi.
"The choice of rice variety to plant is a key management decision that each grower must make each year. Historically, about 50 percent of productivity increases have been attributed to the use of modern varieties. The high seed cost of new hybrid and herbicide technology-based systems has recently increased demand for better and more affordable conventional variety options," Redoña said.
"However, only public sector breeding programs based in universities in the U.S. Midsouth, such as the MAFES rice breeding program, are involved in conventional variety development. In fact, in Mississippi, there is only one rice breeding program in both the public and private sectors-the MAFES rice breeding program-and when asked to introduce myself in meetings and similar events, I often find myself proudly declaring that I am the only rice breeder in the entire state of Mississippi."
As Mississippi rice growers handle the challenges of today and look to the next crop on the horizon, the MAFES rice breeding program will be there to produce new varieties to fulfill producer need and consumer demand.
"Products already under development, for example, will incorporate new trait packages not yet available in Mississippi varieties that address future production challenges such as higher temperatures, increasing soil salinity, and limited water availability, among others, while making sure their grain, cooking, and eating qualities will be preferred in existing and/or potential markets for Mississippi rice," Redoña pointed out.
---
The MAFES rice breeding program is primarily supported by Mississippi rice growers through the Mississippi Rice Promotion Board. The program also partners with institutions such as the USDA, the International Rice Research Institute, universities in rice growing states, and the USA Rice Federation, among others.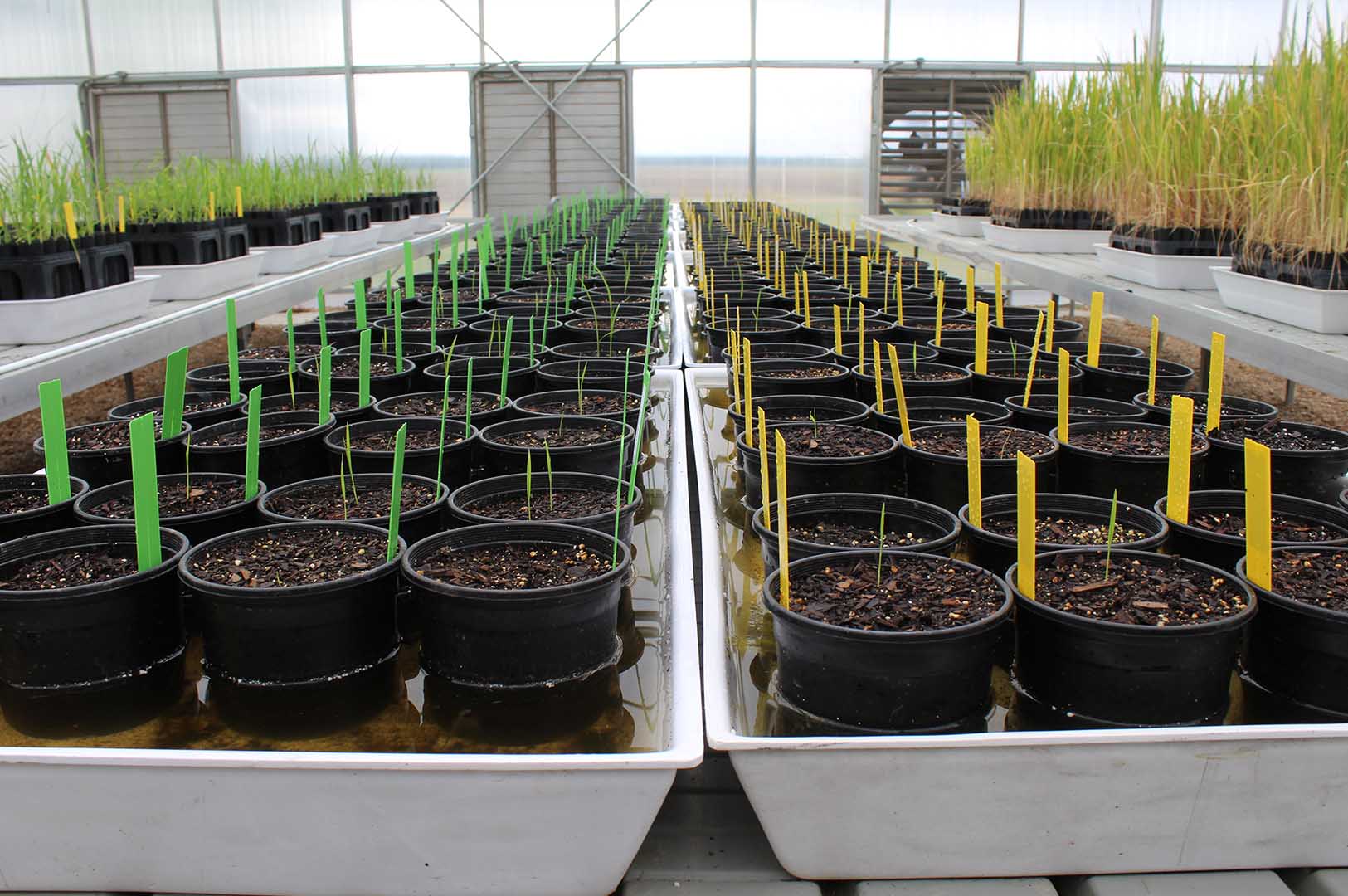 ---
Behind the Science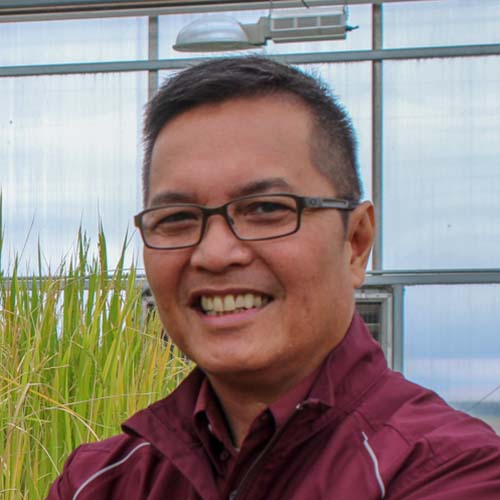 Ed Redoña
Research Professor
---
Education: B.S., Agronomy, Silliman University; M.S., Plant Breeding, University of the Philippines Los Baños; M.S., Ph.D., Genetics, University of California Davis
Years At MSU: 4
Focus: Development of high-yielding, stress tolerant, and superior grain quality rice varieties that meet the needs of MS producers and target markets
Passion At Work: My research into the development of modern rice varieties improves productivity, benefiting MS growers through higher yields and incomes, and contributes to alleviation of world hunger and attainment of global food security.
---
Sections