From Issue Summer | Fall 2014
---
The DREC, which was founded in 1904 on 200 acres of an old cotton plantation, has evolved into a world-renowned center for agricultural research spanning more than 4,600 acres. DREC researchers focus on agricultural and aquaculture commodities like cotton, rice, soybeans, corn, and catfish. They strive to advance technology, develop best practices, and provide practical solutions to challenges faced by Delta producers.
The Delta Research and Extension Center has more than 30 research scientists and 100 personnel employed by varying entities such as the Mississippi Agricultural and Forestry Experience Station (MAFES), the MSU Extension Service (MSU-ES), and the MSU College of Veterinary Medicine (MSU-CVM). More than 12,000 visitors tour the Center each year. Stoneville, Mississippi is also home to almost a dozen federal and regional agencies that partner with the Delta Research and Extension Center.
"Everything that has happened in agriculture since the 1930s came through this building." Johnson said.
The building was finished in 1931 at a cost of $30,000, which was considered a significant amount during the depression. In 1948, Mississippi State Legislature approved $165,000 in funding to expand the facility and add a second wing, doubling the office and laboratory space and adding an auditorium.
In 2012, the building was vacated. Everything was moved to the newly constructed Verner G. Hurt Research and Extension Building, which has 19,000 square feet of office and research space along with a 2,000 square foot library.
As the physical landscape of Delta Research and Extension Center continues to evolve in order to accommodate its role as a cutting-edge center for agricultural research, a part of its past is preserved. Virginia Wrecking Company of Daphne, Alabama, who oversaw the demolition, was able to salvage the building's original nine-panel concrete sign stating, "Delta Experiment Station." The 1 ½ foot thick concrete slabs weighed between 300 and 400 pounds apiece.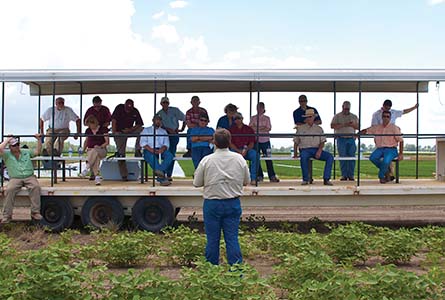 ---