---
Tucked away, under a stairwell at the South Mississippi Branch Experiment Station at Poplarville, was a small tree, the only one of its kind. Dr. Patricia Knight had placed it there to ensure it would be safe as Hurricane Katrina made its landfall on the Mississippi Gulf Coast.

Developed by Mississippi Agricultural and Forestry Experiment Station plant and soil science professor, Dr. Patricia Knight, and MSU visiting professor, Dr. Wayne McLaurin, the crape myrtle tree is true maroon, with dark burgundy foliage and pink flowers. Its trademarked name is Delta Jazz, however, at the time it was CREC 2003-01.

Who could have known that the tree saved from the worst storm to hit the Gulf Coast in decades would become part of the Southern Living Plant Collection and a 2015 Mississippi Medallion winner.

For Knight, the tree presented something unique to add to the landscape and warranted extra care.

"We have been developing different crape myrtles over the years to find the rare gem, something unusual that would be a good seller," Knight said. "Delta Jazz was striking with the maroon foliage and I knew I had to save it from the impending storm."

Knight saved Delta Jazz from the storm and began to cultivate it to see if it held true to color in foliage and flower.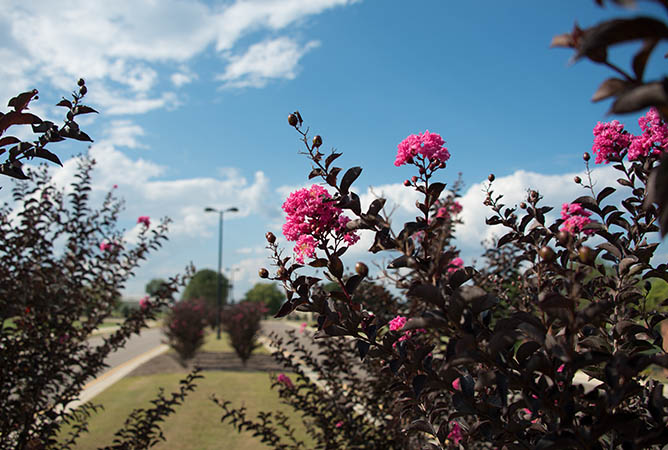 "After you create a great plant like Delta Jazz, you have to grow it for several years to ensure continuity from year to year," Knight said. "You have to ensure that the foliage and flowers keep the same color after several years of growth and as you expand the number of plants."

Many plants with dark leaves scorch in the Mississippi heat, but this plant maintains its color, and the foliage is accented by clusters of pink flowers, Knight added.

In 2009, Delta Jazz was patented as 'Chocolate Mocha' and then licensed to Plant Development Services Inc. of Loxley, Ala. Robert "Buddy" E. Lee, director of plant innovations at PDSI, spoke of the plant's unique characteristics.

"Delta Jazz was one of the new innovations in plant breeding that really opened up a new market for crape myrtles with dark foliage," Lee said. "Today, we have several new varieties with dark foliage, but Delta Jazz was the first and it was developed by Mississippi State University."

For Lee, who evaluates plants for the Southern Living Plant Collection, his initial attraction to the tree was the rich raspberry-maroon foliage and it's ease to grow.

"Delta Jazz is one of the best performers in the ground," Lee said. "It has a nice vigorous upright growth, nice canopy, and is a heavy bloomer. Some of the new varieties do not bloom as profusely as Delta Jazz."

The process to develop a new crape myrtle cultivar takes a good bit of time. It begins at the McNeill Research Unit in south Mississippi. There some 3,600 crape myrtles are grown in a three-acre block with hopes of finding the next unusual or unique specimen.

"I am looking for the plants that have a straight trunk, good bark color, unique flower color, or different foliage characteristics," Knight said. "Plants with these characteristics are tagged for future evaluation. It is a process where you have to be selective and go with your gut in choosing plants that you think will have widespread appeal."

Knight has introduced five new crape myrtle varieties in recent months. All given Native American names with most having some Mississippi connection, it is hoped the trees will soon be licensed to a wholesaler for propagation and distribution.

The five varieties include: Sequoyah, a unique clear red flower; Tishomingo, a clear medium to dark purple flower; Neshoba, a deep purple flower; Pascagoula, a deep purple flower; and Shumaka, a light pink flower.

When a company licenses plant varieties from the university, it is given the right to take the technology to market. Licensing is handled through the university's Office of Technology Management. The university receives a revenue stream when its licensed products are sold.

"I think it is neat that you can purchase a product from garden centers that was developed by Mississippi State," Knight said. "The purchase not only enhances the landscape but also helps the university, through the licensing arrangement. Plus, you have the added benefit of claiming your landscape plant was developed in Mississippi."


---
Behind The Science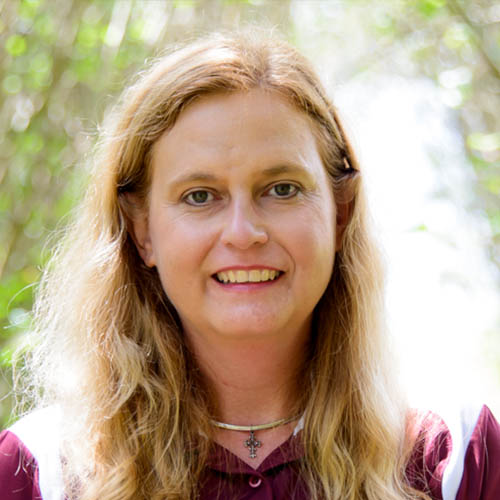 Patricia Knight
Research Professor & Director, Coastal Horticulture Research
---
Education: B.S., Horticulture with Landscape Design; M.S., Horticulture, Auburn University, Ph.D., Horticulture, Virginia Polytechnic Institute and State University
Years At MSU: 20
Focus: Plant development and evaluation, herbicide work; leadership for the Coastal Horticulture Research program
Passion At Work: Having grown up on a nursery, I have witnessed firsthand the impact of timely research on those operations. Having the best information provides the industry with the best chance for profitability and longevity.
---
Sections