Precision

in pig reproduction

Biophotonics helps researchers better see animal physiology

By: Vanessa Beeson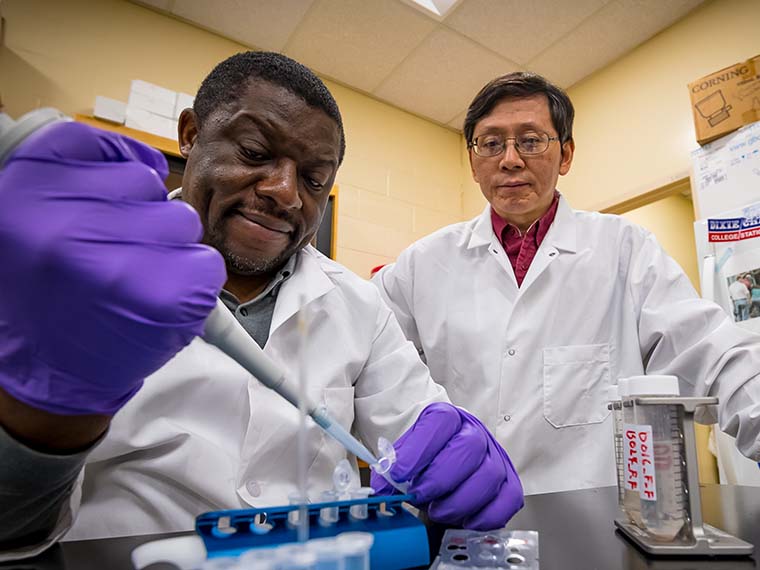 ---
More pork is consumed around the globe than any other meat. In 2017, 40 percent of the world's meat consumed was pork, according to the USDA Foreign Agricultural Service. This demand coupled with a growing global population means pork producers must be more efficient in all aspects of swine production.

One aspect that MAFES researchers are addressing involves the use of biophotonics in swine reproduction. Specifically, Dr. Jean Magloire Feugang, associate research professor and Dr. Shengfa Liao, associate professor, both in the Department of Animal and Dairy Sciences, are focused on finding ways to better utilize swine semen in artificial insemination practice.

The research requires the scientists to think small, very small in fact, using nanoparticles. A nanoparticle is one millionth the size of a tennis ball and this size means it can fit into tight spots and impact everything from disease diagnostics and imaging to artificial insemination and more.

Feugang said the team is using nanoparticles to purify semen. He explained a boar's semen specimen must contain about 70 percent of motile, high quality sperm in order to be used in artificial insemination. If that number falls below 70 percent, the specimen is discarded. Feugang and his team are using nanoparticles to take the otherwise discarded specimens and separate the viable sperm from the non-viable. While the specimen size becomes smaller, the process allows the motile sperm that would have been discarded to be used for insemination.

"We are not really improving the quality of spermatozoa at this moment. We are just removing the non-viable and moribund spermatozoa in the semen specimens," Feugang said.

Feugang explained there are two types of nanoparticles: naturally occurring carbon-based particles and engineered particles made out of materials like gold and other metals. The researchers have developed engineered nanoparticles made of an inner layer of iron oxide and an organic outer layer, with a specifically modified surface that binds to low quality swine sperm found in semen. Because the nanoparticles are magnetic, once the specimen is placed on an electromagnetic field, the nanoparticle-bound low quality sperm become trapped, while their high quality counterparts are eluted into new bottles for in-vitro analyses or inseminations.

Semen doses were harvested from high quality boars from Prestage Farms of West Point, Mississippi. Half of the doses were exposed to nanoparticles that targeted moribund spermatozoa while the other half of the doses were left alone. Both semen groups (nanopurified and control) were used for double inseminations of six gilts, which were later confirmed pregnant via ultrasonography. Thirty-five and 38 offspring were weaned from gilts bred with control and nano-selected spermatozoa, respectively.

The piglets reached market weight at the same time and the meat quality was assessed. Dr. Liao said there was no differences in growth performance or meat quality between the two groups.

"Our results indicate that the growth performance and health status of piglets were the same between the two groups. Each group grew at the same pace and were equally healthy," he said. "Additionally, the meat quality was also the same."

Liao said the technology, while still in the beginning stage, shows promise for future uses.

"This technology's ability to purify sperm and potentially improve swine reproduction efficiency without negatively impacting the growth and health of the offspring is exciting," he said.

Finally, Dr. Feugang added that these preliminary results are laying the ground for further uses of nanotechnology, the field of science dealing with nanoparticles, in other biotechnologies of reproduction. Current efforts to implement engineered magnetic nanoparticles for selective targeting of X- or Y-bearing spermatozoa to improve gender selection in livestock are ongoing.

---
Contributors include Dr. Derris Devost-Burnett, assistant professor; Casey L. Durfey, master's student; Christy Steadman, research associate; Dr. Seong B. Park, post-doctoral associate; and Dr. Mark Crenshaw, retired extension professor; all in the Department of Animal and Dairy Sciences. Henry J. Clemente with Clemente Associates, Inc., contributed to the research as well. This research was funded by the U.S. Department of Agriculture, Agricultural Research Service, Biophotonic Initiative, No. 58-6402-3-018; MAFES; and USDA-NIFA.


Related Stories
---
Behind The Science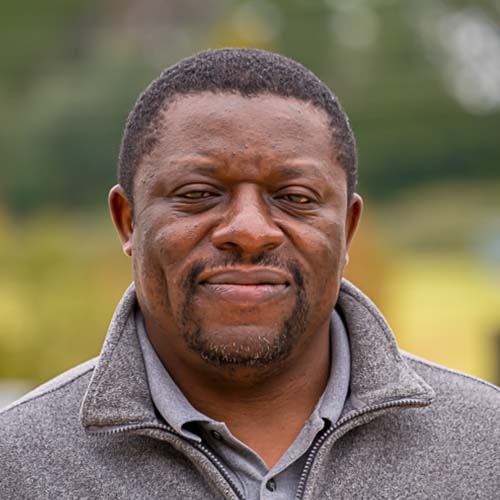 Jean Magloire Feugang
Associate Research Professor
---
Education: B.S., Animal Biology, University of Lorraine, France; M.S., Reproduction-Development, University of Montpelier, France; Ph.D., Animal Sciences, Catholic University of Louvain-la-Neuve, Belgium
Years At MSU: 11
Focus: Bio-imaging, early embryo development, gametogenesis and gamete manipulation, livestock, nanotechnology, reproductive biology
Passion At Work: I am fascinated with the complexity and mystery of gamete formation and interaction leading to embryo development, a necessary step to generate viable offspring for animal food production.
---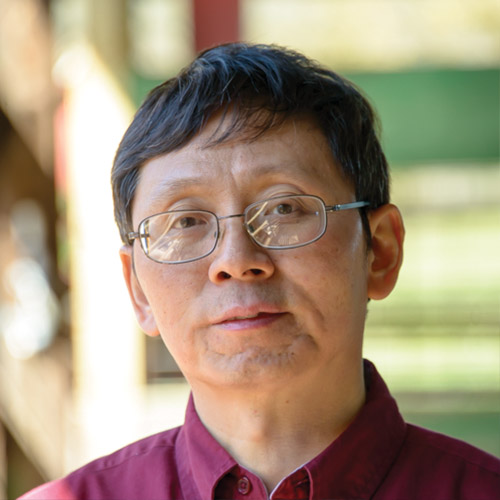 Shengfa Liao
Associate Professor
---
Education: B.S., Veterinary Medicine, Anhui Agricultural University; M.S., Veterinary Parasitology, Nanjing Agricultural University; Ph.D., Animal Nutrition, University of Alberta
Years At MSU: 6
Focus: Teaching swine science and production, and research on swine nutrition
Passion At Work: My goal is to help secure the supply of affordable, nutritious pork to the growing human population through dedicated research in improving the efficiency of swine production in a sustainable manner.
---
Sections