Unlocking a path to
probiotics

in poultry

Biophotonics helps researchers better see animal physiology

By: Vanessa Beeson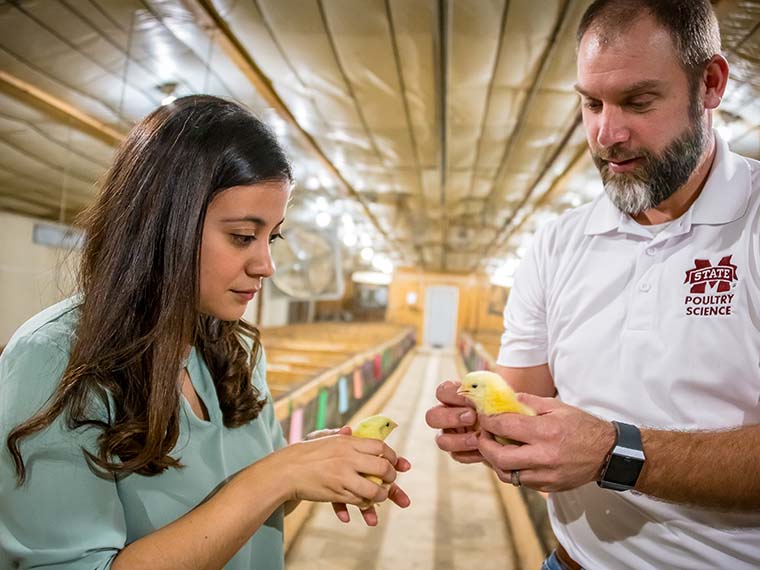 ---
MAFES researchers are trying to unlock a better path for administering probiotics in poultry. Researchers hope bioluminescence will illuminate the effectiveness of a suite of probiotics administered into the egg, or in-ovo.

Dr. Aaron Kiess, poultry science associate professor, along with doctoral student, Claudia Castañeda, have been studying in-ovo administration of probiotics for several years.

"When probiotic bacteria are injected into a fertile broiler egg, where do they go?" Kiess asked. "Based on previous research, we believe they would ultimately end up in the gut; however, a visual representation of this has not been previously available."

He said as consumer demand increases for ABF (antibiotic free) or NAE (no antibiotics ever) broilers, the researchers hope to help integrators and producers adopt probiotic programs to fend off the diseases antibiotics traditionally protect against.

"How do we stave off disease without antibiotics? Probiotics, which are live microorganisms that are known as good bacteria, can help," said Kiess, who pointed out that probiotics are effective when added to the feed but can be even more beneficial when they are introduced in-ovo before the chicks hatch.

"Probiotics aren't as immediately effective as antibiotics so it's important to get them in the bird before it's exposed to any environmental pathogen," Kiess said. "This gives the animal a running start."

Kiess explained that probiotics, administered in an effective manner, can fend off other bacteria.

"In most cases, probiotics are damaging to pathogenic bacteria. They are either outcompeting for nutrients, producing acids the pathogen can't tolerate, or secreting a protein that can degrade the cell wall of the pathogen," he said.

He continued, "The goal is to administer probiotics in-ovo. You want to inject them three days before the chicks hatch in order to get that probiotic in there and working before they hatch on day 21."

The injection delivers the probiotic into the amniotic fluid. He explained that on day 18, the bird starts to swallow amniotic fluid, which becomes its first meal.

"That fluid goes into the digestive tract where we want the probiotic bacteria to ultimately end up," Kiess explained. "

Over time, the team has injected 10 different probiotic bacteria in-ovo.

"We hope to have three to four models, with a specific number of probiotic bacteria each, so integrators have the option to rotate between these models to maximize effectiveness," Kiess said.

Kiess and his team began exploring the use of bioluminescence to show the research up close, and personal.

"A picture is worth a thousand words," Kiess said. "Bioluminescence is a tool that allows us to explain our results easier and for growers to actually see our data."

Thus far, they've been able to demonstrate that bioluminescent bacteria injected in-ovo made its way to the digestive tract of the hatchling within two hours after injection. Kiess also said the bioluminescent bacteria migrated to other locations of importance, like the spleen and bursa but at much lower concentrations.

In the short term, the team hopes to transfer a bioluminescent gene into a multitude of probiotic bacteria.

"This will allow us to visually identify specific sites of colonization within the gastro-intestinal tracts of chicks. If this is achieved, then we can provide a combination of probiotic bacteria that will help establish a balanced gut microflora early which could prevent colonization by potential pathogens the birds are exposed to after hatch," Kiess said, who pointed out that this could help reduce disease within the bird and lower the opportunity for foodborne illness in the public.

Castañeda is leading the charge in trying to create a bioluminescent probiotic. She explained that she takes a plasmid, a circular DNA strand containing genes that express bioluminescence and tries to introduce it within the probiotic bacteria. These bioluminescent genes originate from other benign bacteria that are naturally bioluminescent.

"We can modify components of the plasmid, so we isolate the DNA in the bioluminescent bacteria and incorporate it into a plasmid segment that is more suitable for each probiotic cell," Castañeda explained.

Next, the bioluminescent plasmid and the competent probiotic cells are placed in a cuvette—similar to a square test tube—and ran through an electroporator.

"Basically, we send an electric current that allows the pores of the bacteria to open to accept the plasmid," she said.

The bioluminescence produced by these modified bacteria can be easily monitored using an in-vivo imaging system, or IVIS®.

"It has been difficult because most probiotic bacteria are gram positive so it's harder to break through their thicker cell wall. I am currently trying different electric currents, and varying the number and length of pulses in order to try and break through that wall," she said.

After earning her bachelor's degree in food science from Zamorano University in Tegucigalpa, Honduras, Castañeda took a position in quality control in her native country's poultry industry. She learned quickly that in order to solve some of the industry's challenges on a broader scale, she needed to pursue an advanced degree. She reached out to Dr. Kiess and his lab's work aligned with her interests in pre-harvest food safety. She came to MSU and set to work on the development of a suite of probiotics to help ward off common pathogens that present challenges within the industry.

"I hope to help find an effective alternative to antibiotics. More and more consumers want antibiotic-free products and the fact that I can do something about it excites and motivates me," Castañeda said.

She began as a master's student in fall 2015 and her work evolved into a doctoral program, from which she hopes to graduate in summer 2020.

Kiess said he is hopeful that the research will help poultry producers preserve the health of their flocks when they opt to use probiotics in lieu of antibiotics.

"Our laboratory wants to identify new and novel strategies to help our poultry integrators with challenges they are facing when they are trying to produce antibiotic free poultry. I want to make it easier for them to provide what their customers are asking for," Kiess said.

---
Poultry science faculty members participating in the research include Drs. David Peebles, Chris McDaniel, Kelley Wamsley, and Wei Zhai; and Dr. Atilla Karsi, in the College of Veterinary Medicine. In addition to Castañeda, graduate students include Chrysta Beck, Abdul Alqhtani, and Tomi Obe. Undergraduate students, Jason Sousa, Kyleigh Campbell, Tiffani Allen, and Josie Gamble have also played a part. Research technician Mary Ann Ballard serves on the project as well. The research is funded by U.S. Department of Agriculture, Agricultural Research Service, Biophotonic Initiative number 58-6402-3-0 with additional support from Allied Poultry.


Related Stories
---
Behind The Science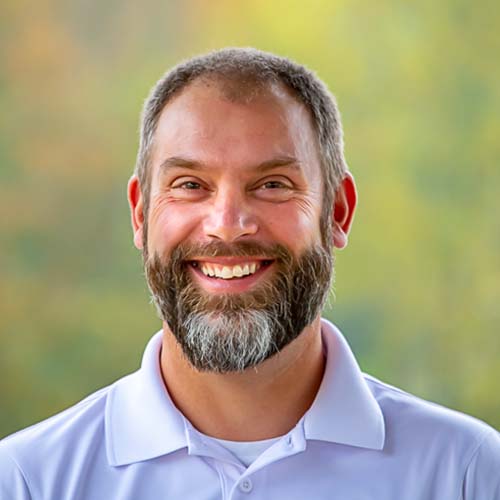 Aaron Kiess
Associate Professor
---
Education: B.S., M.S., Animal and Veterinary Science; Ph.D., Genetics and Developmental Biology; West Virginia University
Years At MSU: 10
Focus: Develop new and novel approaches for improving the health and well-being of poultry while also training students who will continue poultry production research into the future, to help feed a growing population
Passion At Work: My research goal is to improve the efficiency of poultry production by using in-ovo administration of probiotics, which can lead to healthier birds entering the food chain.
---
Sections